2016 Trends Full House Predicted Over 20 Years Ago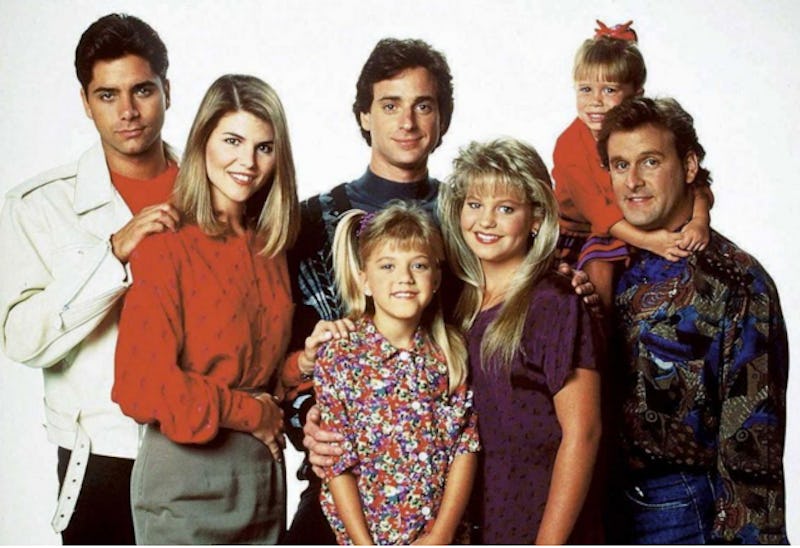 When we weren't tearing over Uncle Jesse and Michelle's relationship or off trying to perfect DJ's iconic bangs, we were likely tuned into Full House 's fashion. The '90s most beloved family must have been stashing a crystal ball somewhere, because Full House predicted trends we're finally embracing today.
To say that everything the cast wore was trendsetting is going a bit too far. There was just way too much neon, whacky prints, and side scrunchies for my brain to handle sometimes — and no one can forget how Kimmy Gibler threw it all together so willy-nilly. Fortunately, the Tanner girls made up for their fashion faux pas with jaw droppers here and there. While everyone else was off imitating DJ Tanner's unique style, my eyes were locked onto Aunt Becky. Homegirl had major style! Ignore the super outdated Full House outfits and you'll realize just how many looks can pass as killer in 2016.
Once Stephanie reached junior high and DJ became a high school bombshell, we really saw the Tanners' style peak. Factor out Kimmy (she never quite got it right), give some credit to Becky, and we have some spot on style inspiration. These nine 2016 trends were seen on Full House before they ever made it into our closets.
1. Denim on Denim
Before Britney Spears served us in a denim on denim getup, DJ was already a decade ahead of the game. Way to be up on the trends Deej!
And might I just add that I love me some uncle Jesse in head-to-toe denim. Currently swooning!
2. Plaid
We witnessed plenty of plaid during Full House's run, hence the three sightings in this scene alone. It only took us 20 years, but were finally picking up what DJ and Steph were putting down.
Wait, let's take another moment to digest Steph's plaid skirt. Is this outfit not the epitome of Clueless, or what?
3. Crop Tops
Shout out to Gia for this one! Had it not been for her stylish, grungy influence, we might not have gotten the trendy sans lopsided scrunchie Stephanie we were dying to see. I'll also award bonus points for Gia's cutout, another current trend.
4. Pastel Hair
Stephanie and DJ might have struggled style wise in their early childhood, but they were on to something with these lavender streaks. Who knew we'd be following in their footsteps by dyeng our tresses in pastels?
5. Co-Ords
Granted today's co-ords usually consist of a crop top and matching bottoms, Becky had the right idea. She's keeping things on the conservative side here, but I'm living for these gray matching separates.
6. Grunge
Well, well, well, if it isn't Stephanie's bad influences. For a gang of misguided youth, Steph's friends had grunge style on lock. The plaid on plaid, the military jacket... all of it, just yes! If you're in need of outfit inspo to rock the trend today, don't hesitate to look back on Steph and her crew.
7. Vests
We give a lot of praise to Aunt Becky and the girls, forgetting Uncle J's stylish ways. We're likely turning to oversized vests, denim, and fur today, but Full House taught us to never underestimate this garment's power. Let's drool over Becky and Jesse's matching white tees and vests for a sec.
8. '70s Inspired
Did I not say Becky was one hot mama? Peep the oh so '70s bell bottoms. Meanwhile, we're just now giving the '70s some play when Becky predicted it so long ago (and Jess I see you in that denim on denim again).
9. Overalls
Overalls are still having their major moment in 2016, and DJ already knew what was up. They're also probably the only fashion inspiration we can draw from Michelle, considering she wore them day in and day out.
Images: Newsday/Twitter; Getty Images (7); Giphy (4)