This Is The Braiding Hack Lazy Girls Need To Know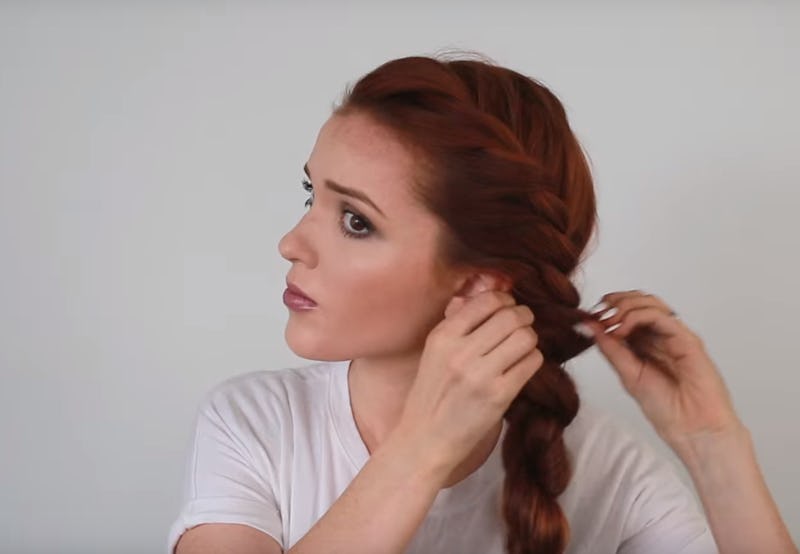 Oh, braids: being the most versatile of hairstyles, and one of the easiest, makes these woven styles perfect for girls who can't be bothered to restyle their hair every morning. Admittedly, it takes practice to learn how to braid, but with this lazy braiding hack and some patience, your braids will fool everyone into thinking you were up styling your hair at sunrise. As if. You've got better things to do with your time, like finally watching Making A Murderer and, well, sleeping.
Ever since Alexander Wang's models stomped down the catwalk in those perfectly mussed side braids back in 2010, disheveled braids have become as ubiquitous as septum rings on Instagram. This is old news, but it's still great for lazy girls who are just now taking the time to learn how to braid. Kind of like the braided equivalent of sex hair (still bummed that getting great sex hair does not actually include great sex), boho braids look best when they look a little messy. And how do we get messy? Allow me to explain.
Whether you're working on a three strand or a nine strand masterpiece, any braid will look good if it's a little roughed up. This is especially handy if your parting and sectioning skills could, er, use a little work (ever ended up trying to braid a pencil thin strand with its super sized sibling? Blame parting). Plus, if you've ever gotten halfway through a braid and wondered what the heck went wrong, no worries. A tug here and a pluck there disguises all kinds of braiding mistakes, which means you can get to more important things a little faster.
So grab your fingers and a hair tie, and get ready to learn how braid. I promise, it won't be hard.
1. Pull It Apart
Who better than to show us the secret to a perfectly imperfect braid than Braiding Master Kayley Melissa? She offers three easy methods sure to disguise a lackluster braid. But how does it hold up on other braids, like fishtail and dutch styles?
2. On A Fishtail
Lo and behold, it really jazzes up a fishtail braid.
3. On A Pull Through Braid
Success. Pull through braids are not only easy and cute, but are guaranteed to last all day since the length of the braid is held together with elastics.
4. On A Rope Braid
Rope braids are a breeze once you figure out what direction to twist the hair, and it looks great when worn soft and loose.
5. On A Dutch Braid
Yep, works on a dutch braid, too. Girls with ultra thick hair like Naptural85 here might not need to pull on their braid for volume, but loosening the ends will make the braid appear to have a uniform thickness rather than tapering to a point.
6. On A Combination Braid
If you've got your braiding skills down pat, combine several styles into one badass braid. It's proof that lazy girls can have great hair, too.