How To Get The Haircut You Want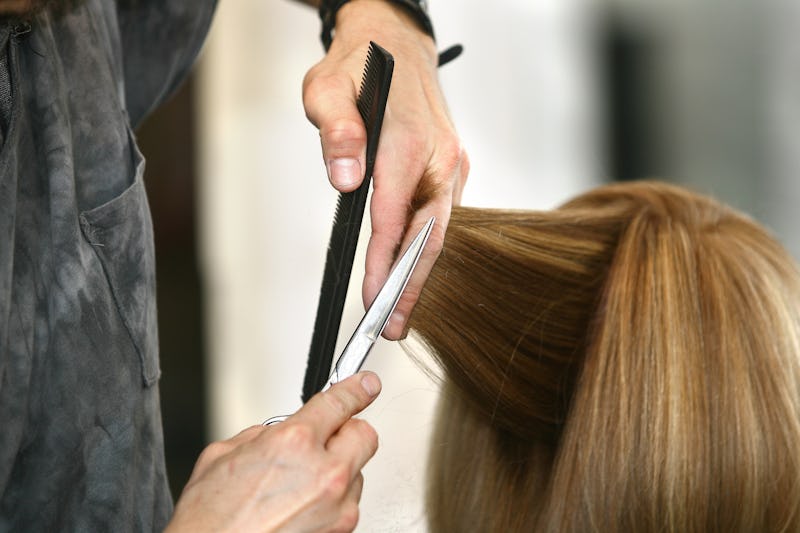 Everyone's been there — you go to the salon with an image in mind of what you want, and something gets lost in translation and you leave with a drastically different cut than you had wanted. Rather than endure that kind of stress and trauma on the regs, you just have to learn how to ask your stylist for the haircut you want. Once you both are speaking the same language, you can pretty much guarantee the cut you want is the cut you're going to get. Surprises suck when it comes to your hair.
I've had one too many bad haircuts in my day that have scarred me from ever wanting to make a drastic change to my hair, and while you might be quick to curse your stylist and blame their scissor-happy hands, it's not always their fault. Hair is complicated, and while "layers" might mean one thing to you, it could mean something totally different to your stylist. Do you want textured layers? A razor cut? Classic, long layers? Just with that word alone, the possibilities are endless. See how easily a cut can be miscommunicated?
I spoke to stylist Jennifer Ngyuen from Andy Lecompte salon to find out exactly how to ask your stylist for some of the most popular cuts right now to make sure you never leave the salon dissatisfied.
Before you even get down to the cut, however, make sure you tell your stylist about your daily hair routine, your lifestyle, and how much you're truly willing to commit to styling it at home. This will help them determine if the cut you're asking is right for you.
Here's exactly what to ask the next time you're at the salon, according to a professional stylist:
For A Classic Shag
Joan Jett's classic, rock n' roll shag is having a moment right now, and if you want to give the edgy cut a try, make sure you articulate more than just the word "shag" to your stylist. "When asking for this type of style, ask for shattered texture in the ends and in the fringe. I like to recreate this style using a razor because it gives the hair an edge that scissors have a hard time recreating," Nguyen says.
For A Pixie
You might think that a pixie is so basic, there's no way you could screw it up, but that's not entirely true. To keep a pixie modern and edgy, you want to make sure you have texture in the crown. "Ask for softness and a side swept fringe to keep the feminine feel in the look. For more texture in the crown, ask your stylist to point cut to release some weight without loosing length," Nguyen says.
For Long Layers
These two words are my nemesis. I swear, every time I ask for long layers, I end up with a totally different cut. While the old "long layers" are the more classic approach, the fresh, modern look for today (a la Jessica Biel), is textured long layers. "It gives the old long layers a little more life because of the added texture," Nguyen says. "Let your stylist know you want textured long layers to release the weight in your hair, but to keep the length and give your waves more bounce. This is great because you can decide how subtle or severe you would like the layers to be," Nguyen says.
For A Lob
Again, this seems simple, but there are so many directions you can go with the lob. You can go blunt, like Kylie Jenner, or super textured, like Hilary Duff. But for Elizabeth Olsen's more fresh take on the lob, which is a little more sleek and polished, "ask you stylist for a strong base that is collar bone length, and subtle layers at the ends to break it up for a little movement," Nguyen says.
Want more style tips? Check out the video below, and be sure to subscribe to Bustle's YouTube page for more hacks and tricks!
Image: Fotolia