When Can You Buy Filled Cupcake Oreos?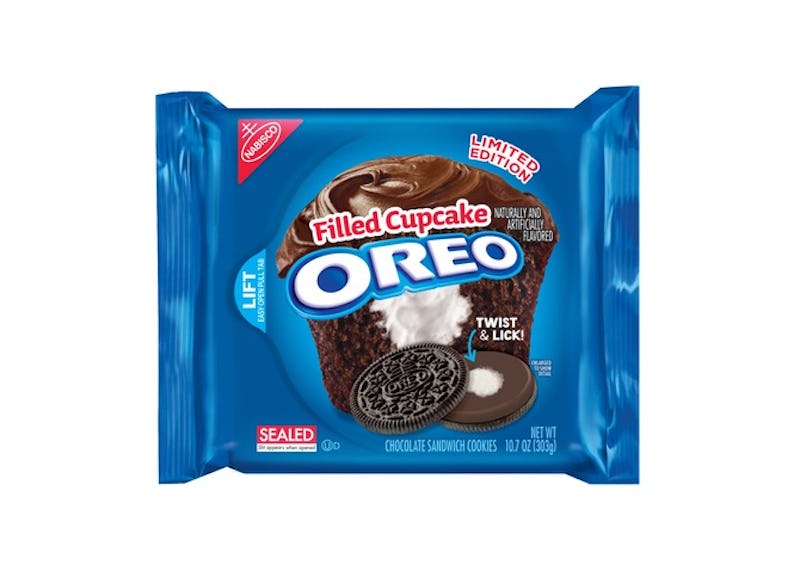 You may have heard the rumors that sometime in the very new future, a certain classic sandwich cookie will roll out an amazing new flavor that instantly takes you back to the days when you used to pray your mom had included a cream-filled snack cake in your lunch box, but now you want answers — when can you buy new Filled Cupcake Oreos? Because seriously, they sound amazing, and during these cold, dreary winter days, you need something to look forward to. They say good things come to those who wait, but in this particular case, you need only hold on for a few more days — Filled Cupcake Oreos come out Feb. 8, and that's not a moment too soon.
In case you haven't heard (I'll forgive you for living under a rock, just this one time), Oreo is releasing a new flavor from its Wonder Vault, just in time to satiate your Valentine's Day chocolate cravings. The limited edition flavor is described by Oreo as "a rich, chocolate-y treat featuring a dollop of creme filling wrapped into a crunchy cookie exterior" which, having experienced the new cookie first hand myself, is a completely accurate description, if not a little modest — I would also tack on the words "decadent," "fudgy," and "the best flavor to be released since Brownie Batter" to that list. Filled Cupcake Oreos will sell for $4.49, and are only available until supplies last, which means it's in your best interest to take advantage of this treat as soon as you possibly can. I mean, look how pretty they are:
That's right — twist off the chocolate cookie top, and you'll find hidden surprise frosting inside, just like your favorite chocolate cupcake from days past. It actually tastes like a cupcake, too, but don't take my word for it — you can see what other Bustle editors had to say about it, here.
Of course, if chocolate isn't your thing, Oreo has other treats currently out in stores. Popular Red Velvet was brought back from the Oreo Wonder Vault this year for Valentine's Day, and will become a part of Oreo's regular roundup, meaning you can find them anytime you want. Feeling really wild (or at the very least, in need of a yummy breakfast pastry)? Check out Oreo's limited edition Cinnamon Bun flavor, which made its debut this January.
And, keep your eyes peeled for Oreo's next trick. According to the brand, there are up to 50 flavor prototypes in the works at any given time in the Oreo Wonder Vault, meaning so many more treats await. I, for one, could not be more thrilled.
Images: Oreo; Kathryn Kattalia