Jade & Tanner Are A 'Bachelor' Success Story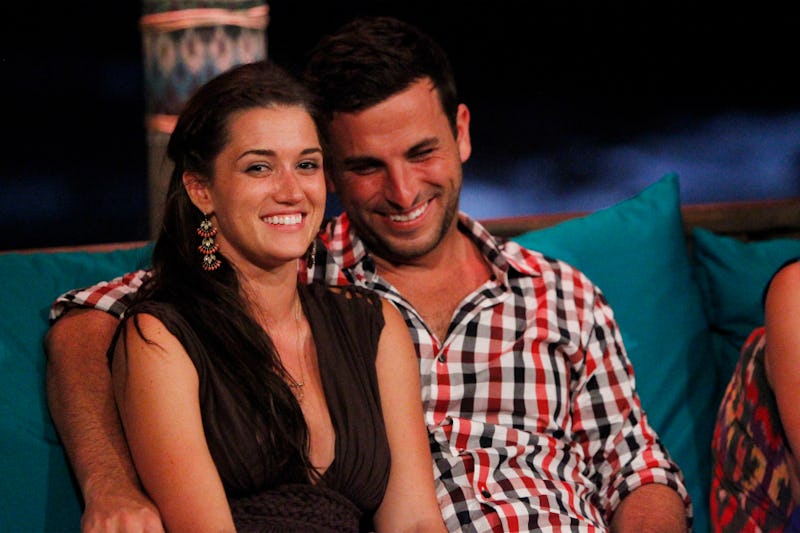 Bachelor Nation has a couple of success stories — which we were reminded of when Jason Mesnick and Sean Lowe appeared on the Season 20 premiere of The Bachelor to offer tips to Ben Higgins. But, one of the ABC series' biggest success stories in 2015 was two former Bachelor and Bachelorette contestants finding love on Bachelor in Paradise. Now, with ABC set to air their wedding on television, let's talk about how long Jade Roper and Tanner Tolbert have been together.
By my calculations, they've been together for roughly eight months and had been dating for about seven and a half months when Roper and Tolbert married on Jan 24. If you're like my high school math teacher and demand that I show my work, here we go: Season 2 of the show premiered on Aug 2, 2015, but, according to Reality Steve, Bachelor in Paradise began filming in early June 2015. If you'll take a trip down memory lane with me and think back to when Roper and Tolbert had their first date on Bachelor in Paradise, it was in the very first episode of the season. Since it's likely they embarked on their relationship in the beginning of June, that would put their eight-month anniversary at the beginning of February — boom, math!
Sure, eight months might seem like a short amount of time to some people — listen, even the couple that is true love personified, aka Kaitlyn Bristowe and Shawn Booth, have waited longer than that to tie the knot — but Roper and Tolbert have hit all the important relationship milestones, while being one of the more steadfast and drama-free relationships on Bachelor in Paradise. In Episode 4 of the second season, they went on their first overnight date; then, in the season finale they exchanged the ever-important three words, "I love you," and Tolbert popped the even-more-essential question: "Will you accept this rose?" I mean, "Will you marry me?" Roper, obviously, said yes.
Since Bachelor in Paradise ended, Roper and Tolbert have continued their relationship and kept it relatively low-key — though they do regularly post about each other on social media (and it's too cute). Roper moved in with Tolbert, bringing together their pets, Pippa and White Cat, to create one big happy family. The couple has since bought some land together, so it seems they've been figuratively building their relationship and will soon begin literally building their relationship a home.
It seems Roper and Tolbert have been making the most of their time together ever since that first date in Paradise — even if their relationship has consisted of only eight months up to this point. So, who's to say this Bachelor in Paradise couple doesn't have what it takes to make it? Because I, for one, think this story sounds like another one of Bachelor Nation's successes.
Images: Rick Rowell/ABC