5 Signs You've Been Slut Shamed By Your Date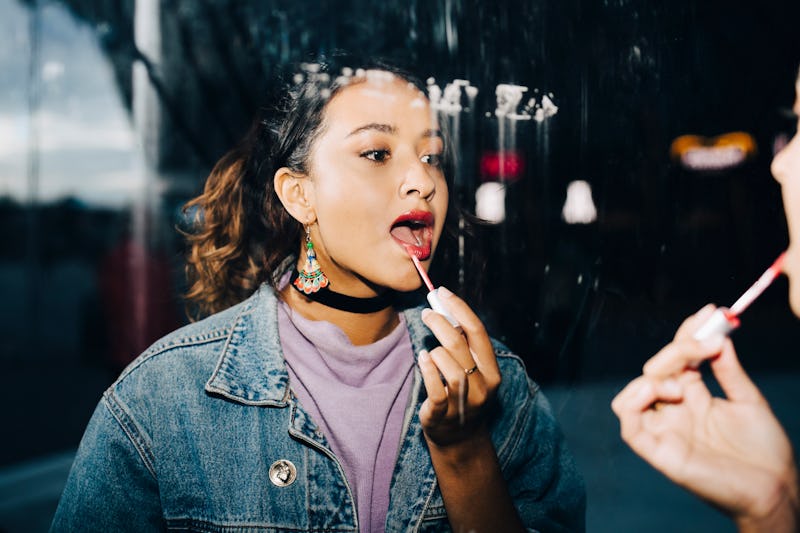 Maskot/DigitalVision/Getty Images
Dating is hard enough without having to worry that you're being slut shamed by your date — but unfortunately it seems to be a troublingly common occurrence. There's no doubt about it: The nature of dating has changed a lot over the years, particularly since the explosion of social media, texting, and online dating. The whole process has become much more casual — so much so that you no longer have to even face someone if you want to ask them out. Any prospective date can now see pretty much anything you've posted on Instagram or Snapchat or what have you, and although it's absolutely nobody's business to judge you based on what they're seeing... they often do. Why? Because sometimes, people are the worst.
I think this is one of the reasons why slut shaming on dates is worse than it used to be: People can know so much about you without ever having met you. It's a bit scary, in my opinion. So, if you're on a date, how do you know you're being slut shamed? Aside from feeling, y'know, terrible, you might notice one or more of these five things in particular. If your date exhibits any of these behaviors, find the exit. Pronto. (Or set them straight with a mild verbal whiplashing, then find the exit. Your choice.)
1. They Value Your Worth Based On Your Appearance
Do you have big boobs? You're probably a slut. Small boobs? Prude! Red lips? Kinky. Lots of make-up? High maintenance. Dazzling acrylic nails? Not sure about this one, but how do you wipe yourself?
...Except that none of this is even remotely true.
This is not to say that all dates take inventory of your looks and pass judgment on what kind of person you are; just that some certainly do. And if your date assumes anything about you based on your physical appearance, you've been slut shamed.
2. They Criticize You For Making A Move
This one might be more applicable in heterosexual relationships, but the gist of it is this; adapt as needed: How dare you lean in for the first kiss? How desperate are you?! Science has repeatedly proven that successful relationships are built on men making all the moves while women lay around like bumps on a log. (Except... not at all.)
3. They Respond Unfavorably After First Date Coitus
If someone thinks it's acceptable to bed you on the first date and then subsequently thinks you're too easy for having gone along with it, well, we have a name for people like that. It rhymes with shmouchebag. News flash: We are allowed to have whatever kind of sex we want, whenever we want it, as long as it is enthusiastically consensual. These are the same rules that apply for everyone, so really, they shouldn't be that hard to understand.
4. They Raise An Eyebrow If You Date A Lot
If the many dates you've been on happen to come up in conversation, and your date somehow equates this to desperation, promiscuity, or your inability to commit... check, please! You just got slut shamed.
5. They Raise An Eyebrow If You Don't Date A Lot
All right, so it's the opposite of slut shaming: It's prude shaming, and you'll know it by the eye-roll some jerk gives you as soon as you say you're not going home with them.
Want more of Bustle's Sex and Relationships coverage? Check out our new podcast,I Want It That Way, which delves into the difficult and downright dirty parts of a relationship, and find more on our Soundcloud page.
Images: Maskot/DigitalVision/Getty Images; Giphy (5)