Jade & Tanner's Wedding Is The Real Deal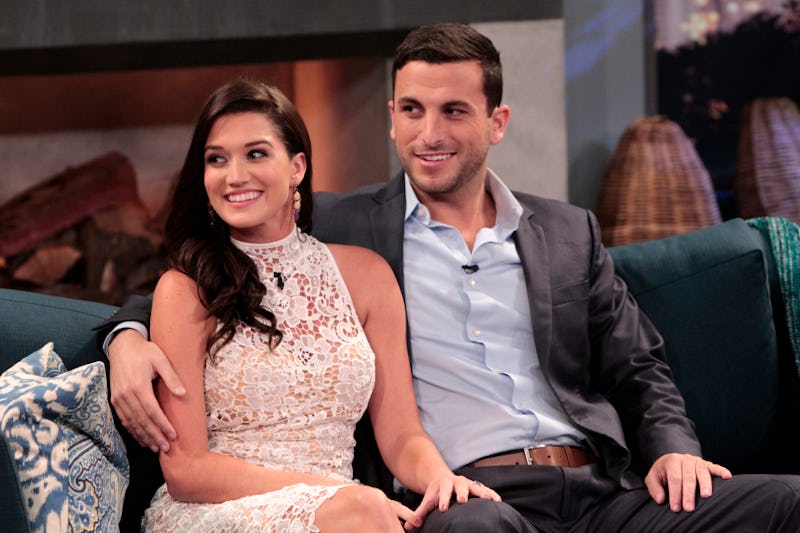 Chris Harrison is a man who wears many hats: Host of The Bachelor and Who Wants To Be A Millionaire?, single father, wedding officiant? That's right — in addition to watching singles search for love on national television, Chris Harrison has married several Bachelor couples, and he recently lent his services to the nuptial ceremony between Jade Roper and Tanner Tolbert. But, wait, is Jade and Tanner's marriage legal?
How dare I question the great and powerful Chris Harrison, right? The only reason I call this particular union into question is due to allegations that another Bachelor in Paradise couple's holy matrimony might not have been so legally binding. I'm talking about Marcus Grodd and Lacy Faddoul's ceremony on the Season 2 premiere of Bachelor in Paradise, which was also officiated by Chris Harrison. According to TMZ, a source claimed that the couple did not have a marriage license in either the U.S. or Mexico, where the wedding took place. When asked about the legality of the ceremony, though, Harrison ripped the reports in an interview with Access Hollywood.
"What a bunch of bozos. Really? Is that really a story? Actually, in all seriousness, we weren't in Mexico. We were on a soundstage. It was the same one they did the moon landing on," he joked before getting serious. "Of course it's a real wedding. They might be the first people ever to get married in Mexico, and then they're gonna come home and get their marriage license. Of course it was a real wedding. Honestly, that report is like something [Donald] Trump would say. Really?"
So, what about Jade and Tanner's nuptials?
Chris Harrison Is Legally Ordained
The Bachelor host is the real deal. When two producers on The Bachelor decided to get married in June of 2012, Harrison decided to step up to the plate and get ordained as a minister by the Universal Life Church Monastery. Since then, he has gone on to marry multiple couples, including former Bachelorette Ashley Hebert and her chosen love, JP Rosenbaum — he even has a snap of the three of them signing their marriage license on Instagram!
As For The Marriage License...
Jade and Tanner tied the knot in California, where marriage licenses are not a matter of public Internet record, so there's no way to check if the couple actually obtained a license. However, for a couple as public on social media as Jade and Tanner, you would think they would love to document every, well, document... but who knows? Maybe they're saving the license pic for a #TBT shot.
But, Everything Seems Super Legit
True, their wedding may be aired on TV, but it seems like it was the real deal. From all their wedding-themed Instagram snaps, fans have been able to see that the two are taking things seriously. Plus, they just bought a piece of land to build a house on together, what could be more married than that? Oh, that's right, an actual marriage — but, don't worry, I think that's exactly what they have and what we'll get to witness Sunday night.
Image: Rick Rowell/ABC