'Zoolander 2's Billy Zane On Selfies & Ben Stiller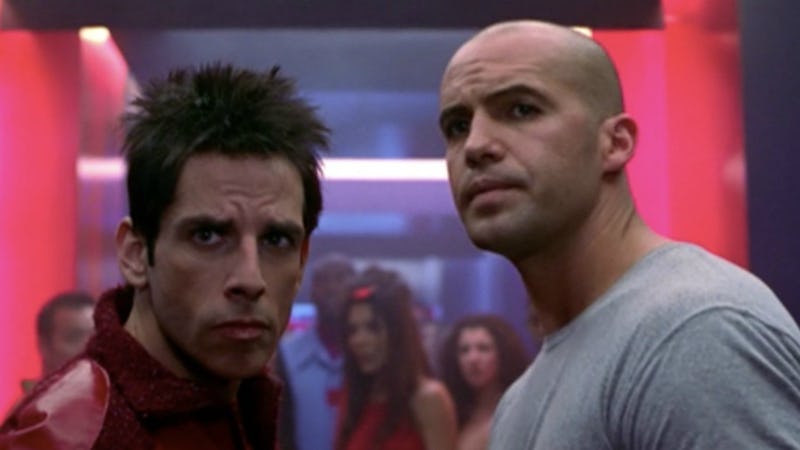 The first Zoolander film is known for it's hilarious one-liners, Ben Stiller's Blue Steel (also known as Le Tigre, Ferrari, and Magnum), and of course, a bevy of celebrity cameos. One such cameo comes in the form of Billy Zane, who played Cal, the haughty fiancé of Kate Winslet's Titanic character a few years earlier. And while only a few minutes in length, Zane's short appearance in Zoolander is undoubtably a fan favorite.
For the uninitiated, it goes like this: When things get heated between Zoolander and his male model nemesis, Hansel, and a walk-off is suggested, Billy Zane steps in to bring Zoolander to his senses. "Don't do this, Derek," he warns. "Listen to your friend Billy Zane, he's a cool dude," Owen Wilson's Hansel says. When Zane tries to convince again him not to go through with it, Stiller interrupts him: "Put a cork in it, Zane!" he shrieks before fleeing the scene.
It's been 15 years since Zane and Stiller filmed the pre walk-off banter, but Zane admits that all these years, fans still repeat the lines back to him. "I laugh every time," he says. "[Ben & I] improvised most of it. It became this strange, cult-y moment — this little meme with all too quotable phrases."
Zoolander 2 hits theaters more than a decade and a half after the first feature film, and this time around Zane claims a bigger role. "It was a little more scripted this time," he says. "We are always invited to play and stray, but my role was a little more integral to the plot than a walk on — or a walk off, I should say."
In 2016's Zoolander 2, Zane acts again as counselor and spirit guide. This time his mentoring duties extend to both Zoolander and Hansel, setting them on a quest to find themselves 15 years after a horrific accident that resulted in the death of Zoolander's wife Matilda and permanent scaring to Hansel's so-hot-right-now face. "I always thought there should be a second film," Zane says. "But I was so glad they waited until these characters, who are so hard-wired for a parody on self and technology, could [come back] in the age of the selfie."
Zane has a point. Zoolander is the ultimate egoist. Self-obsessed to his core, the worst thing that could happen to three time Male Model of the Year Derek Zoolander is a bad hair day. "They were old models 15 years ago, and now they're really old models," Zane muses. "But oddly, the movie deals with a very pointed satire. It's perfect. I wouldn't have had them do the second film any sooner."
For Zane, who is known mainly for his dramatic roles in Titanic and Dead Calm, playing himself — or rather, a version of himself — is refreshing. "The only strange part is when someone interviews you on the red carpet and says, 'How did you prepare for this role?' And I say, 'Well, you know, I arranged a meeting with myself, my people talked to my people.'"
But the main draw for appearing in both films was working with friend, co-star, and director Ben Stiller. "[Our relationship] is warm and fuzzy," Zane says. "We've become family men since the last time we worked together. We are fathers now. Ben and I have kids who are months apart. We always check in with each other. We've got a play date on the books. Same vibe as last time, but with the filter of fatherhood."
Next up for Zane are two series — Mad Dogs, an Amazon original series, and Guilt, an ABC Freeform project based loosely on the Amanda Knox trials. Outside of acting, Zane is writing an upcoming advice column for Empire magazine, cleverly titled, Listen To Your Friend Billy Zane. "People write in their genuine concerns and questions. I give them advice and try to make it as funny and sincere as possible," he says. "I just did my first and I absolutely adore it. I said, 'This is the best job ever.'"
Audiences have been listening to their on-screen friend Billy Zane for the past 15 years, revisiting the original Zoolander and anticipating its sequel. Zane, who seems to impart wisdom on and off camera, recently launched his own website, BillyZane.com, to further this habit. He intends to interview, "interesting people I've encountered during my day — experts in their fields," he says. "I've realized that the access my job affords is wonderful, but so fleeting and private, and I imagine there is quite a bit that others might be interested in learning or seeing."
Zoolander 2 is in theaters Friday, February 12.
Images: Paramount