The First 'Gilmore Girls' Couple Has Reunited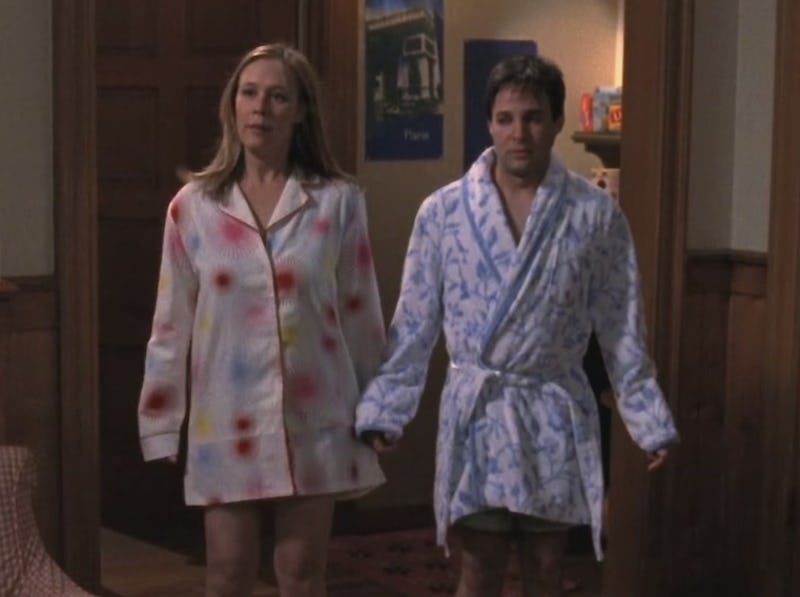 If you asked TV fans a few years ago the likelihood of returning to Stars Hollow, they would tell you to keep hoping — hanging out with the Gilmore Girls gang was something only possible through fanfiction and your wildest dreams. Of course, that was before Netflix started original programming — and before Netflix announced that they would be reviving Gilmore Girls . Now, it seems that just about everyone is headed back for the revival — from all three of Rory's exes to Miss Patty. When How To Get Away With Murder star Liza Weil revealed that she, too, would be back to reprise her role as Paris, fans had to wonder whether a certain love interest would also be joining her. As TVLine revealed on Thursday, Danny Strong is reprising his role as Paris' boyfriend Doyle — and we even got the cute reunion picture to prove it.
Yale newspaper editor Doyle was one of the few people who was able to handle Paris' super Type A personality, and so it's only fitting that, over eight years later, the two would still be going strong as a couple. In fact, Strong took to his Instagram to post a cute picture of him and Weil, seemingly on the set of the Gilmore Girls revival. If you're a diehard Gilmore Girls fan, prepare to feel all of the feels with this photo — I mean, they're officially the first Gilmore Girls couple to be reunited!:
Here's hoping that Doyle and Paris are together in the new season of Gilmore Girls and that the show isn't doing something particularly cruel, like have Strong and Weil return only for their characters to be newly divorced. After all, we all already have to expend our energy worrying about the state of Rory's relationships — aka, which of her three suitors might she end up with in the Netflix revival? — that I don't want a ship as ride or die as Doyle and Paris to be left in the lurch. Fingers crossed that this romantic pairing is still as cute as the above Instagram.
Image: Warner Bros. Television