Here's How Long You Can Get The Butterscotch Latte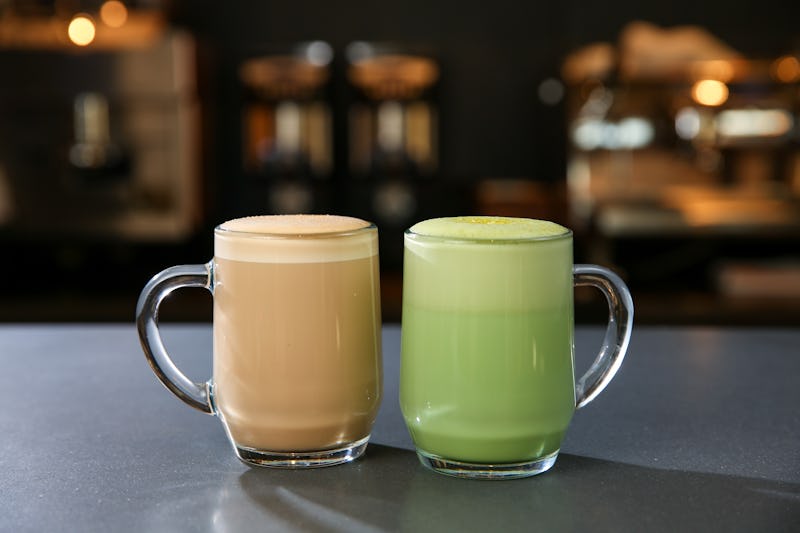 It's like Christmas morning when Starbucks unveils a new drink, but it also always comes with a lot of questions. Right now, one of the questions coffee lovers everywhere are wondering about is when they can get the Starbucks Smoked Butterscotch Latte. Well, I have good news and news and bad news: The bad news is that it's only here for a limited time; however, the good news is that there's an exception. Here's the deal.
Starting today, Feb. 16, the mega coffee palace will introduce its new beverage full of butterscotchy goodness in the United States and Canada. As for how long it will be available? It'll stick around until March 21, or as long as supplies last. There's good news for people in Seattle, though: It's part of the regular menu at the Reserve Roastery & Tasting Room, and has been for a while. A similar version of the drink had been introduced at the Roastery last fall, and people fell in love with it; subsequently, the nationwide limited release has allowed Starbucks to bring the butterscotch magic to coffee drinkers everywhere.
Here are the deets on the drink itself: The Smoked Butterscotch Latte combines espresso with steamed milk and smoked butterscotch sauce before finishing the whole thing off with a bit of smokey butterscotch sugar. Sounds perfect for those frigid winter days when the wind is so vicious that it freezes the boogers to your face. You can expect a Tall latte to range in price from $4.25 to $4.45. Not a bad deal for a cup filled with absolute butterscotch heaven. Look at it. Have you ever seen anything so beautiful? No. The answer is no.
The release of this new drink comes at the perfect time. I think we're all still recovering from being dumped by the recent (and short-lived) releases of the Molten Chocolate Latte, Molten Chocolate Frappuccino, and Molten Hot Chocolate, all three of which made us weak in the knees, and all three of which had disappeared after Feb. 14. I don't know about you, but my Valentine's Day was an empty shell because of it. No longer! The rich chocolate has now been replaced with delicious butterscotch, and all is right again in the world. Until March 21, that is — but hey, at least if we ever find ourselves in Seattle, we can recapture the magic at will.
Images: Starbucks (2)