8 Need-To-Know Facts About Kylie's BFF Stassi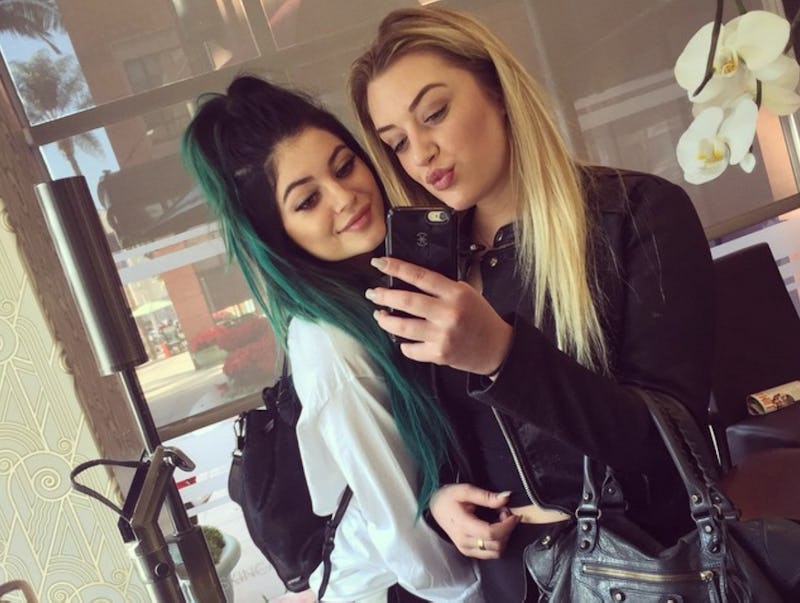 If you've already memorized the entire Kardashian-Jenner family tree, congrats! But there's a whole new crew you should get familiar with. I'm talking about Kylie Jenner's ever-growing circle of friends. Anyone who follows the 18-year-old on Snapchat knows she's constantly hanging out with her pals — whether cooking them food in her home or singing along in the car. There's her BFF Jordyn Woods and of course, Jenner's boyfriend Tyga. Can't forget about her friend Harry Hudson. Another regular in Jenner's clique? Anastasia Karanikolaou. If that's too complicated, you can just call her Stassi — or Stassie Baby, like all of her social media handles.
Diehard fans of Keeping Up With The Kardashians have definitely seen Stass before or at least heard her name mentioned on the show. That's because she and Jenner have been friends for such a long time. In a video interview for Teen Vogue, Jenner gushed over Karanikolaou. The reality star said,
You've been the most consistent and loyal friend in my life. And I feel like without you, I wouldn't be the person I am today. Because I wouldn't be weird anymore. I'd be trying to be normal.
How sweet is that? It's important to have BFFs that you can be your true self with — which also means embracing any of your weirdness. Here's everything you need to know about Jenner's friend Stassi.
1. She & Kylie Go Way Back
They met at a mutual friend's house, where Jenner showed up in a costume, according to Seventeen. The two shared their friendship story on a video for Jenner's app.
As for how they became so close, in the previously mentioned Teen Vogue video, Jenner admitted, "We used to hang out in groups, then we found out that we were in love with each other... Then we just went our own way."
Now Stassi lives with Jenner and Woods, according to Entertainment Tonight. Living with your best friends is like a guaranteed slumber party every single day.
2. Before Snapchat, They Starred On Keek Together
If you peruse YouTube, you'll find plenty of old videos from back when Jenner was super active on Keek. Stassi stars in a majority of them. They really are inseparable.
Now Snapchat is Jenner's go-to way to share videos with her fans. Her BFF is equally popular on the app — fans save Stassi's Snapchats and upload them to YouTube. She also regularly appears on Jenner's Instagram, including starring in the semi-disturbing face swap video below.
3. Their Styles Are Super Similar
These two frequently rock Yeezus shirts. Karanikolaou also wears a waist trainer, like Jenner and the rest of the Kardashian sisters.
Another example of their style similarities? That brown dress looks like it could've come straight out of Jenner's closet. The ponytail seems very Kylie-esque too.
4. She's Gaining Her Own Following
In January 2014, Karanikolaou appeared in Nationalist magazine. She told the magazine she hopes to do more similar work, saying, "In 10 years I hope to see myself modeling a lot and working in the entertainment business."
In a way, she's kind of become an Instagram model with more than 1.4 million followers. According to Entertainment Tonight, she makes a minimum of $5,000 per post when promoting various products.
5. She Appeared In Kylie's Teen Vogue Shoot
When Jenner appeared on the cover of Teen Vogue in May 2015, two of her best friends joined in the shoot. Stassi was one of the ones posing alongside her BFF in the dessert.
6. Her Name May Not Be Pronounced How You Think
Remember when ask.fm was a popular social media site? Stassi used to actively answer fan questions on her page. When a fan asked if her name was pronounced "st-aws, st-ass, or stace," she responded, "It's really hard to describe." I guess only her close pals know the truth.
7. She & Kylie Have A Lot Of Friends In Common
Stassi has been seen with Woods, Jaden Smith, and even Justin Bieber.
She also tagged along for Jenner's birthday getaway, along with Tyga and the rest of their squad.
8. She Cut Nash Grier's Hair
Stassi is friends with Vine star Nash Grier. She even recently gave him a haircut on his YouTube channel.
I don't know about you guys, but I feel so much more in the loop! Soon, I'll need another diagram to keep track of all of Jenner's BFFs.
Image: stassiebaby/Instagram