28 Delicious Chocolate Mint Recipes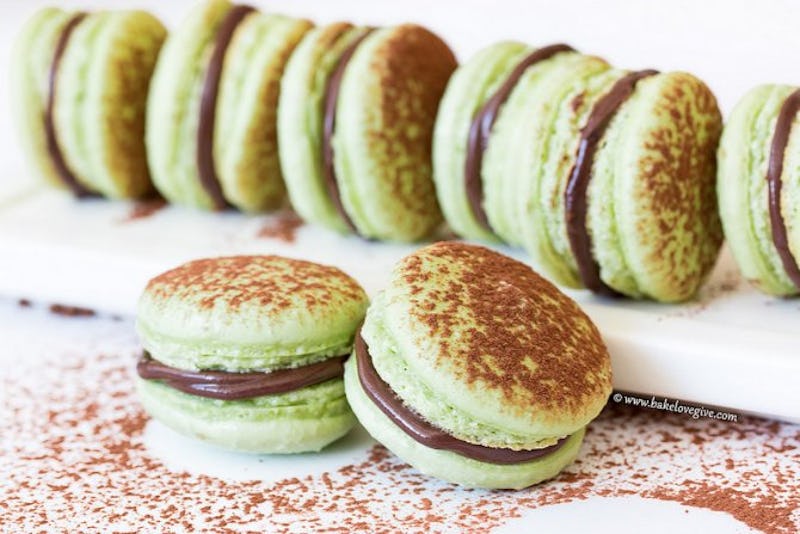 When it comes to sweet treats and iconic flavors, you can never go wrong with chocolate mint recipes. This winning combination is the star of its own holiday (Chocolate Mint Day is Feb. 19) and St. Patrick's Day (March 17). The best part? It comes back around during the Christmas season. Basically, we should just celebrate chocolate mint all year round.
Of course, I think we can all agree that there's nothing wrong with plain ol' chocolate. But if you're a chocolate lover, you know all about the potential of adding contrasting flavors. Everything changes when it comes to peppermint and chocolate. You get a refreshing burst of flavor that isn't too sweet or tart. It's exactly like a party in your mouth.
Maybe you're still looking for ways to use up leftover candy canes from the holiday season. Or maybe you've hoarded so many Thin Mints from the Girl Scouts that you need a way to use them all up. Perhaps you're currently experiencing both situations. Whatever it is, I got your back.
This list features 28 (yes, 28!) chocolate mint recipes to freshen up your sweet tooth. There's quite a variety, so I hope you're ready to have your mind blown. Enjoy!
1. Hint of Mint Chocolate Milk
Chocolate milk is like that classic childhood drink that never gets old. And now that you're a real life adult, it's time to ditch the bottled chocolate syrup like the grownup you are. Make a deliciously minty version with some help from Joy the Baker.
2. Homemade Mint Milano Cookies
Cookie lovers know the beauty of a bag of Milano cookies. And now, with A Cozy Kitchen's guidance you can make a chocolate mint version right at home.
3. Thin Mints
Impress everyone you know with this classic cookie recipe from The Crepes of Wrath. They're super fun to make, too!
4. Mint Fudge Brownie Pops
Why does everything sound better in pop form? These minty brownie pops by Confessions of a Cookbook Queen are no exception. I'm drooling over here.
5. Mint Chocolate Chip Profiteroles
Take your baking skills for a fancy spin with this darling dessert by Joy the Baker. Ice cream and puff pastries, what more can you ask for?
6. Peppermint Patty Brownie Cupcakes
There are actual peppermint patties in these cupcakes, guys. Dreams really do come true, with some help from The Crepes of Wrath.
7. Chocolate Peppermint Roll with Chocolate Ganache
If you're into fun and flavorful fillings, you'll adore this cake recipe by Joy the Baker.
8. Double Chocolate Peppermint Cookies
Double the chocolate, double the fun. Thanks for your brilliance, Joy the Baker.
9. Easy Oreo Mint Chip Ice Cream Cake
Between the mint ice cream and Oreos, this cake has a lot to offer. Bakerella basically just figured out your next birthday cake.
10. Chocolate Peppermint Sandwich Cookies
While we're on the topic of mint Oreos, Joy the Baker figured out how to make a homemade version. Pair these with the last recipe for ultimate kitchen cred.
11. Chocolate Mint Ice Cream with Chocolate Crackles
Nothing says "cool" like a peppermint-flavored ice cream. The Messy Baker was nice enough to show you how it's done.
12. Chocolate Mint Chip Ice Cream Sandwiches
Once you've perfected your DIY ice cream skills, try your hand at homemade ice cream sandwich cookies. Mel's Kitchen Cafe knows what's up.
13. Marbled Peppermint Crunch Cake with Chocolate Ganache
For a dessert that doubles as a work of art, check out this marbled cake by The Crepes of Wrath. The "peppermint crunch" part totally won me over.
14. DIY Mint Chocolate Bailey's Irish Cream (Vegan)
It might be well past Christmas, but this homemade mint Irish cream by Ari's Menu is sure to be a hit all year round. How appropriate would this be for St. Patrick's Day?
15. Peppermint Pretzel Marshmallow Fudge
Again... who says the holidays get to have all the minty fun? Joy the Baker demonstrates how to use the last of those red and white peppermints in a delish fudge recipe.
16. DIY Thin Mint Cookies
Made with fat-free cream cheese and light whipped butter, these cookies by Ari's Menu are a better-for-you version of DIY Thin Mints.
17. Girl Scout Thin Mint Mini Pies
Mini pies are awesome for when you have a craving brewing within you. Thankfully, Foodie Crush has demonstrated how to make these little guys using beloved Girl Scout cookies. Win.
18. Peppermint White Hot Chocolate
For another year-round peppermint recipe, cozy up with The Comfort of Cooking's white hot chocolate concoction. Don't forget to add this to your list of candy cane stash busters.
19. Mint Chocolate Chunk Cookies
You can never go wrong with a good chocolate chip cookie recipe. For a mintified version, try this recipe by Damn Delicious. Imagine how good this would be with that mint chocolate milk.
20. Three-Ingredient Oreo Thin Mints
Sometimes, you just need a a quick dessert to satisfy your sweet tooth. That's where The Comfort of Cooking comes in with the ultimate cookie hack.
21. Double Chocolate Peppermint Whoopie Pies
Thanks to Ari's Menu's wonderful brain, you can create the ultimate chocolate mint whoopie pie. Bonus: They're filled with peppermint-flavored white chocolate. Win.
22. No-Bake Thin Mint Cheesecakes
Cheesecake fans will swoon over this charming concoction. Created by Mel's Kitchen Cafe, this recipe demonstrates how to make mini versions featuring a Thin Mint crust.
23. Thin Mint Trifles
These trifles by Table for Two are so pretty, that you might not even want to eat them. But when you learn that they're made with Thin Mints and pudding, you'll probably change your mind.
24. Mint Chocolate Pudding Cookies
...Because you can never have enough cookies on a list of recipes. For an interesting twist on the average cookie, make these fudgey, soft pudding cookies by Table for Two.
25. Classic Chocolate Mint Brownies
Ooh, brownies. How I love you so. Mel's Kitchen shows us how to top them off with a mint layer and chocolate ganache.
26. Mint Chocolate Chip Truffles
There's something about truffles that make them so perfect for gift giving. And with Confessions of a Cookbook Queen's recipe, you can create a batch to gift your mint-loving friend... or yourself.
27. Thin Mint Brownie Meringue with Whipped Cream
Take it up a notch or two with a brownie meringue dessert by The Crepes of Wrath. This one also has a glorious Thin Mint crust going on.
28. Chocolate Mint French Macarons
For the fancy dessert of all fancy desserts, turn to these pretty pastel macarons. I'm especially loving how Bake Love Give made the chocolate filling infused with mint, too.
For more fun food ideas, check out Bustle on YouTube.
Images: Joy the Baker; A Cozy Kitchen; The Crepes of Wrath; Confessions of a Cookbook Queen; Joy the Baker; The Crepes of Wrath; Joy the Baker; Joy the Baker; Bakerella; Joy the Baker; The Messy Baker; Mel's Kitchen Cafe; The Crepes of Wrath; Ari's Menu; Joy the Baker; Ari's Menu; Foodie Crush; The Comfort of Cooking; Damn Delicious; The Comfort of Cooking; Ari's Menu; Mel's Kitchen Cafe, Table for Two; Table for Two; Mel's Kitchen; Confessions of a Cookbook Queen; The Crepes of Wrath; Bake Love Give