Meet Lauren B.'s Parents On 'The Bachelor'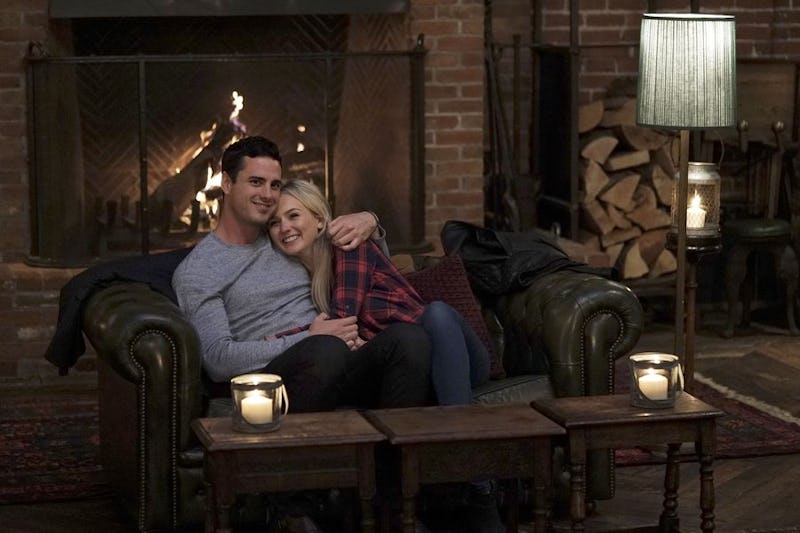 Even though she's the only Lauren left vying for Ben's attentions on The Bachelor, Lauren B. has yet to lose her last initial, which stands for Bushnell, when being referenced on the ABC show. Ben's going to meet the people behind the initial, Lauren B.'s parents, on The Bachelor during the hometown visits in the Feb. 22 episode. Of the four women remaining, Lauren has shown throughout this season that she is close to her family — even discussing her father during her first solo date with Ben — so what should Ben expect from Lauren's mom and dad?
According to Lauren's Instagram account, besides her parents, Lauren has three siblings — Mollie, Bryant, and Brett. While Lauren has been known to speak about her father on the show, her social media shows she's super close with her entire family. Her mom Kristin even has an Instagram of her own. Although Kristin Bushnell's Instagram doesn't provide too much insight into her life or what she does for a living, it can be said that she's extremely youthful looking and as striking as her two daughters. (Her mom, like her dad, is 53 years old, according to OKHereIsTheSituation.) And, according to a photo Kristin posted on Instagram, Lauren B. definitely resembles her mom.
As for her father, Lauren has already shared with Ben that her dad loves lawn work, but there is more to Dave Bushnell than just good landscaping. Thanks to my trusty sidekick Google, I discovered Lauren's dad LinkedIn profile (no such luck with Kristin). Currently, he works as a "diagnostic account executive" at Adaptive Biotechnologies and he has been in the health care field for some time as his past employment shows he has a background in pharmaceuticals and specializes in oncology. When Dave gets the chance to finally meet the man who is pursuing his daughter (and a horde of other women), this preview clip from The Bachelor shows the caring dad expressing his concern that Lauren might get hurt.
During the hometown dates, Ben will travel to the hip city of Portland, Oregon to meet the Bushnells since Lauren's parents are from the nearby Lake Oswego and live in West Linn now, according to the Portland Tribune. (Although her Bachelor bio has Lauren's own hometown listed as Marina Del Rey, California.)
Also for her Bachelor bio, when asked what being married would mean to her, Lauren referenced her parents' long relationship. "It means a lot. My parents have been married for 26 years and I'm so close to my family," she wrote. "Family is everything and marriage means starting my own family." Her sister Mollie even shared a photo from their parents' wedding day on her Instagram over a year ago.
While information about Lauren's parents won't necessarily help predict her future with Ben, her stable and loving background might endear Ben even more to her. We'll just have to watch and see what happens.
Image: Levy Moroshan/ABC