'Triple 9' Pays Tribute To Classic Heist Films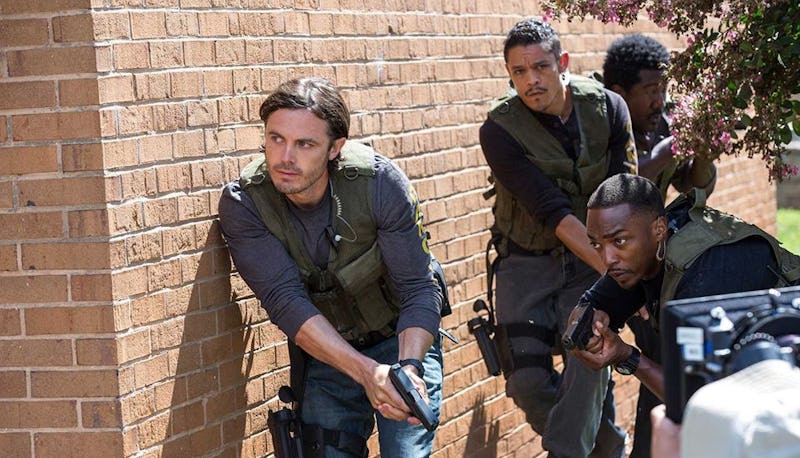 What is it about heist movies that keeps them in vogue from generation to generation? Maybe it's the intricate plotting of an Inception or the antihero appeal of a Bonnie & Clyde. Triple 9 is the latest Hollywood caper looking to pull audiences in with some classic crime thriller elements. The film features a prestigious ensemble getting gritty as career cons and cops-gone-bad, including Chiwetel Ejiofer, Kate Winslet, Anthony Mackie, and Aaron Paul. The plot centers around a group of crooks who are on the leash of the Russian mafia. Their most intricate robbery yet requires a distraction: the murder of a straight arrow cop played by Casey Affleck. Surprise: things don't go quite as planned. But is Triple 9 a true story, based on actual events?
The gritty, Atlanta-set thriller is the work of first-time screenwriter Matt Cook. Triple 9 was plucked for production from the infamous industry Black List of the best un-realized scripts in town, according to IndieWire. Triple 9 works with the calling cards of the genre, but doesn't dramatize a specific event. The story and people are fictional, though it's a reasonable guess to say that Cook may have drawn from his own experience in the army when developing the ex-military characters in his script. Cook wrote an autobiographical piece for Texas Monthly in 2013 about his experiences during his first tour in Iraq and his choice to go back as an embedded journalist. "I miss the highs from surviving roadside bombs, firefights, snipers, and the hellish madness of combat," Cook wrote. "Even more, I miss my men and my friends and the insular camaraderie forged between us." In terms of Triple 9's veteran characters, that search for purpose and camaraderie leads them down a dangerous, criminal path.
In an interview with JoBlo, director John Hillcoat spoke about the relevance of the project, even though the storyline itself is invented. "I was itching to do something very contemporary and urban that says something about America, like where America is at right now," Hillcoat said. He cited the film's "credibility" and "energy" for drawing his interest, and stated his preference for realism in all aspects of making Triple 9, including shooting on-location in Atlanta. Local news site Access Atlanta ran a casting notice on behalf of Triple 9; the production was seeking real EMTs, police officers, and SWAT officers to participate as extras, to aid in authenticity. "To film in neighborhoods that no one else films in, to create a world that has that practical element...I don't know how people do the green screen, void, with little balls everywhere..." Check out the entire interview with John Hillcoat below.
Triple 9 is timely in its portrayal of the tense relationship between law enforcement and civilians, but it also pays homage to its heist movie predecessors. In an interview with The Independent, Hillcoat name-checked the 1971 Oscar-winning crime drama The French Connection as a point of inspiration, and put audiences on the lookout for direct references to the 1995 Al Pacino/Robert DeNiro classic Heat. "No matter how much you plan these things, there's always an element of chaos," Hillcoat said in reference to the underlying similarities among the best heist films. "And that was something we were excited to explore."
Image: Open Road Films