How To DIY Mila Kunis' 'Jupiter Ascending' Look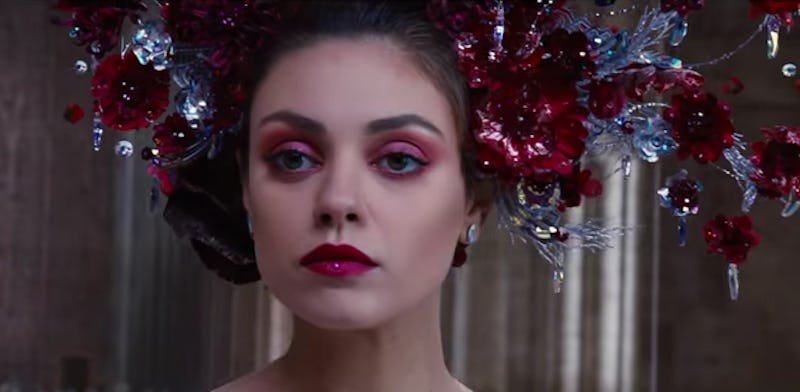 Upon first reading the description for Jupiter Ascending, I couldn't have predicted that the costumes and beauty looks of the characters would be so stylish. When watching the film, I was entranced by Mila Kunis' Jupiter Ascending style in a particular scene where she's dressed in full bridal regalia. For those who have yet to see this epic sci-fi, there are spoilers coming up. But for anyone who has already watched the movie or doesn't mind finding out part of the plot, read on!
The basic premise of Jupiter Ascending is that after a series of action-packed events, Kunis' character, Jupiter Jones, comes to learn she is basically the heir to Earth. Three power-hungry siblings from the most wealthy (and corrupt) family in the universe then try to manipulate her. In one particular scene, she's almost forced to marry one of the siblings. But during this scene, she sported an incredible bridal gown and her makeup was out of this world. Her gown and headdress featured red flowers and crystals and she looked like galactic royalty.
To complement her stunning attire, her makeup highlighted the scarlet hues of the blooms and she even had a tiny gem on her lip. This beauty look was so enchanting and romantic that I believe it would be perfect for a date night. So here's how to get Mila Kunis' Jupiter Ascending bridal makeup.
Preparation
Since this look is mainly an eyes and lips one, I prepped my skin by moisturizing and applying my foundation. I used Bourjois Healthy Mix Foundation in "Vanilla."
Step 1: Blush
Since Ms. Kunis was sporting blush along her cheekbones, making them look even more chiseled, I applied Laura Geller Baked Elements Blush in "Florence" in an effort to draw attention to mine.
Step 2: Defined Brows
Kunis' eyebrows were well defined in this space-age look, so I drew over mine with my Colorsport 24 Hour Eyeliner. From my experience, it's awesome to use for brows too, due to its felt tip, pen-style nib.
Step 3: Eyeshadow
Next, I applied my "Muse" eyeshadow from Lime Crime's Venus: The Grunge Palette all over my eyelids, just like Kunis' peepers.
I swept the same shadow along my lower lash line in an effort to copy her dramatic eye look.
At this stage, your eyes should really be taking shape.
Step 4: Eyeliner
In an effort to frame my eyes and make them a statement part of the look, I used my aforementioned eyeliner to draw a subtle line along my upper and lower lash lines.
Step 5: Mascara
I completed my eyes with a layer of LUSH's "Eyes Right" mascara.
Step 6: Lip Liner
After this, I moved onto my lips. I drew around them with a Make Up Gallery Pout It Out Lip Liner in "Brown 3." I don't normally use lip liner, but I thought that with the lipstick shade being so dark, it would be handy to give myself a guideline.
Step 7: Lipstick
I picked Rimmel Lasting Finish Kate Lipstick in "#30 Rosetto."
This was a close match to Kunis' dark red shade.
Step 8: Lip Jewel
For me, Ms. Kunis' lip jewel really makes this makeup look stand out.
I found a gem in my craft drawer and used Lime Crime's Glitter Helper to stick it to my bottom lip.
The Finished Look
I totally love the finished look. When you pair it with a foxy dress for your date night, you'll look utterly ravishing and fit to rule the world. I know it's a little bold and "alternative" in the sea of traditional date night beauty tips, but why not show off your more adventurous, IDGAF side? I might skip on the lip jewel for an actual night on the town. But otherwise, the look is unique, radical, and a perfect test to figure out how open-minded your date actually is.
Want more beauty tips? Check out the video below, and be sure to subscribe to Bustle's YouTube page for more hacks and tricks!
Images: Village Roadshow Pictures, RatPac-Dune Entertainment, Anarchos Productions (5); Phoebe Waller