The 7 Most Progressive Photo Shoots Of The '90s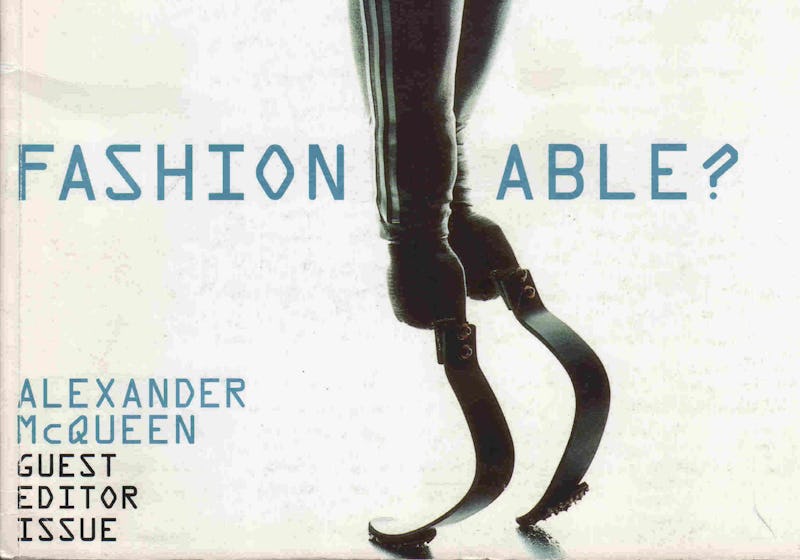 Even though I'm a Millennial, I'm old enough to know that '90s fashion was ruled by a group of models known as "The Supers." The rise of the supermodel led to a symbiotic relationship between models, designers, and photographers, all of whom took inspiration from each other to create iconic imagery and progressive photo shoots.
The decade wasn't just about the rise of supermodels like Cindy Crawford or Kate Moss, though. It was during this era that photographers, musicians, celebrities, and some unconventional models created progressive imagery that has since become iconic as well.
When researching the most progressive shoots of the '90s, RuPaul's groundbreaking Viva Glam campaign definitely stood out. I was also in awe of the 1998 issue of Dazed Magazine, guest edited by Alexander McQueen and with a focus on representation of disability in fashion.
The '90s were a time of rebellion and exploration in the sartorial world. Brilliant photographers of the era such as David LaChapelle, Steven Meisel, Herb Ritts, Gilles Bensimon, and Ellen von Unwerth captured the changing tide of style. And while it wasn't quite the inclusive landscape we now know in 2016, these progressive photo shoots and iconic fashion moments laid the groundwork for the radical change we are just starting to see today.
1. Emme Aronson's Revlon Campaign
In 1997, plus size supermodel Emme Aronson signed on to work for Revlon and became the first full figured model to land a major cosmetics contract. Though the shoot itself was pretty straightforward beauty work, the fact that a plus size model was used alongside straight size models and celebrities was a pretty big deal. Aronson's work throughout the '90s as a plus model in the time of The Supers is still impressive, and certainly helped pave the way for plus size models becoming household names.
2. Madonna's Sex Book
By 1992, Madonna was already no stranger to controversy, so a coffee table book of erotic photographs was probably right on brand for her. But that didn't make it any less progressive. Released alongside her fifth studio album, Erotica, the book featured photographs by Steven Meisel and cameos by Vanilla Ice, porn star Joey Stefano, Naomi Campbell, and Tatiana von Fürstenberg. Sex sold over 150,000 copies on its first day of release and has been praised for its pro-sex feminist imagery ever since.
3. Alexander McQueen & Isabella Blow By David LaChapelle
I have browsed through hundreds of David LaChapelle photos because there are just so many iconic ones from the mid '90s to today. I could've picked any number of shots, but this one of Alexander McQueen and Isabella Blow from 1996 kept coming up over and over again. The fact that this moment was captured is amazing in and of itself. There's a level of both realism and fantasy present in all of LaChapelle's work that has defined his signature progressive style over the past two decades.
4. Jenny Shimizu's Calvin Klein Campaigns
Jenny Shimizu is a groundbreaking queer model who was working as a mechanic when she was discovered. In 1994, she featured in a number of Calvin Klein campaigns as a butch woman wearing boxers and plain white tees. The Lingerie Addict wrote about Shimizu's influence, noting, "A lot of her images contrast masculinity and femininity, and the choice to be braless is in many ways the ultimate androgynous move: It reveals the breasts but treats them like no big deal." Her early work for Calvin Klein certainly marked a progressive turn in fashion.
5. RuPaul's Viva Glam Campaign
These days, celebs like Nicki Minaj, Lady Gaga, and Miley Cyrus partner with MAC Cosmetics and the Viva Glam Campaign to support the MAC Aids Fund. But it was drag queen RuPaul and singer k.d. Lang who first represented the brand. RuPaul's shoot for the first Viva Glam Campaign in 1994 featured her wearing red latex thigh-high boots. The shoot helped solidify RuPaul as a supermodel in her own right.
6. Alek Wek For Vogue Italia
In the mid '90s, Sudan-born model Alek Wek became an important force in the era of The Supers. She was featured not only in the pages of Vogue Italia in 1996 but in American Vogue throughout the '90s. Both Oprah and Lupita Nyong'o have cited Wek as an inspiration, according to Vogue, and it's clear that she's continued to influence the runways today.
7. Dazed's Fashion-Able Issue
Guest edited by Alexander McQueen, the cover story for the 1998 Fashion-Able issue of Dazed & Confused Magazine featured models with a range of physical disabilities. Kylie Jenner's Interview magazine cover sparked an important debate in 2015 about the lack of representation for people with disabilities in fashion, and I only wish I had known to reference this Dazed cover at the time. Of the issue, stylist Katy England said it "proved that beauty can be found in difference."
The progressive photography of the '90s showcased a side of beauty that fashion wasn't giving consumers at the time. These groundbreaking images and the models who were a part of them helped pave the way for a sartorial landscape that is starting to show just how beautiful difference really can be.
Want more progressive inspo? Check out the video below, and be sure to subscribe to Bustle's YouTube page for more!
Image: Dazed & Confused (1)