The Internet Is Obsessed With This Carrot Farmer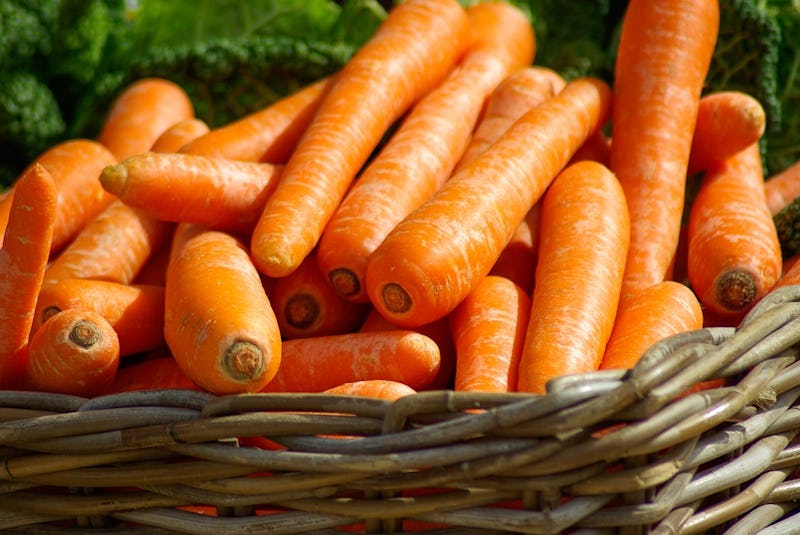 If you've seen the random photos of an attractive farmer circling your Twitter feed, it's probably left you wondering: Who is carrot man, where did he come from, and why is the Internet so drunk this week? (And they are all equally valid.) As it turns out, "Carrot Man" is a (very photogenic, weirdly attractive) vegetable farmer from the Philippines. After a Facebook user spotted him on a walk one day, he snapped some pics, posted them, and well, the rest may be history.
The farmer is from rural Sagada, Mountain Province, and while his identity was at first a mystery, we can now confirm that his name is Jeyrick Sigmaton. Leave it to the Internet to figure out anything within 24 hours. (Though it does make you pause and wonder what the world would be like if we cared as much about finding Carrot Man's name as we did, you know, solving real problems. I digress...) The phenomena has produced the hashtag #carrotman, and like the random, nonsensical famous people who have come before him (Alex from Target, Damn Daniel) he's building quite a solid fanbase.
Check out the myriad of memes and posts that have dawned in the wake of this (weird, yet even more weirdly compelling) phenomena. Mostly, it's just photos of him lifting carrots and people losing their minds, but there are of course some other true #gems, such as an aged version of the man (done via Photoshop) and the caption "aged carrot." (Ha.) Anyway, check out the madness for yourself below:
Carrot Man doing what he does best: lifting carrots.
Was it just destiny that he found fame in the dark, random recesses of the Internet? Some people think so.
His supporters are rallying from near and far.
Because of course they are.
They're also here to preach the truth.
Apparently so...
Carrot Man apparently also has a relative (or a great Photoshop hacker).
Let it be noted that this was also the "aged carrot" photo. So.
It would not actually be surprising if this were real.
The thirst we as human beings are capable of knows no bound, no end and no shame.
Long live Carrot Man.
May his crops always be abundant, and his virality last longer than that convict we were once all in love with... Excuse me, I mean convicts.
Image: Pixabay