'Fuller House's New Comet Has Big Paws To Fill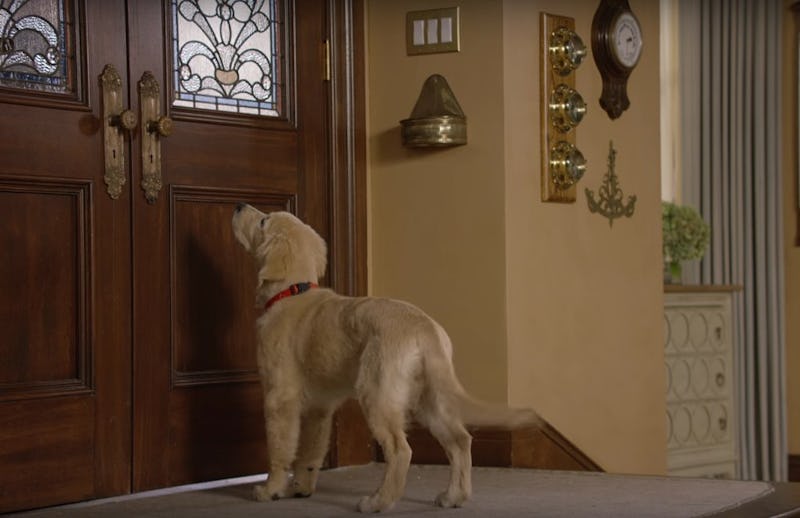 When Netflix released the trailer for its Full House reboot, Fuller House, the streaming service put the most important member of the family front and center: A Fuller House take on Comet the dog. The start of the clip is the soft and precious young golden retriever waiting somewhat impatiently at the door for its humans to come home. Now, I'm sorry to science this, but it's simply not possible for the dog in the Fuller House trailer to be Comet. Even TV pups don't live forever. But, the reboot dog is nearly identical to Comet, and that pet-casting hints that this show will stick pretty close to the source material to keep audiences happy and comfortable.
Frankly that's a relief. Fans have to accept a Fuller House without Michelle; were they supposed to accept a new Tanner pet breed too? Comet is a member of the unofficial TV dog hall-of-fame; why not reboot him too? Basically, Comet was the kind of dog every family wished they'd had: loyal, well-trained, always there to put a comforting paw on your knee when you cried.
These other famous TV dogs are so close to being on Comet's level. They upped the cute quotient on their own shows, and, in some cases, upstaged their human counterparts. So without further ado, here are seven incredible TV dogs who exemplify four-legged excellence just like Comet did, and hopefully Fuller House's Comet Jr. Jr. Jr. will too.
1. Eddie On Frasier
Eddie had an almost human sense of humor. He was better at sarcasm than the entire Crane family, and he basically ran that household.
2. Murray On Mad About You
Would an actually affordable New York apartment be big enough to allow for a collie as sweet as Murray? The world may never know.
3. Backup On Veronica Mars
Backup did his part to challenge the stereotype that pit bulls are vicious creatures. The trusty dog of teen PI Veronica Mars, Backup was a gigantic sweetheart and much less intimidating than he looked.
4. Digby On Pushing Daisies
Digby had seen things. He was the very first living (well, formerly living) thing to experience Ned's resurrection powers on Pushing Daisies. Wouldn't you bring back your trusty pets first if you had the same skills?
5. Wishbone On Wishbone
Wishbone was nothing short of a literary genius. Jane Austen, Shakespeare, Victor Hugo — they're just a few of the authors in the Jack Russell's repertoire. Not going to lie, I remember the Wishbone versions of some stories better than I do the actual books themselves.
6. Santa's Little Helper On The Simpsons
An average animated American family like the Simpsons needed an average American animated dog. Bart and Homer saved the former racing dog from a life of loneliness after his owner abandoned him. And, from that point on, he was the best friend a budding juvenile delinquent could have.
7. Champion On Parks And Recreation
As soft-hearted as they are weird, April and Andy Dwyer certainly weren't going to adopt any "normal" dog. Champion, the three-legged pit bull, is the first extension of their little family, so named because, according to Andy, "he's the dog world champion."
How will the new Comet stack up to its predecessor and to these TV pups? Stream Fuller House on Netflix starting Feb. 26 to find out.
Images: Netflix; Giphy (4); f***yeahparksandrecreation/Tumblr