A New Generation Joins The Clan On 'Fuller House'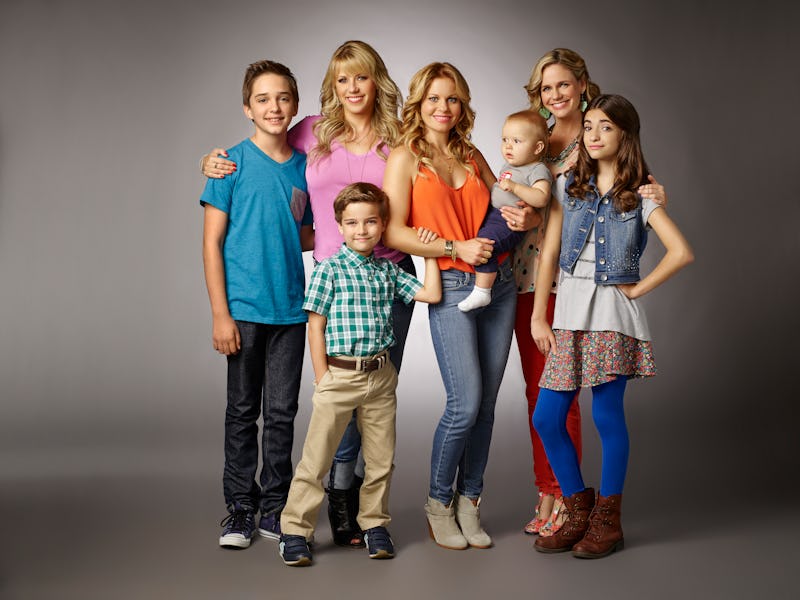 After giving Arrested Development a fourth season, and announcing the return of Gilmore Girls, Netflix is reuniting another beloved TV family: The Tanners! Danny Tanner and his mixed family are returning on Fuller House. But this time, eldest daughter D.J. will be head of the house, moving in with her sister and BFF to care for her three young sons. D.J. Tanner's sons, Jackson, Max, and Tommy on Fuller House are portrayed by some stellar young actors.
Well, first off, D.J. is a widow — she goes by D.J. Tanner-Fuller now — and her sons include the eldest Jackson, the middle child Max, and the baby of the family (literally) Tommy. They're played by four child actors: Michael Campion as Jackson, Elias Harger as Max, and twins Dashiell and Fox Messitt as Tommy, just like both Mary-Kate and Ashley Olsen played D.J.'s youngest sister Michelle on Full House. However, this new mixed family doesn't stop there. In terms of non-Fuller family members on Fuller House , there's Kimmy Gibbler and her daughter Ramona; plus the middle Tanner child, Stephanie, will be around to help her big sis out with raising three sons, which can't be a walk in Golden Gate Park. Want to know more about the actors portraying the Fuller boys? I've got you covered.
Michael Campion
Campion has starred in the previously released body-switching comedy Christmas Trade and family-friendly sci-fi Robo-Dog. When he's not acting, Campion enjoys normal kid activities like dressing up as a jedi from Star Wars for Halloween, going paint-balling with his dad, or going camping with friends. So he's just a regular kid — who just so happens to be joining one of the most famous TV families of all time!
Elias Harger
Hailing from Denver, Colorado, Harger turned eight while filming Fuller House, and he's no stranger to acting. Though his film and TV resume may be thin, he played Tiny Tim in A Christmas Carol at The Denver Center for the Performing Arts in 2014. However, according to a profile on the child actor in the Denver Post, Harger wants "to do it all" including mediums like TV, movies, and theater utilizing his skills in acting and singing for both comedic and dramatic performances. Those are some high aspirations for an 8-year-old, but who else didn't dream big at that age?
Dashiell and Fox Messitt
As the youngest cast members on Fuller House, I had a tough time tracking down much information about the Messitt twins. They are signed with Zuri Model & Talent based in Hollywood and Fuller House marks their first roles in either film or television! They have some big shoes to fill considering the Olsen twins became such massive stars after Full House, but I think they're up to the task of looking adorable as Tommy on Fuller House.
So, now that you know a little bit more about Campion, Harger, and the Messitt twins, get ready to meet Jackson, Max, and Tommy on Season 1 of Fuller House when it hits Netflix!
Images: Robert Trachtenberg/Netflix