Tina Fey's New Movie Takes On Real Drama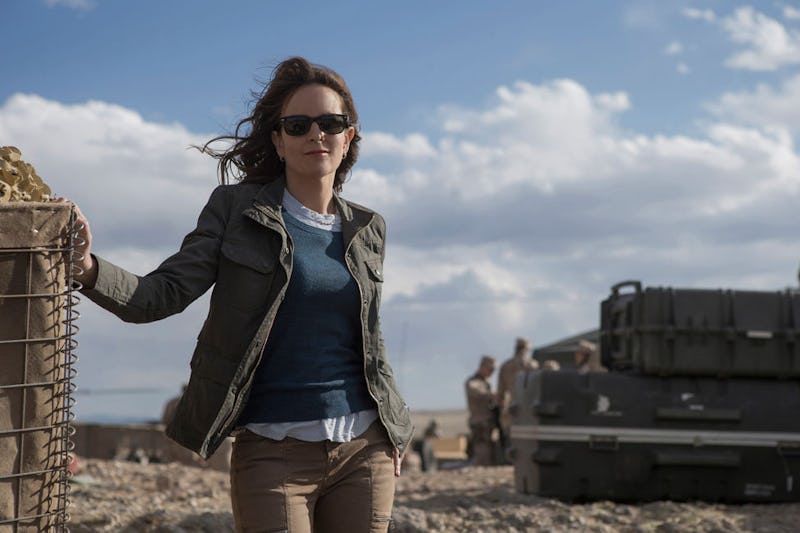 Tina Fey heads to Afghanistan and Pakistan in her new film, Whiskey Tango Foxtrot, coming out March 3. In the dramedy, Fey plays Kim Baker, a broadcast journalist who travels to Kabul for work and ends up partying and going on adventures with fellow traveling journalists, like Tanya Vanderpoel (Margot Robbie) and photographer Iain MacKelpie (Martin Freeman). The story seems almost too wacky to be true, which is why, of course, it is. Kim from Whiskey Tango Foxtrot is a real person, a journalist by the name of Kim Barker. In fact, the film is based on Barker's memoir, The Taliban Shuffle.
In real life, Barker wasn't on-air talent. She was actually a journalist writing for the Chicago Tribune when she was sent to the Middle East. She then worked as the South Asia bureau chief for the paper from 2004-2009. Barker's credentials gives the impression that she was nothing like her sometimes clueless character in Whiskey Tango Foxtrot . However, just like her on screen counterpart, Barker originally jumped into an assignment overseas without any prior experience, creating the fish-out-of-water storyline used in the film. "I volunteered for the assignment. Basically by walking into the foreign editor's office and saying, 'My name is Kim Barker, I'm a Metro reporter. I'm single and I'm childless, and therefore, I'm expendable,'" Barker recalled during an interview with WCCO.
It was that dark humor that helped make The Taliban Shuffle successful when it was released in 2011. And the humorous tone of the book is continued in the film, no doubt in large part due to the casting of Tina Fey. Screenwriter Robert Carlock saw the similarities between the comedian and Barker when writing the script. "She's funny and daring in her life, and so is Kim in hers. I don't know if Tina would jump at going to Kabul tomorrow, but anyone in (show) business takes certain risks with their life," Carlock told USA Today .
There are a few clear differences between Barker's book and the film it inspired. On the most basic level, Barker was a print journalist, not a cable news correspondent as Baker is in the film. Other characters have been tweaked, and certainly some situations were added for dramatic effect (most notably how much danger Baker actually finds herself in the middle of). However, one thing that rings true is how Baker, in the film, becomes almost addicted to being in the thick of the conflict and danger. "It did capture a certain truthiness of my narrative arc. ...But it's Hollywood, right? She's out there with bombs going off in front of her. My experience was not nearly so dramatic," Barker told CJR .
When The Taliban Shuffle was released in 2011, The New York Times wrote in their review that Barker "depicts herself as a sort of Tina Fey character." Keeping that in mind, I think it's safe to say that Fey not only plays a real person in Whiskey Tango Foxtrot, she plays someone not entirely unlike herself.
Images: Paramount Pictures; whisfeytangofoxtrot/tumblr (2)