6 Funny Quotes Celebrating Leap Day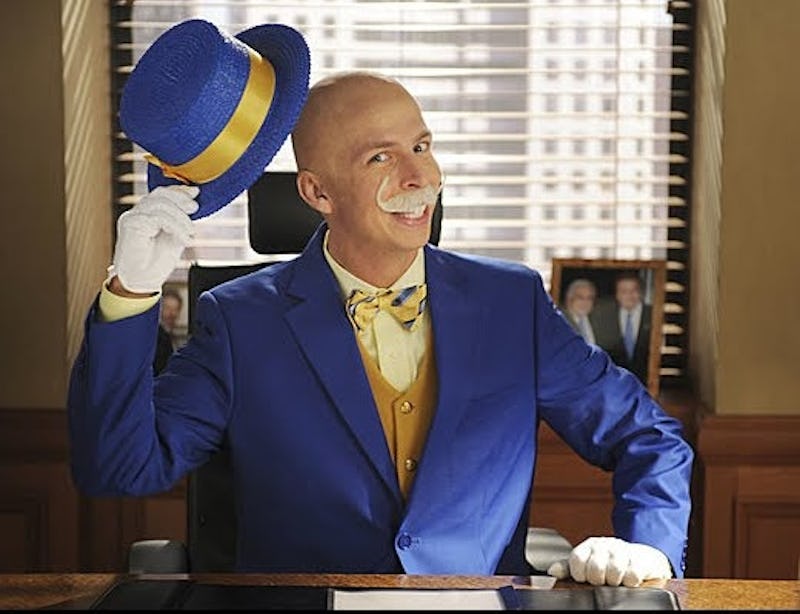 Are you wearing blue and yellow today? Well, if you are, you might be celebrating Leap Day, or you might be a Golden State Warriors fan reveling in the craziness of Saturday night's wild victory against the Oklahoma City Thunder... or maybe you're doing both! Celebrate the once-every-four-years occasion with these funny Leap Day quotes. Fans of 30 Rock know that Leap Day is a special extra day for seizing the moment when, if you're caught not wearing the obligatory blue and yellow, you might get poked in the eye — sort of like a mashup of New Year's Day and Saint Patrick's Day. Sounds like fun, right?
I mean, honestly, what other day on the calendar will you see a Pringles-mustachioed candy-wielding two-legged merman in a barbershop quartet ensemble spreading sugar, good cheer, and festive chutzpah to kids and grownups alike? The jolly character I'm referring to is none other than Leap Day William, pictured above, a friendly mascot of the elusive Feb. 29. 30 Rock's Kenneth the page explains the magical lore of Leap Day William to Liz Lemon who, like myself just a few minutes ago, had never heard of the sea-dwelling candyman.
So, let's go ahead and seize this opportunity to laugh this Leap Day before it's too late!
1. "Ms. Lemon, did you not grow up with Leap Day William? He lives in the Marianna Trench? He emerges every four years to trade children's tears for candy?" — 30 Rock
For those of you who were confused before — this is Leap Day William.
2. "It's Leap Day! Real life is for March!" — 30 Rock
Truer words, James Marsden... truer words.
3. "It's Leap Day, not sleep day!" — Modern Family
See, it's not just the 30 Rock universe seizing the extra 24 hours bestowed upon us every four years!
4. "Leap day — it's an extra day to do business, a bonus profit opportunity." — 30 Rock
This is the Ebenezer Scrooge approach to Leap Day, that is, before Leap Day William pays a visit to Jack Donaghy.
5. "Leap Year! Diddly-Eye!" — Leap Year
This is a scene from the 2010 rom-com Leap Year. In this scene, an Irishman is teasing Amy Adams for traveling to Ireland to participate in an Irish tradition.
6. "Happy Leap Day! Enjoy it while it's here...because like a Kobe Bryant pass, it only occurs once every four years." — Anonymous
If you ask me, that's as good a reason to celebrate as anything.
Images: NBC; Giphy; QuickMeme; OkMovieQuotes