Meet Eddie The Eagle's Real Coach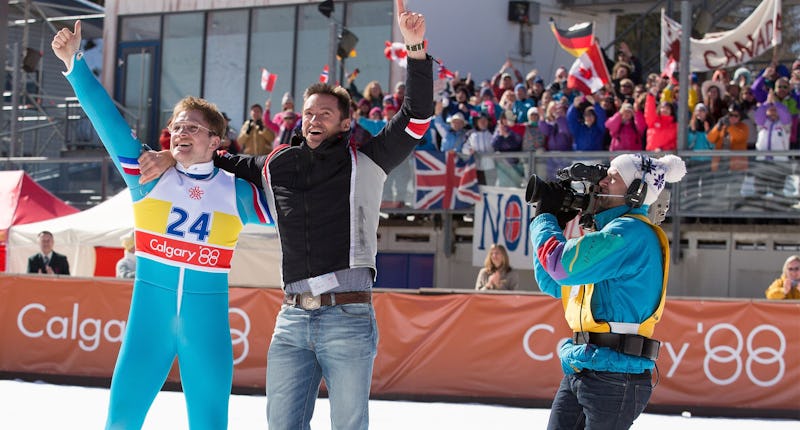 British ski-jumper Eddie Edwards, known fondly as Eddie the Eagle, is in the spotlight once again, 26 years after he first shot to stardom at the 1988 Winter Olympics. Edwards' unlikely road to the Olympics is now the basis for the new film Eddie The Eagle , starring Taron Egerton as Edwards. In the '80s, the skier shocked the world when he willed himself into the Olympics as an amateur — the only British man who wanted to compete in the sport on an international scale. Though he lost spectacularly, coming in close to last, Edwards' can-do spirit and positive attitude made him an instant celebrity.
In the film, Edwards is coached by Bronson Peary, a rebel played by Hugh Jackman, but in real life he actually went through a string of coaches. In actuality, after setting his heart on competing in the ski-jump, Edwards moved to New York to train. There, he worked under coaches Chuck Berghorn and John Viscome. Though there were rumors that Jackman's character was based on Berghorn, filmmakers insist that Peary was made up entirely for the film and doesn't represent one specific person. Neither Berghorn nor Viscome were approached by screenwriters Simon Kelton and Sean Macaulay, not surprising given their low profiles. However, in an interview with The Daily Mail , Berghorn said he would have loved to have been involved. "He was about the most unlikely human being you could ever meet that would ski jump in the Olympics," Berghorn recalled.
Edwards was only in Lake Placid for a few weeks, so it's not surprising that the film decided to take liberties with his training. Berghorn admitted that, while it would have tickled him to have seen himself portrayed on the big screen, he doesn't care much either way, telling Lake Placid News , "Yeah, I would've liked to have had my name up in lights, more or less, but if I don't, I don't. That will just be the way the ball bounces." By all accounts, Berghorn is planning on seeing the film once it hits theaters. Viscome, however, passed away in 1998.
As far as his opinions on having Hugh Jackman play a version of him in the film go, Berghorn actually had no idea who the actor was when he first heard the casting news. According to his interview with The Daily Mail, Berghorn was never an X-Men fan — when a friend told him he was being played by Wolverine, he responded, "Who the hell is Wolverine?"
Whether Berghorn walks away from Eddie the Eagle happy with the fictional coach or not, there's no doubt he'll be pleased to have inspired such a handsome character.
Images: 20th Century Fox (2); Laura Clark/Facebook