Minnie Rose Celebrates Mature Beauty In A Campaign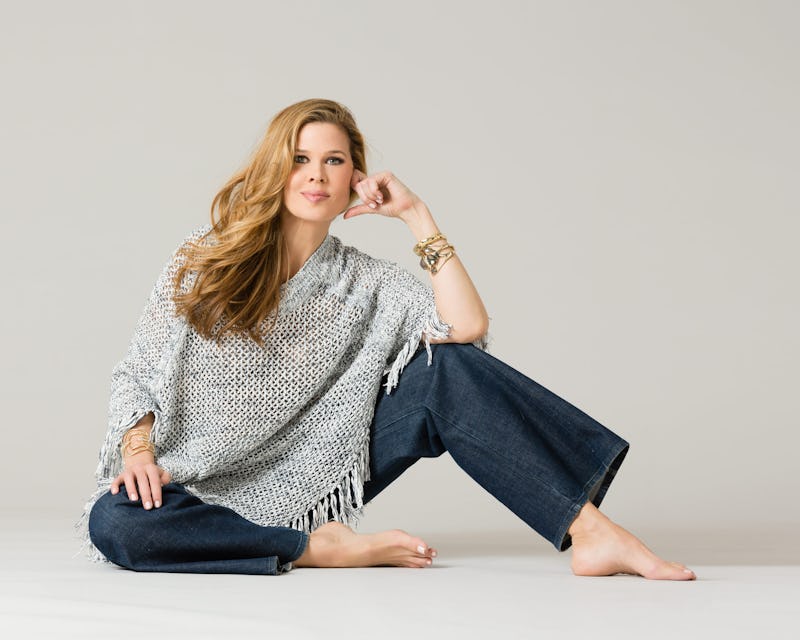 The fight against ageism has arguably never been more public, from Nicola Griffin's Sports Illustrated bikini ad to Carrie Fisher's Twitter rants, many women are no longer standing for the sexist championing of youth. In a similar vein, luxury knitwear brand Minnie Rose has cast Mary Alice Stephenson for its summer 2016 campaign to prove to its customers that the world doesn't stop spinning when you hit 40.
The fashion commentator and style icon is the perfect fit for Minnie Rose's message, which celebrates all kinds of women and is about recognizing that a woman's beauty or worth don't rely solely on her youthfulness. Having been featured in the likes of Vogue, Harper's Bazaar, The New York Times, and The Wall Street Journal for her style and beauty expertise, Stephenson is an excellent representative for the mature woman who refuses to fade away as she ages.
Nor should she have to. Just because our society and media have made age a primary concern for women — and notably, not so much for men — doesn't mean that we have to adhere to these kinds of sexist beauty standards. If more brands follow in Minnie Rose and swimsuitsforall's footsteps, a body positive swimsuit retailer that as included models of diverse ages, sizes, and skin tones, then ageism in fashion can hopefully be revered for being as inclusive as it always should have been.
Speaking in the press release for the collection's launch, founder of Minnie Rose Lisa Shaller-Goldberg raved about the casting of Stephenson. "A perfect model for the Minnie Rose Summer 2016 campaign, Mary Alice exudes happiness, light, and endless energy which personifies the brand," she said.
"It has always been my vision to showcase real, established women who are my customer. With the most prestigious fashion brands all featuring accomplished strong women, fashion is learning to accept that majority of the women who buy their clothing are cultured and experienced women who have spent decades cultivating their own taste and style. It's our time to support each other and take a stand. Our customer wants stylish, sophisticated, cross generational pieces that fit her busy life and want to see other worldly women that she resonates with modeling the clothing. So, it makes perfect sense that we would partner with someone who's making waves and showing that fashion doesn't have an age restriction."
Similarly, Stephenson praised the clothing company for choosing her to front the campaign. In the same press release, she commented, "I had such an empowering experience modeling for Minnie Rose and am honored they picked me for their campaign. I am not a model, far from size 2, and am in my late 40s. By choosing a woman like me to represent their beautiful clothes, they set an example for all brands out there to support and platform women, no matter their age and size, who are striving to make a difference and change stereotypes."
Although using models who represent the women purchasing a brand's products should be common sense, many of us unfortunately know that it's not often the case. Thanks to the recent rise in feminism and body positivity, however, brands and designers like Minnie Rose are recognizing the need to uplift women, rather than knock them down. By celebrating a woman like Stephenson, Minnie Rose is also celebrating the beauty of all women over the age of 40.
Images: Courtesy of Scott Goldberg
Images: Courtesy Minnie Rose