7 Ways To Prep Your Skin For Spring Break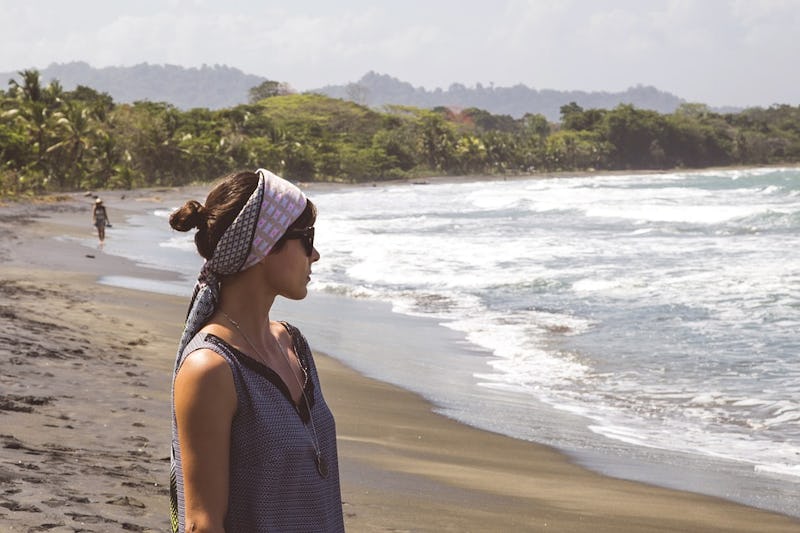 With spring break just around the corner, it's time to say goodbye to your dull winter skin. Prep your body for the warmer weather by giving your skin a little more tender loving care. No more "forgetting to shave" due to the freezing cold. It's time to bare it all by showing off your best skin yet. All you need to do is remember how great life is once the temperatures start to rise. Later, snow boots and thick winter sweaters! It's all about sundresses and sandals from now on.
When it comes to transitioning your skin care routine from winter to spring, focus less on covering up your skin's issues, and more on exactly how to heal them. As we all know, winter skin is notoriously dry, cracked, and flaky — not exactly what you want to be flaunting while at the pool or beach. Since this skin is already so sensitive, focus on adding back moisture and radiance. Little hacks like adding a humidifier to your space or even dry brushing can do wonders for your transitioning skin. Give it time, and it will give you your best glow yet. So, before you head on vacation, give your skin a little love. Here are seven ways to get your healthiest glowing skin yet:
1. Start With A Smooth Base
Razor, $8.99, gilettevenus.com
Say goodbye to your winter stubble before heading out on vacation. Not only will you be fuzz-free, but shaving also helps to exfoliate the outer layers of the skin leaving behind a subtle glow. LaurenConrad.com even suggests to apply a glycolic cleanser to the area that you'll be shaving (ahem, bikini line) to prevent any ingrown hairs or razor bumps. Now, that's a good reason to strut your stuff by the pool.
2. Slough Away Dead Skin Cells
Body Scrub, $11.99, target.com
After months of cold winter winds and dry indoor heating, your body is practically begging for a good scrubbing. StyleCaster.com recommends to buff your skin from head to toe with an exfoliating body scrub to remove any dead skin cells, and revitalize the look of your skin.
3. Get Your Feet "Pedicure Ready"
Foot File, $8, thebodyshop-usa.com
As the temperatures start to rise, it's time to ditch those snow boots. Get your feet sandal-ready by scrubbing away any calluses or dead skin by using a foot file or an exfoliating scrub.
4. Add Moisture
Body Lotion, $9.99, target.com
Having dry winter skin on a warm sandy beach sounds like an absolute nightmare. Before you head out on vacation, be sure to thoroughly moisturize your skin in order to protect your skin's sensitive moisture barriers, according to Everyday Health. Hydrating the skin now helps to prevent further dehydration later on.
5. Get Your Glow On
Self Tanner, $8.47, walmart.com
Want to have glowing skin before you even hit the beach? Fake it! Apply a tanning lotion at-home before your vacation to get your healthiest glow yet. While a fake tan won't protect your skin from the sun's harsh rays, it does leave your skin looking radiant.
6. Detox Your Pores
Clay Mask, $10.75, amazon.com
Clear your skin of any pore-clogging debris by using a powerful clay mask. The tough clay works to remove any oil buildup or pollinates from the pores leaving you with fresh, glowing skin, according to Allure.
7. Hydrate, Hydrate, Hydrate
Water Bottle, $16.95, victoriassecret.com
As the saying goes, healthy skin starts from within. Clean your system, and clear up your skin by keeping your body hydrated. One of my favorite ways to ensure proper hydration is to constantly carry a water bottle with me. That way I spend less money on pricey sodas or bottled water, while keeping my body healthy.
Now book that flight to the Bahamas and buy a new bikini.
Images: Pixabay (1); Courtesy Brands