These Fitness Apps Will Help Keep You Motivated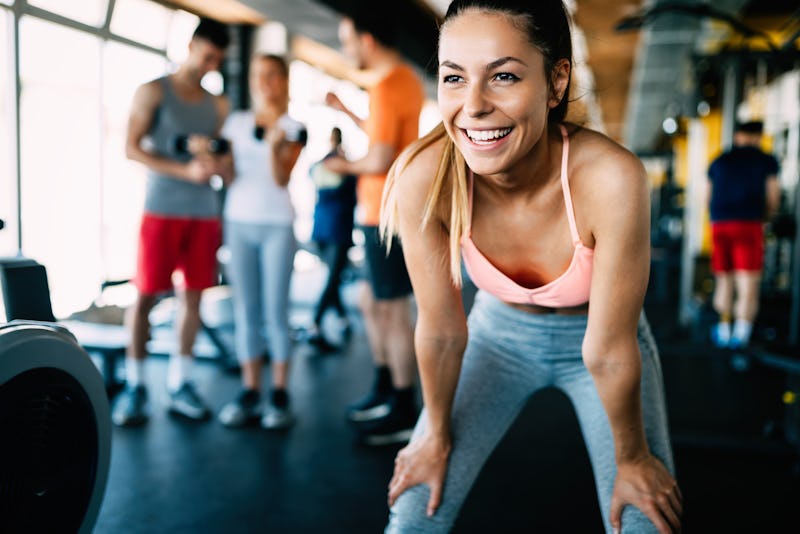 Sometimes, it takes everything you have just to get out of bed in the morning; the day-to-day stressors that many of us encounter can squash whatever energy we might have. But if you need some extra encouragement, there are plenty of fitness apps that will help keep you motivated and give you the boost you want to stay health and active. I know I need it, and I'm sure I'm not the only one.
I've found that fitness apps are very motivating in two ways, in particular: Accountability and transparency. You become more responsible and more aware of your lifestyle habits because you're forced to record and measure them. And actually, incorporating an app into your lifestyle can be really exciting, because it's going to show you things you never knew about yourself. This is actually how I found out that I wasn't eating enough. Enough protein and carbs, to be clear; not donuts. I was eating enough of those. As a weightlifter, though, I apparently needed a lot more of the other stuff in my diet to fuel my workouts — valuable information, indeed.
That said, though, there are just so many fitness apps available that it can be hard to know where to start. So here — have a little help. Try checking these six out first, then go from there. The great thing about apps? You can tailor your system to what works best for you. Isn't technology grand?
1. MyFitnessPal
I'm a big fan of MyFitnessPal, because it makes recording both your nutritional intake and your activity so darn easy. I personally use it to track my calories and macros (although obviously if those aren't the things you want to keep track of, then that's A-OK, too). It's got a database of over 5,000,000 foods, so you just select the appropriate one and indicate how much of it you ate. For the foods you can't find, you can use the app's built-in barcode scanner and simply scan whatever you ate! It will track your steps and calories burned directly from the app, and it'll connect with over 50 other apps and devices.
Tracking your daily habits, milestones, and long-term goals is totally inspiring and really gratifying, because MyFitnessPal shows you your progress every step of the way.
2. Fit Radio
Fit Radio has been named the top workout music app. You can select music by genre, workout type, or even BPM; furthermore, you can choose from hundreds of DJ mixes, plus new playlists and mixes that are added every single day. Fit Radio prides itself on providing a great variety of jams to keep your workouts fresh and exciting.
3. Fitbit
Fitbit carries a great assortment of fitness trackers that can tell you your heart rate, steps taken, and more. Their products include both clip-ons and wrist wearables, and they've even designed a WiFi smart scale. Fitness tracking has never been this convenient. They even partnered with Tory Burch to merge fashion and fitness!
4. Runkeeper
45 million people rely on Runkeeper to keep them moving. You can participate in personalized routines and challenges, utilize audio cues and coaching, and study your progress and workout comparisons. You can even earn rewards from companies like New Balance. Runkeeper makes the steps you take more visual by showing you a map of your travels — something that definitely motivates you to keep striving for more.
5. Nike Training Club
If it's stamped with "Nike," you know it's going to be good. The app gives you drills focused on HIT (high intensity training), yoga, and pilates. Audio cues keep you moving and with proper form, and you can be guided by videos and images that show you what to do. Seek out nutritional advice, join challenges, and do it all with your friends, if you so choose. The app offers over 100 workouts from Nike Master Trainers.
6. Pocket Yoga
Pocket Yoga goes where you go; it's even available on your Apple watch. It made my list because it doesn't get more convenient than this. Take your yoga session to the office, a hotel, or of course, the comfort of your own home. The app includes 27 different sessions, all of varying lengths and difficulty, along with 200 different poses. The pose dictionary will help break things down further, and audio/visual cues will guide you along the way.
Image: Fotolia; Megan Grant/Bustle