The 9 Best Swimsuit Moments From The VS Swim Show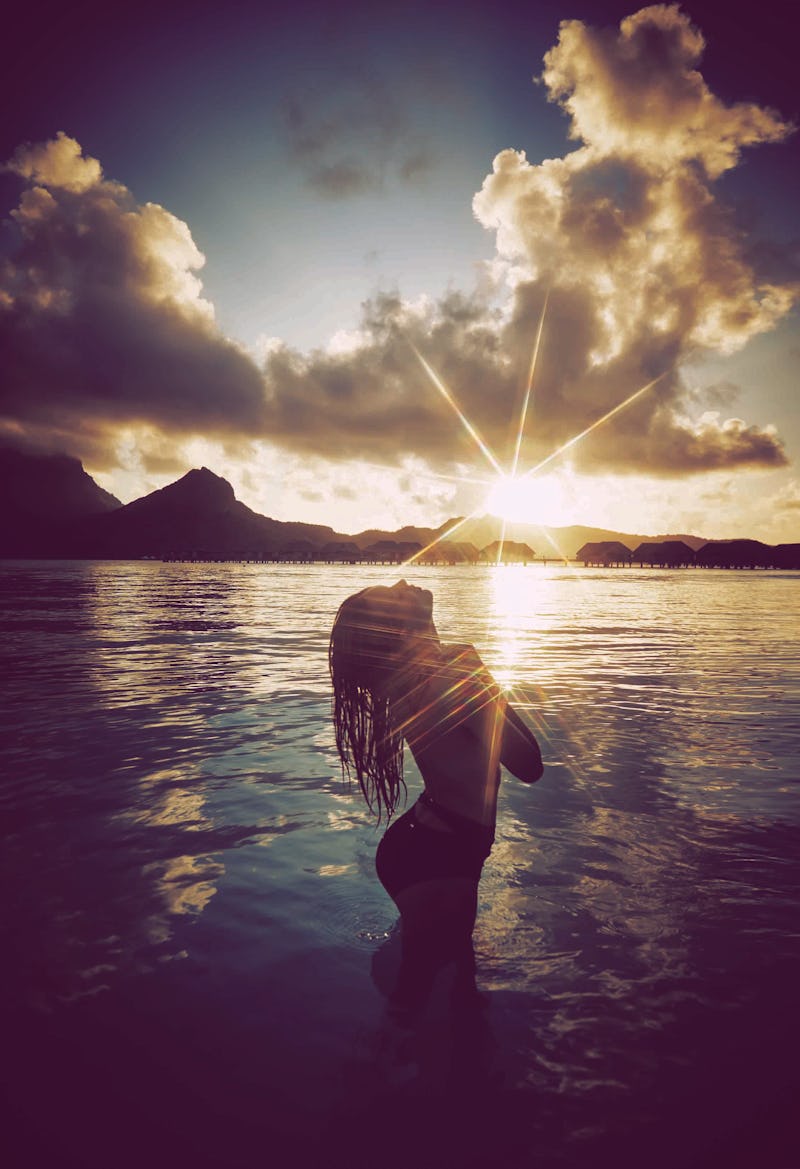 Considering how over-the-top the Victoria's Secret Fashion Show can be, there's something refreshing about the low-key vibe of the Victoria's Secret Swim Special, which aired for the second year in a row on Wednesday evening on CBS. With the gorgeous St. Barth backdrop and amazing performances from Demi Lovato and Nick Jonas, it's no question the show was amazing. But, the best swimsuit moments from the 2016 Victoria's Secret Swim Special were obviously the highlight of the evening.
From sporty-chic bikinis to adorable cover-ups, the Victoria's Secret team seriously brought its A-game to the 2016 show. The brand has been teasing the special for weeks, so I've been anticipating finally seeing the whole show (and all the amazing swimsuits) for the past several days. With spring break coming and summer around the corner, now is the perfect time to shop for a new swimsuit, and I was definitely inspired by all the adorable looks the angels were sporting tonight.
Luckily for me, the swimsuits are actually available to buy online now, satisfying my need for instant gratification. The hardest part? Picking just one to buy. VS totally upped its swimsuit game this year, and I'm loving the mix and match tops and modern-looking style the brand debuted tonight. Here are nine of the best swimsuit looks from the VS Swim Special.
1. Jasmine Tookes' Blue & Pink Style
This color combo looks amazing against Tookes' skin tone, but I'm convinced it'd be an incredible style on anyone.
2. Lily Aldrige's Sexy Black Style
Victoria's Secret teased the show with these short Instagram videos, and I'm obsessed with Aldrige's cool black top.
3. Josephine Skriver's Polka Dot Top
Even though it's partially covered by an inflatable ice cream cone, I was immediately drawn to Skriver's off-the-shoulder, ruffled top and its adorable polka dots.
4. Candice Swanepoel's Retro One-Piece
How chic is this one-piece Swanpoel was sporting in the special? It reminds me of an '80s workout leotard in the best way possible.
5. Behati Prinsloo's Chic White Cover-Up
Okay, not technically a swimsuit, but how adorable is Prinsloo's cover-up? I'm obsessed with this perfect beach style.
6. Lais Ribeiro's White Mesh One-Piece
This white mesh style is super chic, but it still manages to sporty.
7. Chic Cut-Offs & Bikini Tops
During Nick Jonas' performance, all the angels sported cut-offs, cute white tanks, and black and white bikini tops. I definitely gathered some summer style inspo from this look.
8. Martha Hunt's Sporty Pink Style
During the show, a group of angels played a beach volleyball game, and their sporty styles were cute and functional. Hunt's pink look was my favorite.
9. Mix & Match Tops & Bottoms
This was one of my favorite looks from throughout the show. I love the mix and match style lots of the angels were wearing.
I don't know about you, but I'm definitely feeling vacation style inspiration after watching this show.
Image: Courtesy of Brand