13 Headbands You Insisted On Wearing In The 90s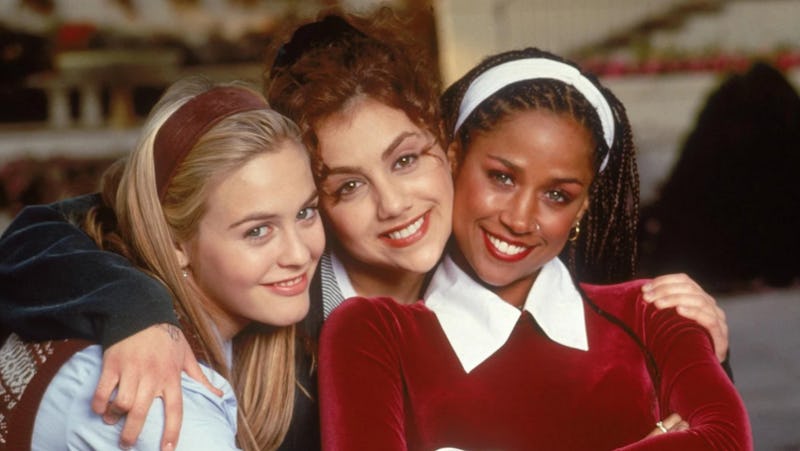 The '90s had some real fashion hits, but headbands were a different story. A variety of strange hair pieces were popular back then — ones that had sequins on them, ones that were unnecessarily wide, and even ones with bandanas attached. Some of them were bad, to say the least. Yet these were the '90s headbands you insisted on wearing every. single. day.
Don't get me wrong, I love headbands almost as much as Blair Waldorf (if that's even possible). They're a chic, classic accessory that not only pushes the hair out of your face but also makes a dramatic style statement. But looking back at the versions that we all wore, and loved, in the '90s, the headband clearly had a bit of an identity crisis for awhile.
Without further ado, here are the 13 headbands you insisted on wearing in the '90s, no matter what your parents said about them. From your beloved sequined version to the plastic floral one you still have stored somewhere in your childhood bedroom, these headbands are so bad they're good. Some of them might even still be wearable today (maybe). Prepare to revisit all your hair memories from youth, now!
1. The Hair Comb Headband
Plastic Teeth Comb Headband, $2, Amazon
Remember rocking one of these and then getting home from school and finding it at the back of your head? You know you do.
2. The Thin Headband
7 Pc Set Vintage Headbands/90s, $9, Etsy
Ahh, an assortment of thin headbands. One for every day of the week! Or one for every time you snap one in half because that's how delicate they were. Sigh.
3. The Flower Crown Headband
Flower Crown Headband, $8, Amazon
If you thought the flower crown was a 2010s invention for music festivals, then you thought wrong! The style was so big in the '90s, even Drew Barrymore rocked it.
4. The Thick Headband
Black Thick Headband, $7, Amazon
A thick headband? Truly a presidential choice!
5. The Bandana Headband
Levi's Bandana Set, $8, Amazon
For all those times you wanted to wear a headband and a bandana at the same time!
6. The Sweatband
Red White and Blue Sweatband, $6, Amazon
This ones for the guys that used to ironically wear sweatbands, even when they weren't working out. Hopefully this is one thing the athleisure trend doesn't bring back.
7. The Wire Bow Headband
Wire Bow Headband, $8, Amazon
Anyone else have a weird obsession with bows in middle school? Or was that just me?
8. The Classic One-Color Headband
Set of 12 Wide Satin Headband, $18, Amazon
You really can't go wrong with a solid colored headband that's not only great at getting your hair out of your face, but also gives you all the '90s memz.
9. The Sequined Headband
90s Head Bands Hair Bows Set, $12, Etsy
Let's not forget that we all loved sequins back in the '90s. And what better place to wear them than on your headband? Eye-catching, for sure.
10. The Printed Headband
Black and White Checkered Headband, $11, Amazon
Whether you love tie-dye, floral print, or paisley, you can rock it all on a headband with a cool print. Not going to lie, this is one look I'd still wear today.
11. The Embellished Headband
Vintage Diamond Diamond Style Headband, $15, Etsy
It's a bird, it's a plane, it's a sparkling, embellished headband! In complete honesty, I would also totally still wear this today.
Like I said, the '90s were a rough time for headbands. But at least we can laugh about it now. Or cry. Whichever one suits your fancy!
Want more fashion and beauty tips? Check out the video below and subscribe to Bustle on YouTube!
Images: 20th Century Fox, Etsy, NBC, Paramount Pictures, Nickelodeon