The Judges Were NOT Fans Of This 'Idol' Duet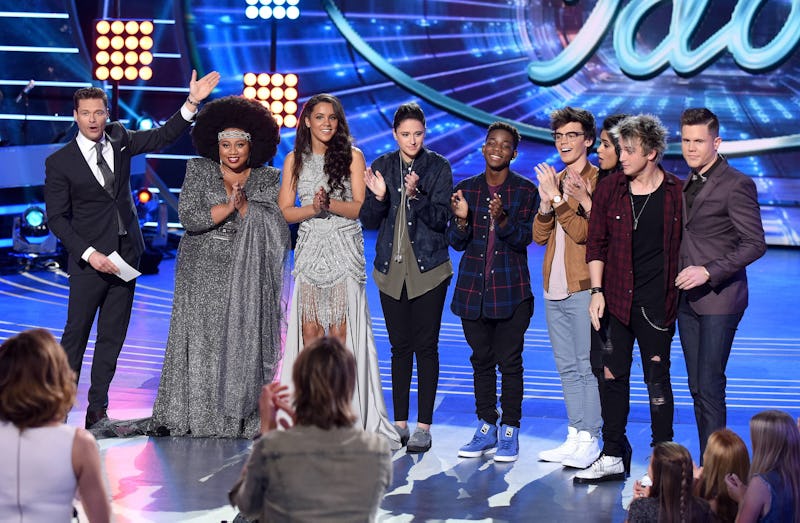 Ladies, all your early '00s dreams just came true on the American Idol stage. Season 15 contestants Dalton Rapattoni and MacKenzie Bourg sang Backstreet Boys' "I Want It That Way" and it was exactly like the original – which, unfortunately, was the why the judges hated it. On the bright side, though, it's the fans who are voting tonight, and there's no doubt that Bourg and Rapattoni's heartthrob performance won over teenage girls everywhere.
In theory, "I Want It That Way" was the perfect song for Bourg and Rapattoni. They've got the sound, aesthetic and charm to nail that song. But that wasn't enough for the judges. At this point in the game, they were looking for the guys to put their own spin on the Backstreet Boys original and they failed to do that. While it's unfortunate that Bourg and Rapattoni earned low marks for their awesome performance — I have to agree with the judges on this one. Though the guys did a great job, their performance highly lacked originality — and they're two of the most original artists in the competition! Bourg and Rapattoni had the chance to totally rearrange the song and slay the duet — but they missed the mark.
There is a bright side in all of this. Thankfully, Bourg and Rapattoni are two fan favorites in this game. Up until this point, they've moved through each round with ease — and it doesn't seem like they're stopping any time soon. It's also worth noting that, while the judges hated their duet performance, it's the fans who have the final vote. Even though it lacked originality, there's no denying their boy band-esque performance was entertaining and had viewers at home fangirling all over the place. There's no doubt Bourg and Rapattoni won't make this mistake again, which is a good thing since they still have plenty of time left in this competition.
Image: Ray Mickshaw/FOX