Nadia Aboulhosn Rules The 'Women's Running' Cover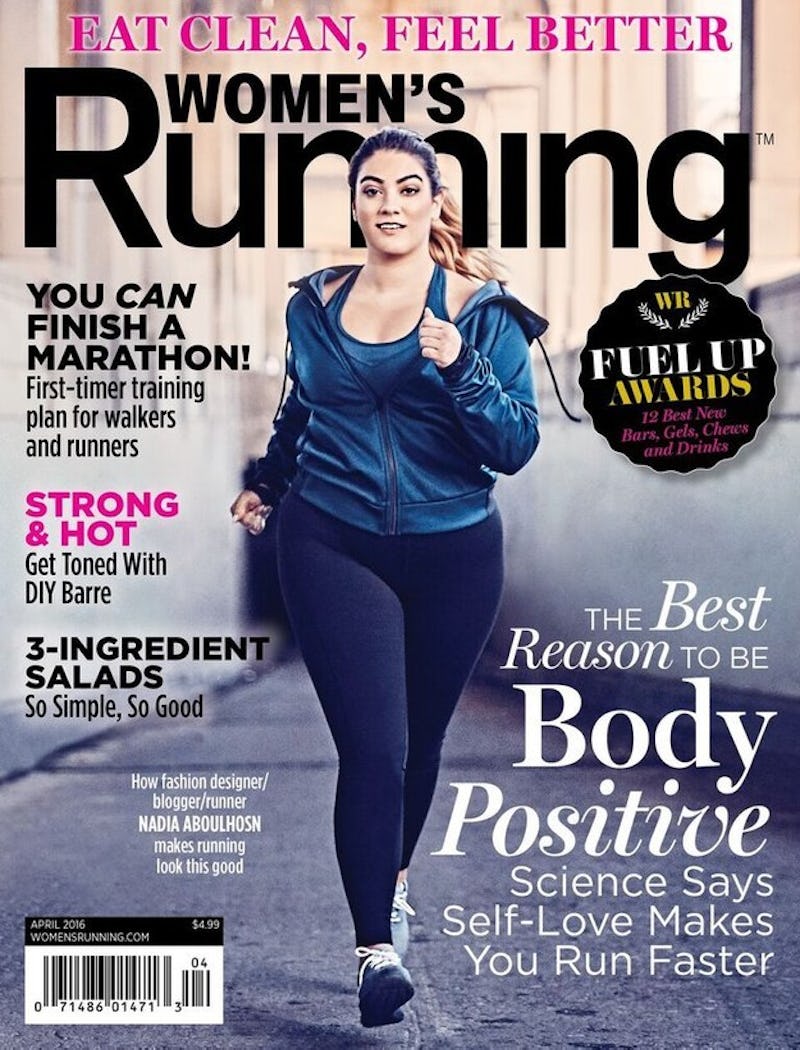 Nadia Aboulhosn is a well-known name in both the body positive and plus size fashion communities. The curve model and social media star is not only a voice for fuller-figured women, but a relatable personality. And Nadia Aboulhosn's Women's Running cover for the publication's April 2016 issue takes her personality to paper as she and the magazine come together to celebrate self-worth and body diversity. After all, running (and physical activity in general) isn't exclusive to thin individuals.
In conversation with BuzzFeed, Women's Running revealed that Aboulhosn wasn't originally meant to be on the cover of the magazine. Rather, she was going to be part of a feature. "But we loved her energy so much, we knew we had to put her front and center on our cover," Editor-In-Chief Jessica Sebor told the publication. Thankfully, the folks at Women's Running followed their gut and chose a cover girl who not only represents the publication's fashion-forward message, but who represents so many of the actual women purchasing this magazine.
It feels important to note that this isn't the first time Women's Running has placed a curvy or plus size woman on its cover spot. In Aug. 2015, plus size model Erica Schenk graced the cover and proved that women above a size 10 or 12 have a place not only in fitness, but in fitness magazines, too.
In lieu of the body positive covers and spreads in the recent Sports Illustrated Swimsuit Edition, which featured women like curve model Ashley Graham and mixed martial artist Ronda Rousey, it's becoming clear that the need for body diversity in contemporary imagery is making its way from the fashion industry into all facets of media.
I for one am glad. Not only can curvy or plus size women look beautiful and empowered in bold and radical outfits, but they can obviously be fully functioning adults with hobbies outside of fashion — like running.
Aboulhosn's minimalist, athleisure style meshes perfectly with Women's Running. But outside of her aesthetic, her message is also a strong one. Plus size bodies can run, plus size bodies can exercise, and plus size bodies can be healthy.
Few of us would deny that there exist preconceptions about larger bodies, but I believe that what we need in order to change them is magazine covers and mainstream imagery like this — as well as magazine covers and mainstream imagery that celebrate larger fats, differently abled bodies, queer bodies, bodies of color, and the most marginalized among us.
While fashion and beauty publications are beginning to preach body positivity, the message needs to spread through all media. By having sports magazines like Women's Running use a curve model, one can only hope that these stereotypes will be on their way out of public consciousness
Images: Courtesy Women's Running