How "Universal Makeup" Looks On 4 Skin Tones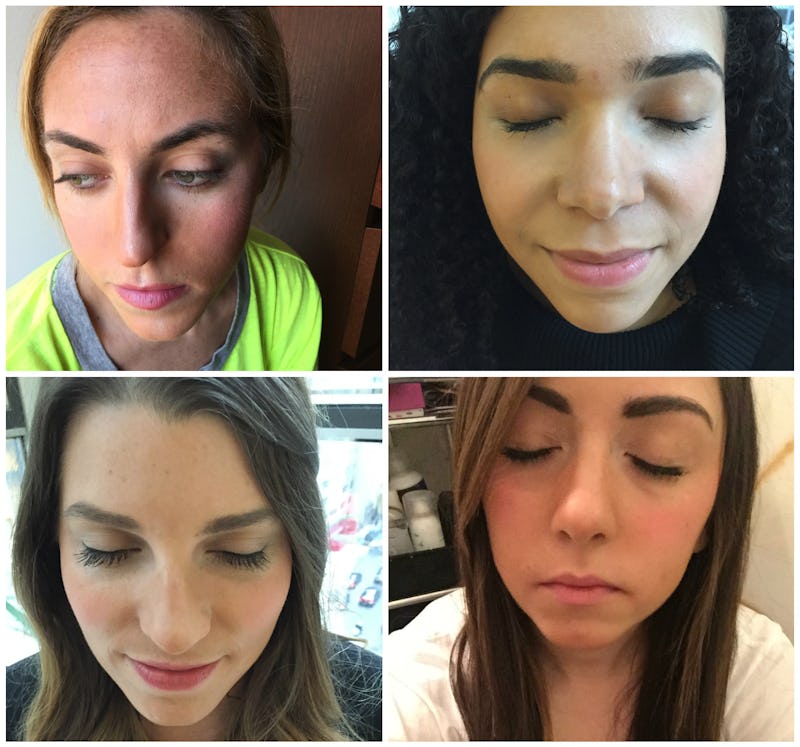 Universal beauty products are a tall order. Can one shade of makeup really flatter the range of skin tones that makes up the entire population? These claims of universality continue to come with everything from tinted moisturizer to blush to lipsticks and beyond. Color cosmetics that adjust to the wearer's pH are one thing, but bloggers in particular are starting to call BS on the current skin toned shade ranges offered by many cosmetics brands.
I'm the queen of skeptics when it comes to broad claims (journalism school taught me well), so I wanted to see for myself what these products could really do. I crowdsourced from some of my genius beauty fiends to see what products they have seen, tried, or heard about that might do the trick.
Some products were not so groundbreaking—I would suspect there might be a blush or bronzer that was sheer enough to flatter every skin tone. Instead, I opted for the products that were highly pigmented or all around surprising to someone essentially numb to hyperbolic beauty claims. I also rounded up some fresh-faced ladies with stellar but different skin tones. Of course, we don't even come close to representing the entire range of skin tones in the world, but even with our relatively similar shades of skin, we had some trouble finding a product that actually looked great on all of us. Here's how our experiment went down.
Meet The Models
Clockwise from top left: Alyssa (warm undertones), Barbara (dark undertones), Me (olive undertones), and Bayley (pink undertones)
For all following images, we are in the same order as pictured here. All photos were taken in natural daylight.
1. Benefit's Lemon Aid Eye Primer
Benefit's Lemon-aid Eye Primer, $20, benefit.com
Of all people to recommend this product to me, my mom was the most surprising. Hip, isn't she? This yellow primer is super pigmented and meant to be used on the lids, but my mom swears by it covering up her dark under eye circles, too.
On me, it blended right into my skin tone, and really filled in the deep circles. On a work day, I would probably wear it like I did here, but on a night out I might build it to make it more opaque.
Bayley's circles are more of a gray color, and a single layer of the primer helped neutralize them. I would build again for her to really get rid of the circles.
On Alyssa, it came off a little chalky. For dry skin like hers, I would mix the product with a moisturizer for a smoother finish.
It looks like this primer was made for Barbara. Her under eyes are naturally brighter than Bayley or I, so she had less to cover up. Just one swipe of this really mad her eyes pop, and almost doubled as a highlighter.
2. Dr. Brandt's Signature Flexitone BB Cream
Dr. Brandt BB Cream, $39, sephora.com
I'm a huge fan of using BB creams daily. My skin is dry, so a thick foundation looks caked on quickly. A BB cream evens out my skin tone and is ultra moisturizing.
This one in particular was really interesting to me — it claims to blend right into any skin tone. Was that even possible? As you can see in these photos, it definitely is. The product took out the redness around all of our eyes and smoothed out imperfections. It's buildable, too. If you want more coverage, just use more product.
When you squeeze it out of the tube, it comes out looking pretty dark. There are flecks of red and yellow, which disappear as you rub the product in. Although we applied just using our fingers, I had to wonder if it might be more easily applied using a beauty sponge.
The only downside to this was the strange consistency of the product. On our first try, it came out pretty watery and the cream itself came out in chunks, like the two were separated in the bottle. Once I shook it up in the bottle and reapplied, it came out a little more blended, but I had to do this before applying each time.
3. Marc Jacobs O!Mega Bronzer Perfect Tan
Marc Jacobs O!Mega Bronzer, $49, sephora.com
This bronzer is intense. You only need a little bit to fake a full on tan. It was a little extreme on both Alyssa and me. When using it in the future, I would be conscious of applying a little of the pigmented product and focus on blending it into my neck to minimize the intensity.
The color looked perfect on Barbara's deeper skin tone. It gave her cheekbones some depth without being distracting. It also looked great on Bayley, despite how fair her skin is. We were careful to only use a little bit of product, which gave her an excellent, subtle contour.
All in all, I think this bronzer could work on every skin tone if you're careful to only apply a little, and don't skip blending.
4. Tarte Sculptor Double-Ended Contour & Highlight
Tarte Sculptor, $26, tartecosmetics.com
We all loved the convenience of this dual-ended sculptor. It's in a stick form, which makes it easy to toss into your purse for touchups. It has both a bronzer end and a highlighter end for quick application.
We focused on everyone's jawlines for this one. Barbara, Bayley, and I all had skin that ate up the creamy consistency of the stick, but Alyssa's acne-prone, more oily skin started to look a little cakey as we added more layers. The highlighter was pretty subtle, but we all agreed that it added the right amount of illumination without overpowering the rest of our faces.
Although convenient, the sculptor didn't last long in my bag. After needing to twist up the stick for more product, the product actually fell out of its container. I still liked the color and consistency of the contour, but more secure packaging would improve the product overall.
5. Diorskin Rosy Glow Blush
Diorskin Rosy Glow Blush, $44, dior.com
IMO, blush makes every makeup look better. Without it, I find that makeup can look one dimensional.
This color looked great on every tone, although it was subtler on Alyssa and Barbara, and much brighter on Bayley and me. The color in the packaging doesn't look intimidating, but it does come out a pretty bright pink. You really only need one brush swipe to get a good amount of color.
6. Lipstick Queen Frog Prince Lipstick
Lipstick Queen Frog Prince Lipstick, $25, birchbox.com
I saw this product when I was online shopping at Birchbox and was instantly intrigued. Frog Prince lipstick looks green in the tube — we're talking Christmas tree green. But like a mood ring, it adapts to your skin's pH to create a customized pigment. Professional makeup artists swear by this for a natural look.
Aside from the chameleon BB cream, this lipstick made the differences in our skin tones the most obvious. On Alyssa, it came out a deep Barbie pink; on Barbara, a soft ballerina shade; on Bayley, a deep fuchsia; and on me, a barely-there light pink.
This one was hands down the most interesting and appealing. I don't always like a bold lip for everyday, and this is the perfect alternative.
So does universal makeup exist? For some things, it's definitely possible to share a shade with all your friends. As long as it's colorful (and not trying to exactly match your skin tone) these products can be surprisingly adaptable.