Is Kourt K Coming In Next Kylie Lip Kit Restock?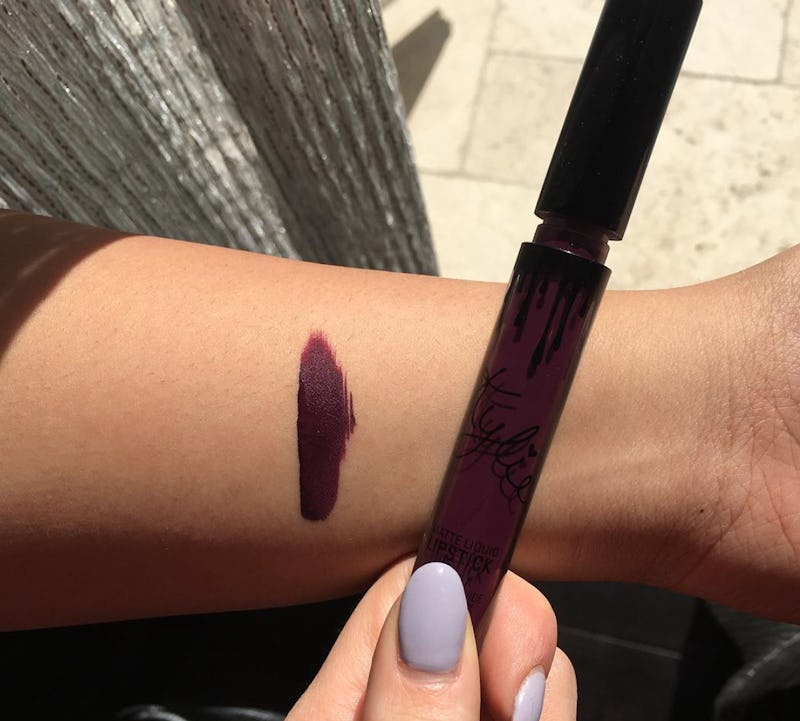 If you are a Kylie Lip Kit fan, you are no doubt impatiently waiting for another restock and more information about when the deep, dark purple Kourt K Lip Kit will be available. The new shade, named after Kylie Jenner's big sister Kourtney Kardashian, is as dramatic as it gets, so of course fans, customers, and makeupistas are coveting it hardcore. While Lip Kit restocks and replenishment updates are made available via Jenner's app, you can also sign up for the Kylie Cosmetics mailing list for free in order to get information. Fans are awaiting the next restock and are wondering if Kourt K will be sold in that supply. Is that the case?
Unfortunately, no, it's not. Jenner shared another shot of the Kourt K Lip Kit this weekend, sweeping a swatch of the regal purple shade on the inside of (presumably) her arm on the Kylie Cosmetics Instagram page. In the caption, it clearly states that while Kourt K is coming soon, she won't be available via the latest restock.
So Lip Kit loyalists will have to wait a little longer before getting their hands (and lips) on Kourt K's vampy goodness. She looks worth the wait, though!
You can see the caption that pretty much encompasses all your feels about Kourt K. She is coming soon, so yay! But she isn't coming right now, so boo! That's a lot of emotion captured in one Instagram post, right?
So while we don't know the exact date, Jenner did hint that Kourt K will arrive this month via an Insta video that shows how Kourt K looks IRL.
Observe!
Kourt K is as sexy and stunning as its namesake. There are 10 days left in March so there could be at least two more Lip Kit restocks in the near future.
Coming soon... but not soon enough.
Kourt K is joining the team. Yes, I wonder when the Kris, Kim, and Kendall colors are coming. That's pretty much inevitable, since we already have Koko K and Mary Jo K, named after big sis Khloe and her grandma.
Keep the the new Lip Kit color coming on the regular, Kylie!
Images: Kylie Cosmetics/Instagram (4)