Yet Another Way To Follow Bachelorette JoJo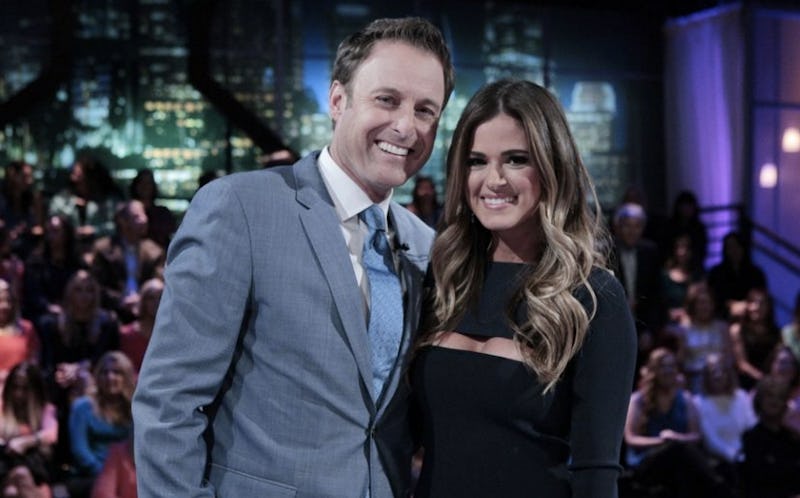 Bachelor fans cannot get enough of JoJo Fletcher. Everyone loved watching her vie for Ben Higgins' love on The Bachelor and viewers felt for her even more when he crushed her heart during the finale. Many of us were on Team JoJo, so it makes total sense that JoJo is the next star of The Bachelorette . Now we want to know even more about the Houston-based real estate developer than before! Plenty of her fans follow her on Twitter and Instagram, but what about Snapchat? Well, JoJo does have Snapchat and you can follow her there, as well, to get your JoJo fix!
According to JoJo's Instagram page, she has a Snapchat with the username "Jfletchaa." Sadly, it's going to be a pretty boring account to follow these days since JoJo is currently filming her season of The Bachelorette and is isolated from the rest of the world with no phone access.
This makes me wonder if she will use it once she is done filming. JoJo was pretty consistent with posting on social media while The Bachelor aired, but she didn't really have much to hide. She didn't end up winning the season, so it's not like she had to conceal any evidence of her secret hangouts with Ben.
Things will (hopefully) be different this time around since JoJo is the star and gets to call the shots. In theory, she is going to walk out of The Bachelorette with a love interest. So, should she keep her Snapchat going or wait until The Bachelorette finale airs? There are both benefits and disadvantages for JoJo sticking with Snapchat.
Yes — She Needs To Promote Her Season
It makes sense for JoJo to snap after she's done filming because I'm sure that she wants people to watch her on TV. If JoJo is able to maintain and even increase her fanbase, it only means good things for The Bachelorette and JoJo's future.
No — She Could Pull A Kaitlyn Bristowe
Everyone in Bachelor Nation remembers when Kaitlyn Bristowe spoiled the end to her season by snapping a photo of herself and the winner, Shawn Booth, in bed together. She thought she was posting something private, but she really let the cat out of the bag. Not only did she give away the winner to fans, but I bet she got in some trouble for this one. It was quite the scandal.
Yes — She Needs To Keep In Touch With The Winner
Since JoJo can't be seen with the winner, she needs to keep in touch if she wants to maintain the relationship. And as long as she is paying attention to her privacy settings when it comes to her posts, it would be cute for her to snap her new man back and forth.
If you love JoJo, then hit her with a follow, but don't expect her to provide any extra information. It's pretty clear from her social media posts while The Bachelor aired that JoJo knows how to promote a reality TV show without spoiling the ending. So, aside from seeing JoJo's pretty face, perfectly styled hair, and fashionable wardrobe, it is very unlikely that she will reveal much else.
For more Bachelor, check out Bustle's Will You Accept This Podcast? below:
Image: ABC/Rick Rowell