18 Of The Best YA Books Of April 2016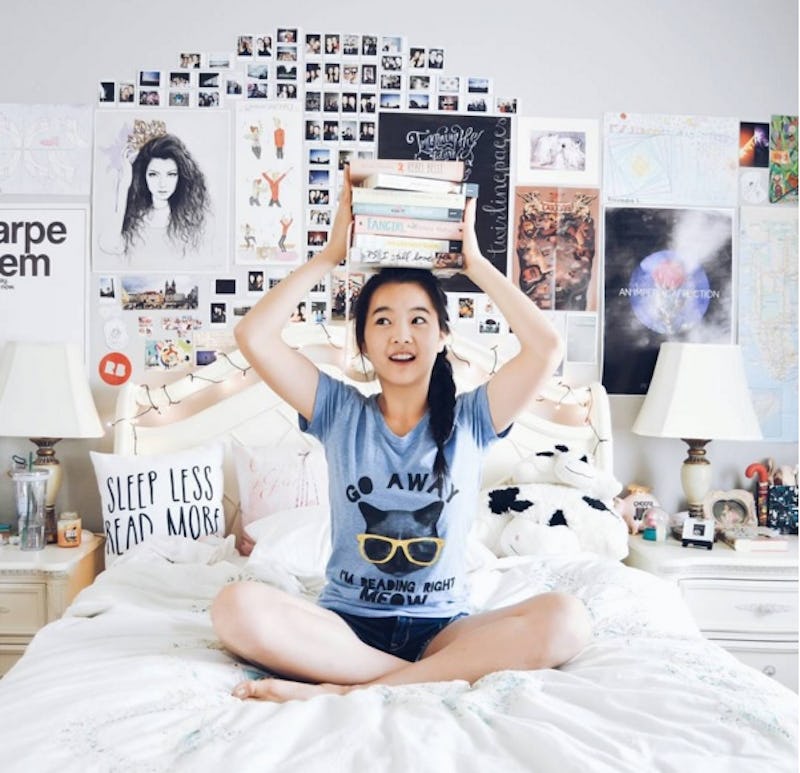 The weather is finally getting warm, but April is notorious for its rainstorms (April showers bring May flowers, after all), so you're going to need a great book to cozy up with while you're anticipating those barbecues and beach days ahead. One (or all) of these 18 best YA books of April 2016 will definitely do the trick. This month is so jam-packed with compelling, fun, unique young adult novels that cutting the list down from, oh, 47 to 18 was a real "kill your darlings" moment. And that is good news for us rabid YA fans.
Let's address the supernatural, fantasy elephant in the room first: Yes, Maggie Stiefvater is ending The Raven Cycle this month. So if you aren't caught up, you have until the end of April to tear through the first three books (and tear through them, you will.) But check out some of the other big names dropping books in April: Deb Caletti is back, Deb Caletti; Renee Ahdieh continues her twisted Arabian Nights universe; Cecelia Ahern has her first ever young adult novel; and then there's still Richelle Mead, Jesse Andrews, Emery Lord, and so many more. Moreover, be on the lookout for an awesome month of feminist reads.
Before we get too excited, here's the list of the 18 best YA books of April.
Deb Caletti is a YA romance goddess, so any new book is an Event, but even more so this time because Essential Maps for the Lost is oh-so-very good. Madison "Mads" Murray spends the summer away from her unstable mom, who is obsessed with Mads taking over the family business, and lives with her aunt and uncle. She suffers from depression but finds swimming laps in Seattle's Lake Union can help refresh and calm her — until she swims into a dead body and becomes obsessed with finding out who she is and why she died. Caletti's book handles grief and mental illness so beautifully and honestly, and the author never makes it seems like depression is some kind of "defect."
2. Flawed by Cecelia Ahern (April 5; Feiwel & Friends)
Cecelia Ahern is the author who made your face rain tears after reading P.S. I Love You, as well as dozens of other novels. Flawed is her first YA novel, and it's worth the wait. In a dystopian world, biracial teen Celestine is a rule-follower, until she comes to the aid of a man branded as "Flawed," i.e. a criminal, including morally. This act of help is considered an offense worthy of the F branding, as well, but she fights against this rule and becomes a sort of Katniss Everdeen, a crusader against unfairness in the authority.
3. When We Collided by Emery Lord (April 5; Bloomsbury)
Emery Lord made a massive name for herself with her debut Open Road Summer and her follow-up The Start of Me & You. Now Lord is practically a vet in YA in her own right with the release of her third novel When We Collided. Vivi and Jonah are the next couple you'll love to root for. The two working-class teenagers fall into a summer fling, but things begin to change when the vivacious Vivi struggles through her bipolar diagnosis. Prepare the tissues, because this one is a tearjerker.
4. The Haters by Jesse Andrews (April 5; Amulet Books)
If the name Jesse Andrews is familiar, it's probably because you, too, were hooked on the book (and stellar movie adaption) Me and Earl and the Dying Girl. Andrews brings his signature wit and voice to The Haters, a novel following a group of teenagers who run away from a jazz camp and go on a spontaneous road trip as a band. It's totally charming, though there's a fair share of raunch, and hilarious and heart-warming all wrapped together, just like you'd expect from Andrews.
5. Fifteen Lanes by S.J. Laidlaw (April 5; Tundra Books)
Fifteen Lanes's title refers to the 15 lanes of Mumbai's red light district, where Noor has lived for the first 14 years of her life after she was born into a brothel. Across the city, teenager Grace lives in luxury, born to a father who is the CEO of one of India's largest international banks. The two classes clash when Noor and Grace are teamed up in a school-mandated volunteer project. S.J. Laidlaw lives in Mumbai and volunteers herself at a shelter for children of sex workers, and so she illuminates this world so carefully and honestly that it comes alive in the pages.
6. Asking for It by Louise O'Neill (April 5; Quercus US)
After reading last year's Only Ever Yours, Louise O'Neill is one of my absolute favorite new writers. This year we get the Irish import Asking for It, a story about a, tragically, common occurrence in the news the past few years: a girl who is drugged, raped, and photographed at a party, and a town is unwilling to turn against her attackers. The title enough should help you see where the story goes from there, and it's going to make you furious, but that's why it's so important.
7. The Glittering Court by Richelle Mead (April 5; Razorbill)
Countess of Rothford Adelaide is stuck betrothed to a boring, stuffy, older man. But she won't settle for that. She plans to escape, pretending to be a servant to join The Glittering Court, a program that trains under-class women to marry off to eligible men in the New World. Her plan seems particularly enticing after meeting one of the men, Cedric Thorn, and becoming enthralled by him. But she has to hide her secret from even him, and her risk may come all for naught when another wealthy man seeks to steal her for his bride. Richelle Mead fans, I didn't even have to tell you what this was about because of course it's already circled on your TBR, and don't worry because it's just the start of a series.
Mira, her family, and her friends Deni and Eva are true year-round islanders on Haven, off New Jersey. When a superstorm (reminiscent of real life events) hits the island, the bridge between the mainland and Haven is destroyed, stranding Mira on the island while her family is back in New Jersey proper. Trapped alone in her cottage during the storm, Mira finds purpose in protecting her family's beloved keepsakes as things outside get even stranger. One of her friends goes missing and there seems to be a lurker outside the cottage. This isn't your ordinary disaster story, as any fan of Beth Kephart can already see.
9. A Fierce and Subtle Poison by Samantha Mabry (April 12; Algonquin Young Readers)
In Samatha Mabry's Puerto Rico, there's legend of a cursed girl named Isabel who has green skin, grass for hair, and is full of poison from feeding on the poisonous plants in her family's island garden. Lucas, who spends time in the Caribbean with his hotel developer father, has grown up hearing those stories and so he believes in the magic when letters from Isabel start appearing in his room around the same time his girlfriend Marisol is found dead. A Fierce and Subtle Poison is a magical realism tale that weaves legend with reality and mystery to make a compelling story you'll flip through quickly.
10. The Darkest Corners by Kara Thomas (April 19; Delacorte)
The Darkest Corners is one of those books where you can't say much because you don't want to spoil the thrilling mystery. Here's what you should know: Tessa and Callie were BFFs when they were 8 and Callie's cousin Lori was murdered. The two young girls helped put a man on death row for the crime, but they never again spoke of that fateful night. Tessa and Callie reunite in their hometown a couple months before they leave for college and secrets from that night Lori died start to spill out. You're not going to want me say anything else, because you'll be up all night tearing through the pages, gasping through the twists and turns.
11. Saving Montgomery Sole by Mariko Tamaki (April 19; Roaring Brook Press)
Mariko Tamaki co-created one of my favorite books of the last couple years, This One Summer , so I'm already 100 percent on board for Saving Montgomery Sole . Montgomery "Monty" Sole's two moms make her an outcast in her jock, bro-filled town, but she finds solace with two other outsiders in the Jefferson High's Mystery Club. Together, the three BFFs have their own X-Files-style explorations, into the unexplained, ESP, hypnotism, astrology, and other phenomenon. And the club becomes her point of distraction when an evangelical preacher and his son move to town and plaster homophobic posters around town. You're going to fall in love with Monty and her best pals, trust me.
There's an echo of Rainbow Rowell's Fangirl in Anna Breslaw's feminist, fan-culture story Scarlett Epstein Hates It Here. And there's a little bit of Veronica Mars in our titular heroine Scarlett Epstein. If those two comparisons don't already win you over to this new book, here's a bit more: Scarlett is a bit of an outcast, and most of her social engagement happens online in a fan club for the newly cancelled TV show Lycanthrope High. In the absence of her favorite show, Scarlett instead turns to writing fan fiction set in her real-life high school, and things, naturally, go awry.
13. The Land of 10,000 Madonnas by Kate Hattemer (April 19; Knopf Books for Young Readers)
Warning: The Land of 10,000 Madonnas is going to make you want to grab your backpack and trek on an adventurous road trip immediately. If you remember Kate Hattemer's killer debut The Vigilante Poets of Selwyn Academy you've probably already pre-ordered this one, but just in case: The Land of 10,000 Madonnas follows Jesse's three cousins, best friend, and girlfriend as they embark on an adventure across Europe, following a trail Jesse left out for them before he passed away of a heart condition.
14. Keep Me In Mind by Jamie Reed (April 26; Point)
Jamie Reed's beautiful and smart interracial love story doesn't succumb to the some of the issues that many before have. It acknowledges that Ellia Renée Dawson is black and Liam McPherson is white, and their backgrounds, heritage, and race factor into their relationship, but it's not the primary factor. Ellia and Liam's difficulties do not center in having to "overcome" these differences, and that in itself is incredibly refreshing. Instead, the young couple is struggling because Ellia has lost her memories of the past two years after a brutal fall. Most of all, she can't remember that the face standing in front of her is the love of her life, and to Liam, this is the ultimate heartbreak. As Ellia becomes more interested in another boy, Liam tries to get his girlfriend to remember who he is and why they love each other.
15. The Rose & The Dagger by Renee Ahdieh (April 26; G.P. Putnam's Sons Books for Young Readers)
We readers clamored for it, and it's finally here: the second installment of Renee Ahdieh's The Wrath & The Dawn series The Rose & The Dagger . This twist on One Thousand and One Nights continues with our calculating storyteller heroine Shahrzad torn between her newfound love for her husband, the "evil" Caliph of Khorasan Khalid and her loyalty to her family who opposes him and everything his empire stands for. But if Shahrzad can find a way to break the curse on Khalid, using her awakening powers, maybe she can resolve all of these problems. Expect even more action, adventure, and passion than book one, and that's saying something.
16. The Last Boy and Girl in the World by Siobhan Vivian (April 26; Simon & Schuster Books for Young Readers)
What would you do if you knew the world was ending? In Siobhan Vivian's The Last Boy and Girl in the World, working-class town Aberdeen is slipping underwater after nonstop rain has flooded the rivers and the town. While the parents are packing up their belongings to leave, the teenagers are throwing "last hurrah" parties to make the most of the end of their little world. And that includes Keeley finally trying to go for the one she has loved for as long as she can remember. But, wait. Because this is Vivian, there are also some mysteries afoot. Is the government secretly trying to put this poor town to an end?
17. The Star-Touched Queen by Roshani Chokshi (April 26; St. Martin's Griffin)
Imagine a loose interpretation of the Cupid and Psyche tale woven into Hindu mythology and you have just the start of the magic of Roshani Chokshi's The Star-Touched Queen. Sixteen-year-old Maya has been cursed with the horoscope saying that she will marry death and destruction, which makes her feared in her father, the Raja's, kingdom. When her father sets her to wed in a marriage of political convenience, things go horribly wrong, and instead she is stolen away by Amar, becomes his wife, and rules alongside him in the magical Akaran. What follows is an absolute feat of world building, and a story that feels lush, fairy tale-esque, and as if it had been passed along generations.
18. The Raven King by Maggie Stiefvater (April 26; Scholastic)
This one needs no introduction but I'll give one anyway: Maggie Stiefvater is ending her smash hit Raven Cycle series with The Raven King. You officially are running out of time to catch up, because we're coming to the conclusion of Blue's story with the Raven Boys and we will finally find out if the warning was true: if Blue will cause the death of her one true love.
Image: twirlingpages/Instagram