This Is Why Kylie Jenner Did A Purple Lip Kit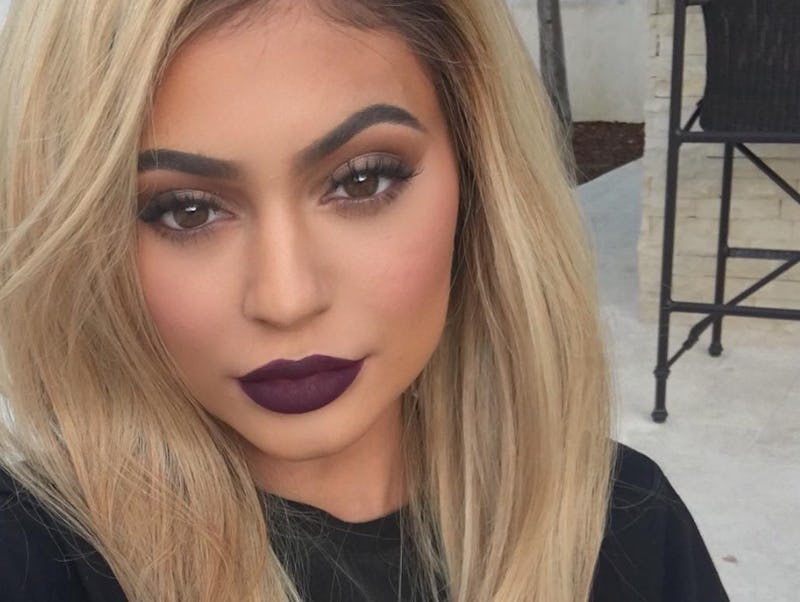 It was only a matter of time. Kylie Jenner added a dark, gothic, and perfectly purple shade to her Kylie Lip Kit lineup, which now boasts eight mega matte, liquid lipsticks with suede-like texture. She named the purple shade "Kourt K," after her biggest sister, Kourtney Kardashian. It's a rich, dramatic color and it stands out from the nudes and neutrals (Candy K, Dolce K, Koko K) and even the other bold, high impact hues (22, Mary Jo K, Posie K, and True Brown K) since it's so "statement." Why did Kylie Jenner opt to create a purple Lip Kit, other than wanting to name a shade after her big sis, who is more known for her nude, glossy lips than for vampiric, purple-painted ones?
Well, that question was answered via a simple Instagram post on the Kylie Cosmetics official feed. The team posted a swatch of the super sexy Kourt K Lip Kit and the kaption revealed the true source of inspo for the creation of the color.
It was the fans, the Lip Kit lovers, the customers, and the coveters! The post revealed that the fans requested a purple Lip Kit so the brand responded by making one. Kourt K was more inspired by Jenner's supporters than her sister, it seems! Kardashian still wins, though, since she has a Kit named after her!
It is such a "Look at me!" color, isn't it? It's certainly a shade that requires a precise application and for the wearer to exude confidence.
Here's Jenner rocking Kourt K with newly golden locks and majorly sculpted brows. Her look is super severe. But she makes it work, thanks to both her confidence and her natural beauty, as well as her makeup skillz.
This, however, should be your main takeaway from Jenner creating a Lip Kit color in response to fans. Many shoppers have taken to Twitter to express frustration over the instant sellouts and the inability to snag a Lip Kit. This gesture reminds us that Jenner is all about her fans.
Sure, some skeptics may claim this is a marketing strategy to make the shade seem fan-generated and the brand appear fan-friendly. But I don't subscribe to that theory. I think Jenner and her team truly want to supply fans with KLKs that they will love.
So, next time you are trying to shop the Kylie Lip Kits and are ready to blow a gasket when you are kicked out out while trying to digitally pay for your purchase, remember Jenner's sweet, "fans first" gesture of creating a shade because makeup devotees were asking for it.
BTW, Kourt K hasn't gone on sale yet. So if you want to get this look now, here are nine purple Kylie Lip Kit dupes.
Images: Kylie Cosmetics (3)