Pharrell Will Regret This Knockout Round Decision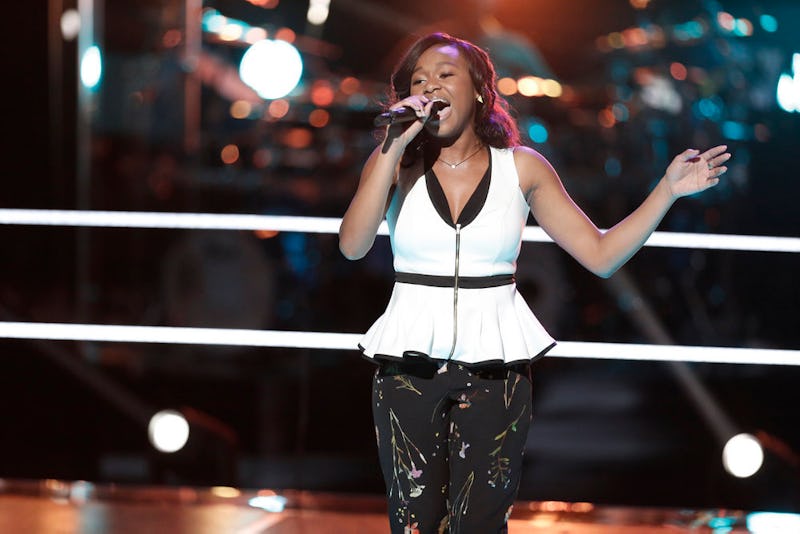 Wow. Just wow. There are really no other words that can describe the final Knockout Round of the night on The Voice . Team Pharrell's Emily Keener and Shalyah Fearing took the stage in what had to be the most powerful, and most unique, Knockout Round from this season so far. It was also the most surprising. Though both of the girls brought their all tonight and really shined, one shined brighter than the other — and that was Fearing. That's why it's so hard to believe that Pharrell chose Keener as the winner over Fearing. While I've tried to reason the coach's actions before, this one has left me stumped.
Keener and Fearing couldn't be more different in tone and style, which is why the decision wasn't as obvious as it may seem. Keener has a unique playfulness to her country sound that really sets her apart. Her rendition of Joni Mitchell's "Big Yellow Taxi" was unlike anything I've ever heard before thanks to her creativity in playing with high and low notes. Fearing, on the other hand, performed like we've never seen her perform before. Her powerful belt and captivating emotion came out tonight as she sang Martina McBride's "A Broken Wing." Seriously, where did that sound come from? The coaches were completely blown away with her transformation, which made her seem like the obvious shoe-in to advance.
Why, then, did Pharrell choose Keener? If you figure this one out, let me know because I really am stumped. Fearing clearly benefitted from both his and Miley Cyrus' direction and would've been a huge asset to Team Pharrell. Thankfully, coach Adam Levine came to the rescue and stole Fearing as soon as he had the chance. Hate to break it to you, Pharrell, but you'll be regretting this decision in weeks to come. If she keeps progressing at the rate she is, Fearing promises to be the one who got away.
Image: Tyler Golden/NBC