Hurry! ColourPop Is Restocking Its Brow Products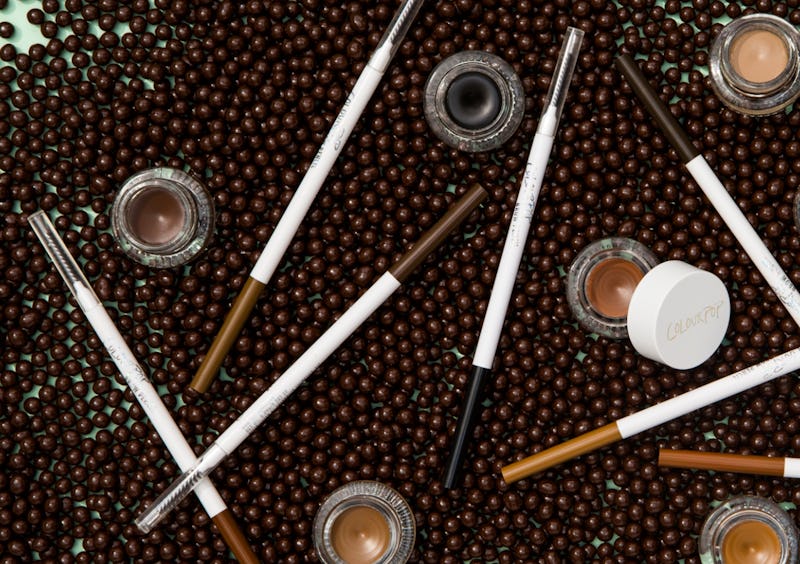 It's been a banner and colorful year for ColourPop Cosmetics so far in 2016. In addition to its already beloved #Alchemy collabo with actor and model Jaime King and its trendy, smoky, nudes, and neutrals-heavy Karrueche Tran collection, the downtown L.A.-based, indie cosmetics brand ColourPop also expanded its offerings with brow products. The ColourPop brow products include brow colour pots in eight shades and dual-ended brow pencils with color on one end and a brow brush designed for grooming on the other. The pencils also come in eight hues.
The brow products sold out quickly upon initial launch, as diehard fans of the brand snatched 'em up without hesitation, due to the affordable cost, the quality formula, and the fact that there were color options for every brow shade. I already know your next question and it's this: Have the ColourPop brow products been restocked?
Yes, they have. The full range of products is currently available on the brand's site. So hurry!!! Don't delay. You will want to shop them ASAP, since you cannot go wrong with brow pots at $6 a (colour)pop and brow pencils at $5 a piece. You can stock up in case you want to mix colors and customize your brow shade. How about that?!
Whether you are a blonde, brunette, or a redhead, or rock jet black locks, ColourPop has something to help you with matching and maintaining your brows.
There are soooo many brow options, courtesy of an indie brand that keeps product costs low and quality high. You can't beat the combo of insanely affordable prices and a good formula.
Plus, you will do yourself a service by scouring the comments on the brow products posts on the brands's Insta, since you can gain tips on how to use these items most effectively from fellow creative makeup mavens.
ColourPop also offers usage suggestions on its site. The brand reminds users of the little things, like closing the cap on the Brow Colour tightly so it doesn't dry out. No waste, baby!
Images: ColourPop Cosmetics/Instagram (2); Courtesy of ColourPop (1)