Period Panties Feature Anti-Abortion Politicians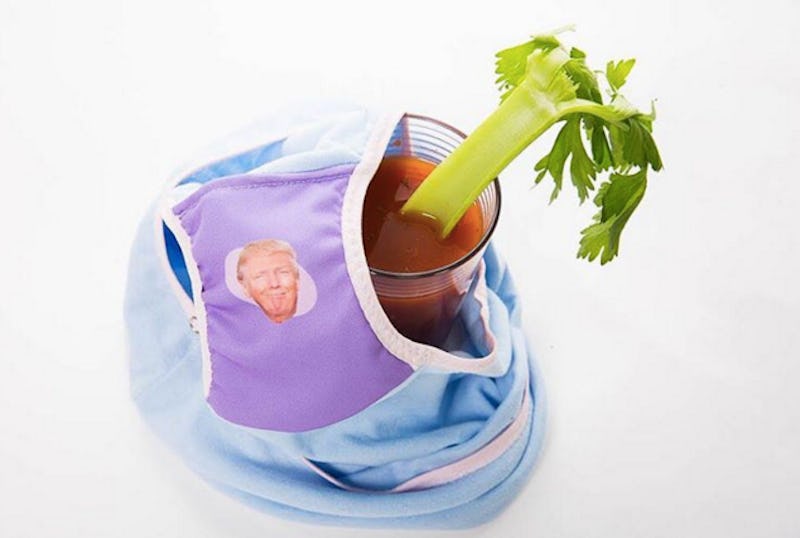 If you've ever wanted to put your reproductive rights in the face of a right wing politician, these period panties with anti-abortion politicians' faces on them are for you. "Period underwear" is the kind of underwear that absorbs your period blood without you having to wear an uncomfortable pad or a tampon, and it's really picking up steam to be the menstrual accessory you must have. THINX period underwear recently took the popular market by storm (their ads were famously banned from the subway, before a campaign got them approved), and PantyProp pad holding underwear has even offered a range of swimwear. But the newest period undies to hit the market are from Cute Fruit Undies, and yes, they absorb your period and feature the faces of some of the countries most prominent anti-abortion advocating politicians.
Cute Fruit Undies is a Washington state-based Etsy store, and their period undies, amazingly, are called Bloody Marys. The undies are in high demand: you'll have to wait four to six weeks for your order because apparently what the consumer market didn't know it needed was blood absorbent underwear with Donald Trump's face on them. Even better is the faces of politicians like Donald Trump, Sarah Palin, Rand Paul and Ted Cruz are printed right on the inside lining, so they'll get well acquainted with the party ~downstairs~.
The description on Cute Fruit Undies' Instagram says, "@realdonaldtrump as a Blood Dumpster... These period panties let you bleed all over a politician who is hindering women's reproductive rights (and in Donald's case is also just an all around rampant misogynist!)."
Meanwhile, the undies are "moisture wicking so they don't feel wet, and they're leak proof and antibacterial!" which means you're getting something working and practical as well as something that allows you to make your privates political. There's even an attachable heat pack for those particularly crampy days:
There are eight political styles to choose from, and a pair costs $29.99, with $3 from every sale going to Planned Parenthood so you can really put your money where your politics are. The importance of supporting Planned Parenthood when women's reproductive rights are constantly being threatened cannot be overstated, and keeping PP funded and open is one way we can keep access to healthcare available to all. The underwear comes in nine different colors, including stripey ones, and size range from XS to XL.
The Etsy store and Instagram have lots of other styles too, so if you don't fancy going face-to-crotch with Trump, you can try some of these cute undies which also have some serious points to make:
Cute Fruit Undies also has a bunch of adorable crop tops to choose from too, so you can match with your new period on undies, or even wear them as outerwear this spring and summer.
Images: Courtesy of Cute Fruit Undies