12 Ways To Have THE #AWP16 Experience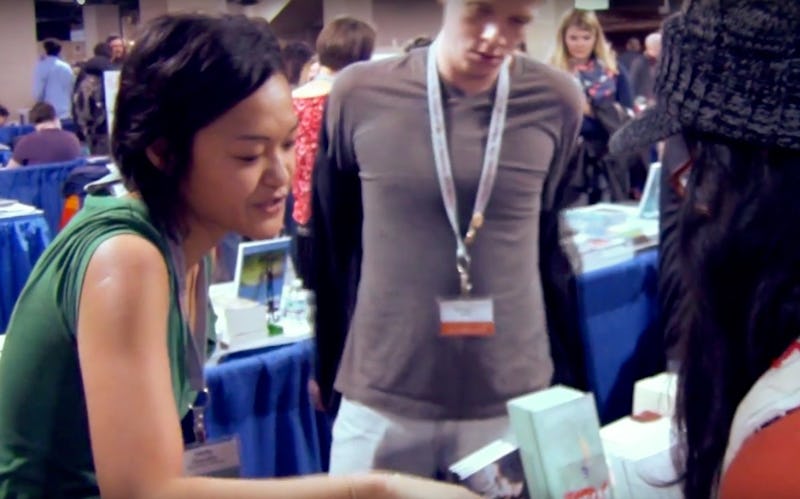 If you've got a friend of a friend of a friend who does anything even remotely literary, you've probably heard of AWP, the Association of Writers and Writing Programs. More specifically, you've heard of AWP and thought of an event —the organization's annual conference and bookfair, an occasion for the Association of Writers and Writing Programs to bring together thousands of writers, editors, booksellers, agents, and other literary folks for four days of niche panels and marathon readings. Oh yeah. And parties. Lots of parties. One city, one epic literary bash.
This year, AWP is hitting Los Angeles. Conference registration opens on Wednesday, and I'll be attending. Like a lot of writers, I have complicated feelings about the affair: after all, lots of writers are introverts and networking can feel about as natural as settling in for a nap during a tornado (thankfully, there's a panel to address that — the introverted networker, that is, not the tornado napper).
Despite my fear of awkward encounters with writers and editors I've never met IRL, I'm excited for AWP. I always am. Yes, the whole thing is too much, but it's a too-much that revolves around books and writing and words. There are worse vices in which to indulge. And, frankly, the conference is one of the best ways to learn about new writers, new journals, and new ways of thinking about the written word. What to do if you're not LA-bound? Try these twelve ways to hack the #AWP16 experience.
Buy or browse, whatever fits your budget: to replicate the book fair portion of AWP, you need to touch as many titles as possible.
2. And Drastically Overestimate Your Available Reading Hours
At AWP, this usually takes place at the end of the first day or the second day — okay, depending on how long you can live in denial. By the last day of the book fair, when presses are slashing prices, you've probably already come to terms with the hours in the day and the limitations of your luggage.
3. Get Your Binge On
Want to capture the spirit of the conference? You can watch past readings and panels at AWP's digital archive. (Tip: to get the conference effect, watch eight-to-nine hours of footage in eight-to-nine different hotel-like rooms.)
4. And Takes Notes
Minnows need to study if they want to swim with the sharks.
5. At Least For The First Panel — Then Practice Your Social Nods
Mhm. Mhm. Yes. Certainly.
6. Tell Friends, Loved Ones, And Random Strangers What You Write
Without sounding too humble, too boastful, too self-promoting, too self-depricating, too literary, too mainstream, too YA, too pop, too academic. You know the drill: just be yourself.
7. And Practice Judgement-Free Listening When Friends, Family Members, And Random Loved Ones Reveal Their Literary Dreams To You
Because you know how tough it is to share those ambitions, let alone nail that pitch.
Readings in bookstores, church basements, community centers, and local colleges will all fit the bill. Support your community!
9. And Dress In A Way That Says 'Writer'
But in a comfortable-yet-stylish way that's totally unique to you and the writing you do.
10. But Don't Wear Perfume
Seriously--AWP encourages attendees to respect those who are sensitive to fragrances. Respect.
A pen pal! Haunt your favorite section of your local bookstore, find that special somebody writing at your local coffeeshop, and get ready for a reader and a confidante. What writer doesn't love to dish (or at least listen to you dish and then mine your saga for her next story)?
Event burnout is guaranteed to be part of the #AWP16 experience, and bedraggled writers will be taking to the beaches and hills for a break from the book babble. After your first day of books, networking, listening, and so much talking, treat yourself to some off-time. Who knows? Maybe you'll see something that inspires your next masterpiece.
Images: YouTube; Giphy(11)