10 Things That Happen When You Go Book Shopping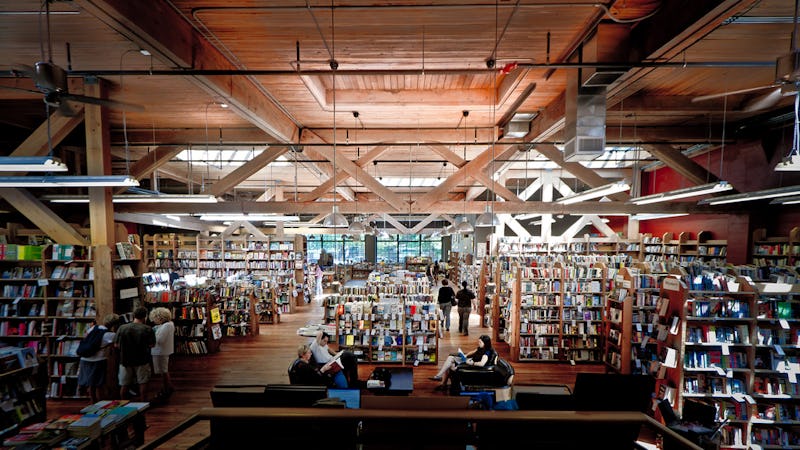 This past week, as I was getting ready to move (yet again), I took a walk through my neighborhood to say goodbye to my favorite places: the Jewish deli that's also part pharmacy, the dive bar with $2.50 beer Tuesdays, and the independent feminist bookstore, Women & Children First.
As someone who grew up a reader, went to college and became a writer, and held my first full-time job at an independent press, local bookstores have always had a very special place in my heart. What I'll miss the most about the one I'm leaving is the consistency of it — the staff is friendly, the anticipated new releases are heartily stocked, the recommended reading shelf is on point, and the authors they bring in for readings are amazing. They recently remodeled the store, and made even more space for bookclubs and shelves.
Though the concern for their lifespan is ever-present, it's comforting to know that the number of indie bookstores has actually increased by 27 percent since 2009—some of which is partially due to the shelf space that opened up after Borders went out of business. Are you sighing in relief yet?
Even if I'm not planning a trip to the store, it's almost impossible for me to walk by without popping in really quick. Before I know, though, it I'm walking about with enough books to pay half my rent and have lost the entire afternoon to my "quick stop" — although I never regret it. Here are nine things that happen when you just, y'know, "pop in" to your favorite bookstore:
You Casually Walk By Your Local Bookstore and Realize That Your Saturday Afternoon Chores Can Wait
You see the new releases in the window so you stop and gaze. Everyone browsing looks so happy to be there. The front door is already open, calling you in. You don't really have anything to in the next couple of hours. You'll just pop in for a few minutes.
You Promise Yourself You Won't Buy Anything
I really need to put the rest of my leftover money this month into my savings accounts. Or pay off that credit card. My car insurance bill is coming up. I'll just look and see what they have that's new so that I can plan ahead for when I get my next paycheck. Or when the new releases come out in paperback.
Except Maybe Just This One Book
I can definitely treat myself to one new book. Plus, everyone's been telling me that the new Miranda July novel is so weird and totally up my alley. I can't avoid reading reviews of it anymore. I have to have an opinion of my own!
Actually, Never Mind, You Can Borrow It From Someone
I'm pretty sure Allyson has a copy she can lend me. Oh, or the library! I've been meaning to spend more time in the library down the street anyway. The only problem there is that I won't be able to write my own notes in it. Plus what if I really love it? I don't want to have to give it back. I better just buy my own copy.
Let Me Check Out My Bookstore Crush's Recommendations
Last time Sarah recommended Landline by Rainbow Rowell and it was exactly what I was in the mood to read. And let's not forget the time she introduced me to Persepolis, my first graphic novel. So what if you've never met her? Her recommendations have never served you wrong.
You Start Thinking How Much You'd Love To Open Your Own Bookstore One Day
I would probably spend way too much time planning my own staff recommendation shelf. Will people think it's obvious to include Amy Poehler's book? Would it be too contradicting to include short story collections by both Lorrie Moore and B.J. Novak? How do you even figure out which books to keep in stock? How can you predict what people are going to want to read? How many shelves should I buy? What sort of book clubs would I host? I better stay longer and do some research about all of this.
Before You Know It, You're Lost In The Deepest Corners of the Shelves
Am I even in the same store anymore? It didn't look this big from the outside. I didn't even know that "Paranormal Romance" was a real bookstore section, let alone "Teen Paranormal Romance." To each her own, I suppose.
And You're Somehow Carrying More Books Than You Ever Thought Possible
Well, this wasn't the plan. I guess I don't need another copy of The Picture of Dorian Gray. The cover art in this edition is just so beautiful, though.
When You're Checking Out, You Notice the Great Book Chosen for the Store's Book Club
So you promise the clerk you'll be back next week for the meeting. You've also somehow volunteered to bake cookies.
You Get Home and Are So Excited and Overwhelmed That You Don't Know Where to Start
But then you calm down, make some tea, get in your coziest reading spot, and dive in. It's impossible to regret visiting the bookstore.
Images: nicola/flickr; Giphy (10)