The 'Dead 7' Opening Credits Are Gore-tastic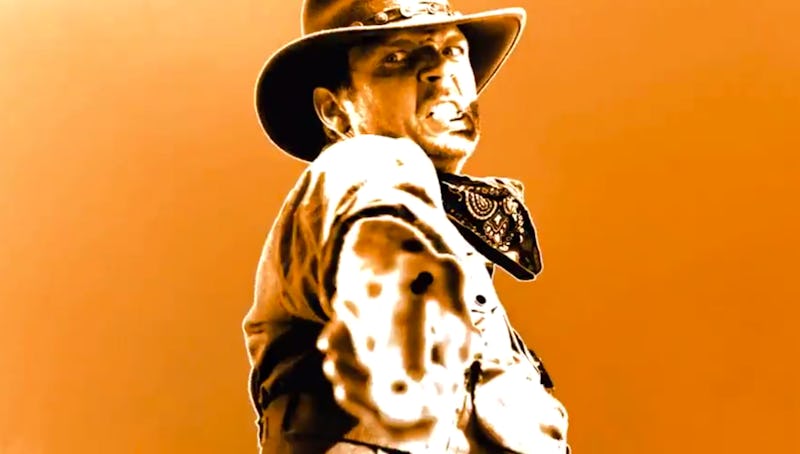 In just three days' time, a work of cinematic genius will kick open cable television's saloon doors and change our lives for the better: On April Fool's Day 2016, Nick Carter's zombie Western Dead 7 will premiere. You've seen the trailer. You've heard the song. And now, you can watch the made-for-TV movie's opening credits. On Tuesday, Rolling Stone shared an exclusive Dead 7 sneak peek, and it is all things gruesome and delightful. The two-minute clip, which you can watch on the RS website, only fuels my "THIS FILM WILL BE PERFECT" fire.
Hey, if over-the-top campy horror isn't your bag, the Dead 7 cast will never break your heart, it will never make you cry: The post-apocalyptic bloodbath stars Carter, Howie Dorough, A.J. McLean, Jeff Timmons, Joey Fatone, Chris Kirkpatrick, and Erik-Michael Estrada. The Carter-penned motion picture is a late '90s/early '00s boy band extravaganza, and I couldn't be more on board.
Do I love the Dead 7 cast? Duh. Do I love the Dead 7 credits? Duh. Do I have some questions for the Dead 7 credits? Duh. Here they are:
Wait, there really isn't any food or water left?
Or is the narrator stretching the truth?
If the narrator isn't exaggerating, how are the humans getting by and fighting off zombies without food or water?
Is Apocalypta a zombie?
If not, what's her story? How'd she get into the "ruling a zombie army" business?
Is this a herd of regular cows?
Or is this a herd of zombie cows?
Do the ex-boybanders have to ward off zombie humans and zombie cows? If so, those guys have a lot on their plates.
Is it OK if I ask some Qs about this clothesline?
How long have those blouses been hanging from that clothesline, exactly?
Is that a pre-apocalypse clothesline?
Like, have those shirts just been chilling up there, relatively unscathed by the zombie versus human war?
Or did someone do a quick load of laundry after the zombie apocalypse hit?
If so, how did they do laundry without water?
Ugh, why am I so fixated on that dang clothesline?
Did someone just run over a zombie's dome? *Rewinds* Yup. Yup.
Did someone just smash a zombie's head into smithereens with a weapon of some sort? *Rewinds* Yup. Yup.
Well, this is going to be quite a gruesome cable TV program, eh?
Will Whiskey Joe (Fatone) and Major Shelby (Kirkpatrick) sing "Ain't no lie, zombie/Die, die die" at any point?
Will Jack (Carter), The Vaquero (Dorough), and Johnny Vermillion (McLean) sing "Show me the meaning/Of being a zombie" at any point?
Is this already my favorite movie?
*Plays "In The End" on repeat.*
On April 1. Syfy. Dead 7. Be there or be a zombie cow.
Images: Syfy (3); Rolling Stone (3)