The One Bridesmaids Gift Every Girl Will Love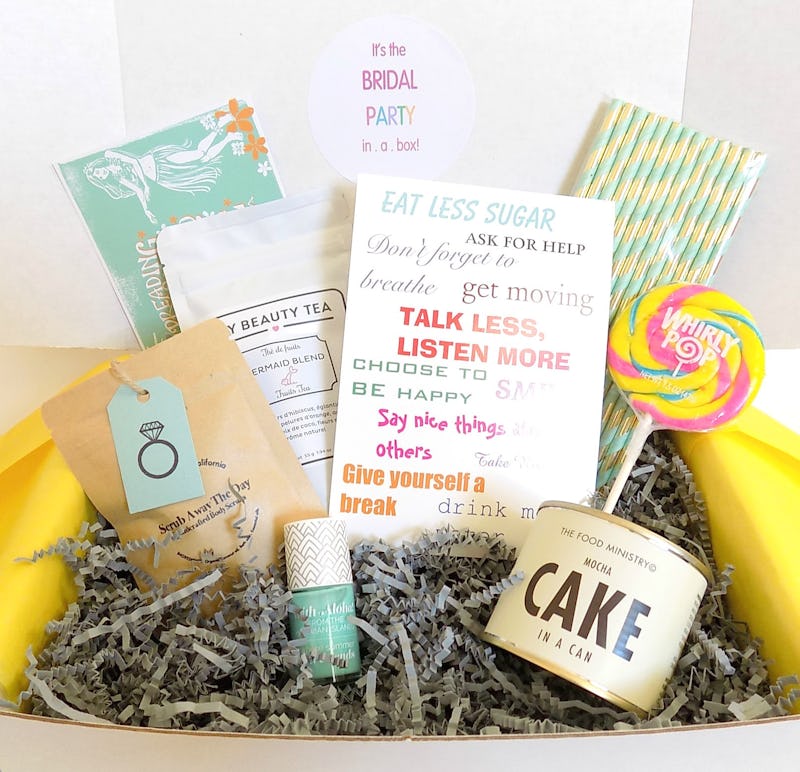 It's wedding season! Every year from March until about September, your Facebook newsfeeds and social media accounts are inundated with wedding advice, and it's not going to stop now. Whether you're a bride-to-be or a bridesmaid, wedding season is bound to be personal, and the one bridesmaids gift every girl will love is surprisingly easy and is, in fact, more than one gift. The Hello! Bliss Box Bridal Box is the answer to all of your bridesmaids' needs. As a bride to be or as the maid of honor hosting a party for the bride and your fellow maids, the box has everything you need to craft the perfect present for your ladies.
Let's be honest, bridal showers and pre-wedding parties — other than that debaucherous bachelorette — have an unfortunate reputation for being sickly sweet and sometimes, kind of dull. Whether it's the bunting banners or the older family members, sometimes showers aren't always something to look forward to, and while you'll always support your bride, it's hard to get excited from time to time.
The truth is that a bridesmaid's job is not an easy one. Whether it's a dress you hate, unwelcome wedding commentary, or trying to avoid a bridesmaid snafu, it's a tough job. That's why the Hello! Bliss Box Bridal Box is the perfect answer for brides looking to honor their maids in the sweetest way possible. A tough job deserves a killer gift, and with everything inside the box, it's the ideal way to say, "Hey, thanks! I know this is tough sometimes, but I love you."
So what's inside the one bridesmaids gift every girl will love?
Bridal Party Koozie
I mean, this is a must for the bachelorette party, right? The sweet Tiffany blue color and fun font only make this koozie that much cuter.
Bridal Blue Nail Polish
It's spring, and that gorgeous blue polish by HULA is going to be perfect for the season and for every event your ladies attend in prep for your big day.
Visual Pick-Me-Up
An inspiration quote for the fridge may seem trite, but you never know what someone's going to need a little pick-me-up.
These aren't the only incredible pieces in the box. Adorable striped straws, a vanilla body scrub, and rhinestone earring all make appearances in the package. For only $34.95, the one bridesmaids gift every girl will love is clearly the Hello! Bliss Box Bridal Box. With fun features, cool products, and a sweet message behind the gift, it's sure to be a hit.
Want more fashion and beauty tips? Check out the video below and subscribe to Bustle on YouTube!
Images: Hello! Bliss Box