Makeup Tips When You Have Zero Time To Get Ready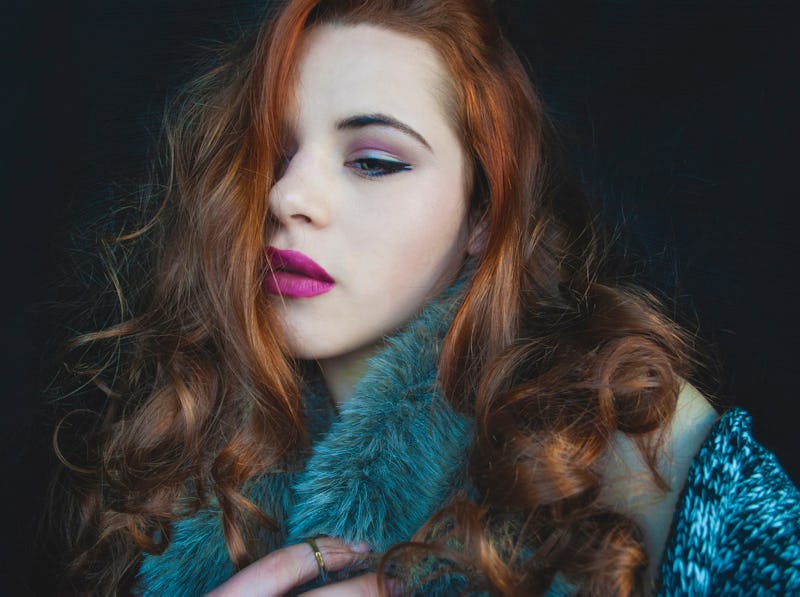 We've all been there: After your sixth successive snooze, you leap out of bed, and you remember you didn't iron your clothes for your important meeting. When you're running later than late, you might want some tips for days when you don't have time for makeup. Of course, your situation may vary greatly to this. Instead of work commitments, you may not have time to put your warpaint on because you're already battling a tantruming toddler, or your daily routine might involve waking up at the crack of dawn and you just can't bear to get up any earlier than you already do. In my book, sleep trumps makeup any day of the week.
There's also the issue of prioritizing. We're all unique, so things one person chooses to prioritize in their morning routine is bound to be different to the next person. You might prioritize a morning workout, time with your SO, or a hearty breakfast over putting on your makeup. No matter the reason, there will probably come a time in your life when you just won't have time to add makeup application into your morning routine. So here are some makeup tips for folks who want to look made up, even when they have no time to spare.
1. Invest In A Tinted Moisturizer
OCC Tint: Tinted Moisturizer, $29.50, Nordstrom
You probably already have a favorite foundation or powder already, so I'm not asking you to give up your most beloved beauty must-have. Instead, invest in a tinted moisturizer to cut out the middleman and get down to business when you're pushed for time. Tinted moisturizer is the BFF of eternally late people.
Also consider: Stila Sheer Color Tinted Moisturizer, $34, Amazon
2. Keep Tinted Lip Balms In The Pockets Of Your Outerwear
Wet'n'Wild MegaSlicks Balm Stain In Red-dy Or Not, $5, Amazon
Tinted lip balms are usually super reasonably priced, so buy a bunch and pop one in each of your coats and jackets. This way, you'll never be without a dash of color when you're running late and your lips will always be hydrated.
3. Utilize Your Commute
Travel time is basically dead time, so use it to your advantage. Obviously, don't start applying your makeup when you are operating a vehicle (or even a bike) as this will not end well. No one's makeup is worth risking their life for, obviously. But you can definitely apply certain types of makeup while walking (such as the aforementioned tinted lip balm and possibly tinted moisturizer), but the best modes of transportation that will offer you a more steady commute are subways, buses, and trains. Taxis are the best for applying your makeup in near-privacy and with tons of elbow room.
4. Remember That Mascara Is Everything
If you only have time to apply one beauty product, make sure it's mascara. You can do this at home or on your travels if it's safe to do so. The eyes are the windows to the soul, so make sure your peepers are poppin' with a layer or two of mascara.
Try: NYX Doll Eye Mascara, $9, Amazon
5. Go For Multi-Purpose Makeup
Benetint R ose-Tinted Cheek & Lip Stain, $30, Ulta
If you know your routine is going to get more hectic, or you're someone who seriously struggles with time-keeping, start building a collection of multi-purpose makeup. Take this rad Benefit lip and cheek stain for instance; it'll give you rosy lips and cheeks with a few strokes, so it's basically every lazy gal's dream.
6. Touch Up In The Bathroom
So you're insanely late and there's no other option but to run out the door to your appointment, work, or meeting. Don't worry! Just make sure you get there on time and excuse yourself immediately to visit the bathroom. Don't keep people waiting — take five minutes max to touch up the areas that you feel need the most help. This could be dark circles if you had a late night, chapped lips, or unruly brows. You'll emerge from the bathroom feeling refreshed and ready to take on the day!
7. Have A Handy Palette In Your Handbag At All Times
Tarte Energy Noir Clay Palette, $38, sephora.com
Diamonds are nice, but in the real world, makeup palettes are a girl's best friend. Decide which areas you'd like to enhance with makeup and find a makeup palette to suit your needs; whether that be brows and eyeshadows, lips and eyeshadows, or blush and bronzer. This particular palette by Tarte includes eight eyeshadows, an eye and cheek highlighter, and a blush so you can create a super speedy look in no time. When you've got a makeup palette in your handbag, you can choose an appropriate moment to apply your makeup, rather than being forced to apply your makeup at home and potentially be late.
Use these makeup tips and tricks for when time is of the essence. There's no need to look like you woke up late on the wrong side of the bed, even if you did!