Hack Your Halloween Costume With Temporary Tattoos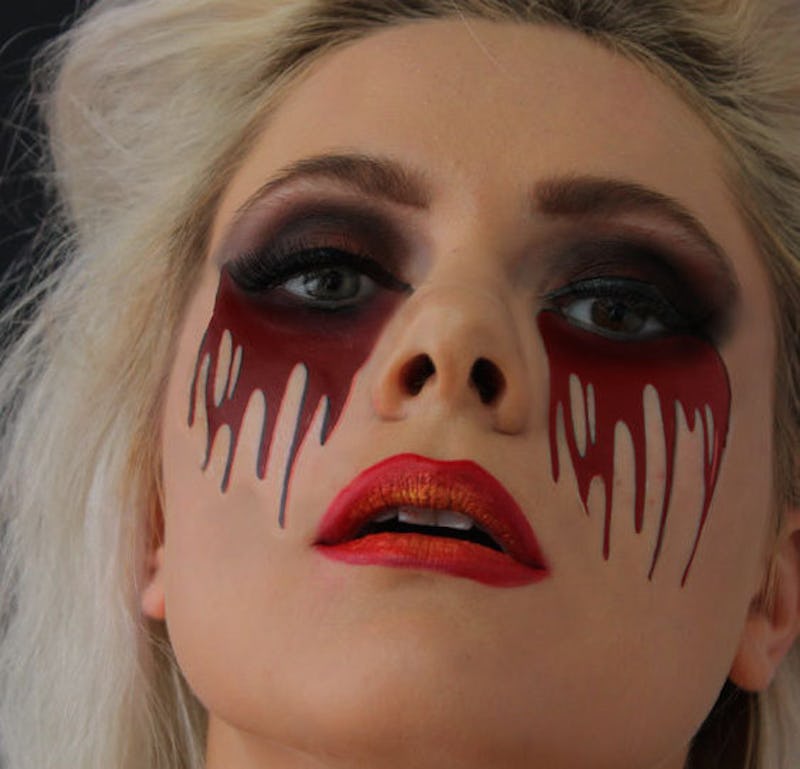 Thinking of a different Halloween costume year after year can be a difficult (not to mention expensive) endeavor. If you want to look truly unique, however, you could always craft your own costume. The simple answer? Temporary tattoos for Halloween. Gone are the days of last minute sewing, panic buying, and botched face paint jobs. Temporary tattoos are an awesomely easy tool to take your Halloween costume to the next level.
Temporary tattoos skyrocketed into the limelight this year with many of us going mad for these fun flourishes that are perfect for the ink indecisive. Celebs arguably led the way with Rihanna teaming up with jewelry designer Jacquie Aiche to collaborate on a temporary tattoo line and Cara Delevingne wearing temporary tattoos to the Met Gala. Temporary tats allow the wearer to appear frivolous and carefree for a while (like summer festival goers who adorn themselves in metallic tats) only to easily return to their office jobs or strict dress codes a few days later.
There are a ton of temporary tattoo designs out there spanning different genres and themes, so the possibilities seem endless. So far we've seen designs fit for a Disney Princess, ethereal tattoos for aspiring mermaids, and even tongue in cheek temporary tattoos for foodies.
It was only a matter of time before Halloween temporary tattoos became "a thing," and I'm sure all my fellow lazy girls will agree that they're a costume godsend. Here are just seven to sport this All Hallow's Eve.
1. The Feline Face Tattoo
Are you revamping your cat costume this year? Hack it with this cute cat facial tattoo.
Halloween Black Cat Face Tattoo, $6.50, claires.com
2. The Vampire Tears Tattoo
This design is perfect for any vampire lovers or fans of True Blood because everyone knows vampires cry blood, duh!
Red Bloody Eye Drips Temporary Costume Tattoos, $8.99, etsy.com
3. The Spider Webs
This spider web design could either be used for a witch costume or a black widow. The choice is yours.
Halloween Spider Web Face Tattoo, $6.50, claires.com
4. The Owl Skull
If gory makeup isn't your thing, why not opt for this delightfully intricate owl skull temporary tattoo? It's a brilliant spooky alternative for those who don't love full-on costumes.
Night Hunter Owl Chest Piece Temporary Tattoo Transfer, $9.95, etsy.com
5. The Chesire Cat Grin
For an unusually eerie Alice In Wonderland themed look, choose this creepy mouth tattoo.
Big Mouth Tattoo, $6.23, amazon.com
6. The Terrifying Zipper Eye Tattoos
This set of zipper tattoos is for the hardcore horror fans out there. A word of warning: Don't show up at a kids' Halloween party wearing these. You'll give them nightmares for life.
Zipper Eyes — Temporary Tattoos, $8.99, etsy.com
7. The Mix & Match Wounds Tattoos
These grotesque temporary tattoos could be used for an array of Halloween costumes, from zombie to vampire victim. You could even share them out amongst your friends so you can all join in the ghoulish fun.
Supperb Temporary Tattoos - Bleeding Wound, Scar Halloween Halloween Tattoos, $5.28, amazon.com
If you're short on time or funds, hack your way through Halloween this year with temporary tattoos.
Want more Halloween fun? Check out the video below, and be sure to subscribe to Bustle's YouTube page for more inspo!
Images: Courtesy Brands