What's In The Caramel Cocoa Cluster Frappuccino?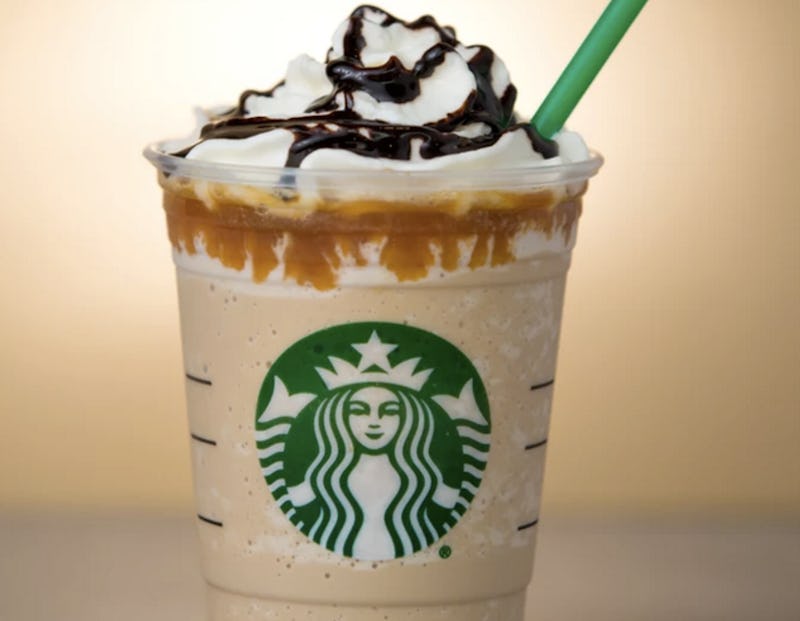 Ever wish you lived in a world where you could have your caramel drizzle and your mocha too? Starbucks hears you, and it's here to answer your every wish with the Frapp of your dreams. What's in the Caramel Cocoa Cluster Frappuccino, and when can you get your hands on one? Patience, my young coffee grasshopper. All will reveal itself in time.
In honor of National Caramel Day, which just so happens to land on April 5, for those of you not operating on a foodie calendar, Starbucks is bringing the frozen beverage to stores from April 5 through April 11, meaning you don't have to wait long to re-familiarize yourself with this caramel chocolate wonder. I say re-familiarize, because the Caramel Cocoa Cluster is actually a drink Starbucks fans may remember. It made its debut last summer as one of six Starbucks Frappuccino fan flavors that were inspired by popular off-menu flavor combinations customers like to order. Other fan flavors included Cupcake, Red Velvet, Lemon Bar, Cotton Candy, and Cinnamon Roll, but the Caramel Cocoa Cluster Frappuccino was clearly the crowd favorite — and with good reason. Once you get a look at this beverage's ingredient list, you'll be on team CCC too.
So what's in the Caramel Cocoa Cluster Frappuccino? Starbucks describes it as "a blend of toffee nut syrup, Frappuccino Roast Coffee, milk and ice and topped with a layer of caramel sauce, finished with whipped cream and a drizzle of mocha sauce." I know, I know — it sounds divine, but it's a lot to take in. So, let's break it down a bit, shall we?
1. Frappuccino Roast Coffee
According to a Starbucks rep, the CCC Frapp is indeed a coffee-based beverage, and that means one amazing thing — caffeine. A tall Caramel Cocoa Cluster Frappuccino contains 65 mg of caffeine, to be exact, which is perfect for when you need an afternoon boost.
2. Toffee Nut Syrup
This is what really gives the Frappuccino its flavor. Buttery and slightly reminiscent of your other fave latte flavors, the toffee nut syrup warms up the frozen beverage in a way that makes it feel like a cozy treat — even in the middle of spring.
3. Caramel Sauce
And a generous helping of caramel sauce, at that. After all, if you're going to bring out a drink in honor of a day so significant as National Caramel Day, you better make sure you aren't skimping on the good stuff.
4. Whipped Cream
One of my favorite things about this beverage is just how pretty it is to look at. I mean, those layers! Those caramel-y, whipped cream layers! Everyone knows that a Frappuccino gets its life force from the whipped cream, and this is no exception.
5. Mocha Drizzle!!!
Mocha drizzle + caramel sauce = the ultimate Frappuccino love story. Starbucks finishes off its drink with just enough chocolate on top to make this a truly beautiful experience.
The Caramel Cocoa Cluster Frappuccino is only at participating U.S. and Canada stores from April 5 through April 11, and costs between $4.25 and $4.95 for a tall. Order yourself one ASAP, and then for at least a few days, go out into the world and live your best life. The coffee gods mandate it.
Images: Starbucks; Giphy