26 'Real Housewives' Vacations, Ranked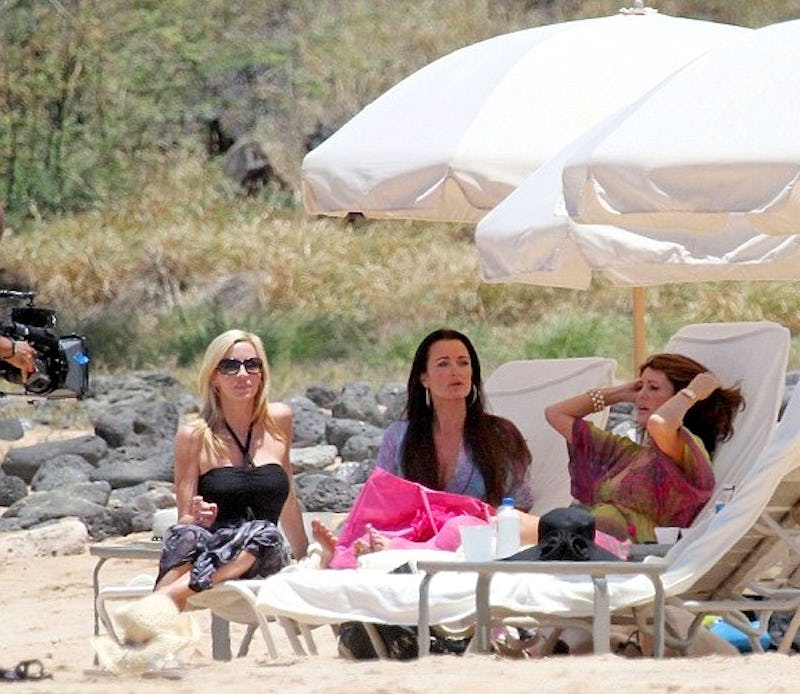 Don't get me wrong, I enjoy watching the stars of Real Housewives live their regular lives at home and at their favorite local haunts, but there is nothing like a Real Housewives vacation episode. The vacation episodes are always a highlight of the season and thanks to the show it feels like the fans are along for the ride, as well. And these are not casual weekend road trips by any means — the ladies go on some super ritzy vacays all around the world. It is hard to evaluate so many great trips, but I decided to take the plunge and rank 26 Real Housewives vacations based on the drama they brought.
The Housewives have gone on vacations to so many luxurious places. Everything thing they do may not be high class, but every place that they travel always is. These women are accustomed to the best of the best and their accommodations are just unreal and really make for some dream vacations.
Sometimes the ladies stay within in the United States and other times they go across the globe or to nearby islands to party and stir up drama with the squad. Regardless of their locale, they go all out when it comes to their vacations and it really gives me travel envy every single time one of these episodes air. As if these people were not lucky enough already, they have also been to some of the coolest places in the world.
With the perfect combination of luxurious accommodations and iconic television drama, this is how the Real Housewives vacations have ranked over the years.
26. Montana — RHONY
This has to be the worst trip in Real Housewives history in my opinion. They stretched out the Real Housewives of New York City Montana vacation to way too many episodes, and I was bored out of my mind for most of it. Don't get wrong, it was cool seeing them dress down and try to live a more casual life at the rodeo, but not much else happened. The only interesting thing was an explosive fight about the gossip spread by Sonja Morgan's facialist.
25. San Antonio — RHOC
This adventure in San Antonio on Real Housewives of Orange County was just such a strange trip all around. Aside from the bedazzled cowboy hats, there was some weird argument between Alexis Bellino and Peggy Tanous about who had the bigger lips. At least they attempted to adapt to the culture with their outfits, right?
24. Tucson, Arizona — RHONJ
This Real Housewives of New Jersey trip to Arizona was a little bit of a snooze fest for viewers since the ladies really got along for the most part. They also had way too many sessions with spiritual psychics and mediums. It made me miss the table flipping era so much.
23. Italy — RHONJ
The RHONJ women usually keep their travels domestic, but they did go on a trip to Italy in an exaggerated attempt to remind us all that they are Italian — as if we didn't hear enough of those references while they were stateside.
22. Punta Cana — RHONJ
This trip will never get out of my mind simply because of Teresa's wardrobe and hat choices. This was also the vacation when Teresa believed that her cousin Kathy Wakile took some jabs at her mothering abilities and offended her while they were all trying to enjoy some time at the beach.
21. Paris — RHOBH
The Real Housewives of Beverly Hills cast definitely has the most international experiences out of all the shows. They actually did see the sights and eat some French cuisine while staying in Paris, but the trip mostly centered around the ladies investigating Kim Richards and Taylor Armstrong's erratic behavior.
20. Lake George — RHONJ
When the RHONJ couples arrived in Lake George I was taken aback by how nice the house was, but then I just felt super uncomfortable as they all went through family therapy on national television and fought with one another. It was one of those "vacations" where you need another vacation afterward to recover.
19. Savannah — RHOA
The Real Housewives of Atlanta squad stayed at a nice house in Savannah, Georgia and they even took in some history with a tour of the city. But the absolute best (worst?) part of this trip was when Porsha Williams, whose grandfather was a famous Civil Rights activist, admitted that she thought there were actual trains involved with the Underground Railroad. Clearly she was not paying attention during the tour — or any time she ever spoke to her family members.
18. Costa Rica — RHOC
In a rare feat for Housewives trips, the RHOC ladies actually experienced some of the local culture while they were in Costa Rica during the show's seventh season. So, instead of arguing at an extravagant lunch or dinner, they beefed mid-zipline to mix things up.
17. Bali — RHOC
Once again, this is a trip where the Real Housewives brought all of the baggage possible, and I'm not just talking about suitcases, although they definitely had a lot of those, too. This is the trip when everyone in the Real Housewives of Orange County cast finally called out Tamra for being a pot stirrer and it did not seem like it was fun at all in all honesty. What a waste of a great location.
16. Palm Springs — RHOBH
I feel like the Beverly Hills cast is never in Beverly Hills. They are always on vacation somewhere. When they went to this awesome house in Palm Springs, Brandi caused a ton of controversy by making random comments to Joyce Giraud while they lounged poolside, which Joyce felt were racially charged. That was definitely not the best use of tropical vacation accommodations.
15. Puerto Rico — RHOA
The Real Housewives have a knack for ignoring their luxurious surroundings and just creating drama on these vacations. Aside from eating and drinking, the ladies really did not do anything vacation-like on this Puerto Rico trip during RHOA's seventh season. NeNe Leakes made a surprise appearance, Sheree Whitfield was randomly hanging out with her ex-husband again, and Kenya pulled out Kim Fields' chair while she was still in it. All that happened, and I never saw one of them swimming in the pool or doing anything fun. SMH, ladies.
14. The Berkshires — RHONY
These RHONY trips to the Berkshires are very notorious for Ramona's lack of cooperation. She is just not a fan of the place and once even ordered an air conditioning unit to Heather's house when she thought it was too hot. The area made a better impression on Ramona when she stayed at Dorinda Medley's house, which was honestly a lot nicer, but there was still a lot of protest as per usual.
13. Colorado — RHOBH
The visit to Camille's vacation home in Colorado was chock full of drama in between hitting the slopes. Everyone was super concerned about Taylor Armstrong and her tumultuous marriage as she was breaking down and crying for most of the time.
12. Tahiti — RHOC
The RHOC women had a fun time in Tahiti. They snorkeled, shopped, and partied hard until the point where Vicki vomited on camera (again). They definitely went buckwild during this trip aside from the typical bickering.
11. St. Barts — RHONY
The New York ladies really take vacationing to another level. They are always at the most luxurious locations and have the most infamous drama. This was the vacation where Aviva referred to Sonja and Ramona as "white trash," and instead of being immediately offended, the ladies just wondered what the insult actually meant.
10. Morocco — RHONY
The Real Housewives of New York City ladies got to ride on camels and soak in the culture during a trip Morocco in Season 4. It was very reminiscent of the second Sex and the City movie, and was also the vacation during which a psychic told Ramona that her husband was going to leave her for another woman. Well, I can't say that didn't come up again...
9. Dubai — RHOBH
The vacation to Dubai on the current season of the Beverly Hills series was full of obstacles. First off, the ladies were not allowed to curse, which was a major struggle for this group and they all had to dress conservatively, which was another obvious challenge. And aside from staying in a super luxurious room with rooms that had walls made of shark tanks, the drama was abundant — but what else is new?
8. Anguilla — RHOA
The Anguilla visit was a great trip for the RHOA ladies during the show's fifth season. Cynthia and Peter even renewed their wedding vows there. This is where Kenya Moore really cemented her status as a Real Housewife when she declared herself "gone with the wind fabulous." Phaedra Parks also wore that infamous mesh and thong bikini combination. There were so many unforgettable moments on this trip.
7. Napa — RHONJ
This vacation was way too much to handle. The New Jersey cast took a road trip on a bus to Napa for something vaguely business-related, and I have no idea how they survived all that togetherness. This was where Joe took that super suspicious phone call where he infamously said, "Here comes my b*tch wife."
6. Las Vegas — RHOBH
The RHOBH ladies don't go to Vegas anymore now that they don't have connections from former Housewife Adrienne Maloof to get all of the coolest amenities for free, but this trip during the second season was too good. Instead of enjoying their fancy dinner at the Palms, this is the trip where Camille famously yelled "That's the point, Yolanda!" It was pretty iconic.
5. Cape Town — RHOA
The drama was abundant when the RHOA squad went to Cape Town, South Africa. They actually did some charity work while they were there and this stirred up a ton of race-related controversy about whether or not Kim Zolciak "would hold a black baby" even though she was absent from the trip. So much for trying to learn about another nation's culture... yikes.
4. Puerto Vallarta — RHOC
The RHOC women got wild in Puerto Vallarta for Tamra Judge's bachelorette party. Vicki peed herself on camera and some strippers took things way too far. I don't think they did anything other than party, but they had a crazy time overall.
3. Turks And Caicos — RHONY
This vacation with the New York ladies cemented LuAnn de Lesseps' iconic status in reality television. This is where the Countess famously told Heather, "Don't be all uncool." And in another great scene LuAnn hilariously presented Sonja with a plate of "eggs à la française" in the middle of a heated exchange with Bethenny. I felt like no one enjoyed the great surroundings they were in due to all the dramatics.
2. Amsterdam — RHOBH
The ladies toured Yolanda's old stomping grounds and even smoked some pot while exploring Amsterdam, but things just got way out of hand when Brandi Glanville slapped Lisa Vanderpump in the face. Then, Lisa Rinna infamously chucked a full wine glass at Kim Richards. Poor Kyle could not handle it all and just ran away from the conflict. It's safe to say none of them will be visiting Amsterdam again any time soon.
1. Scary Island — RHONY
This trip to the Virgin Islands was the most infamous trip Real Housewives history. This is where Kelly Bensimon had her unexplained meltdown and yelled at a pregnant Bethenny Frankel. The entire vacation was just a complete mess. From the weird photo shoot Kelly had on the beach with the women to the partying. The RHONY ladies really left their mark.
On one hand, I would love to go on all of those vacations because of the luxe accommodations, amazing food, and cool activities, but a lot of the trips were ruined by some petty drama. Either way, they're definitely way better vacations than any of us normal people could ever take in our lives and I would be willing to go any of these places.... especially if Bravo was picking up the tab.
Images: Bravo (27)