The Next Kylie Lip Kit Restock Is Happening Soon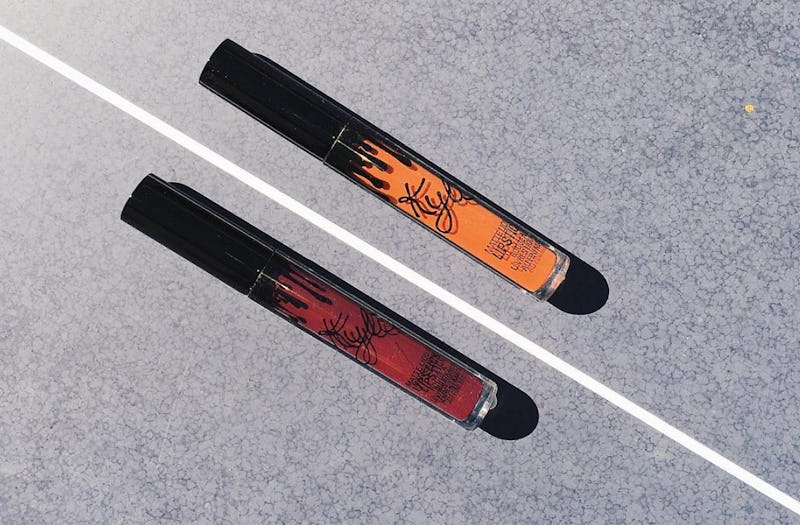 It's time to grab your credit card, decide in advance which shade(s) you want to buy, and warm up your fingers so you can type quickly and efficiently and not be shut out from shopping. Why? Oh, just because there is a Kylie Lip Kit restock in your future. Even though Kylie Jenner introduced her shine saturated Kylie Glosses last week, enjoying another instant sellout, she is not abandoning her signature matte formula. In fact, it's just the opposite. Her Lip Kits remain a cult product for which fans and makeupistas continue to clamor. With eight richly pigmented shades to choose from, there is something for everyone. When is the next Kylie Lip Kit restock?
Sooner than you think, Lip Kit wanters and needers!
There is a restock happening Tuesday, April 5, at 7 p.m. ET, which is 4 p.m. PT. The news was confirmed on Jenner's app, which is the hub of Lip Kit info. So take a second to add a reminder, for at least a half an hour in advance, in your phone. Also, I suggest making sure you are on the Kylie Cosmetics page, ready to point, click, and (attempt to) shop, about two to three minutes before the restock.
The Kylie Cosmetics Instagram page teased the restock with a shot of the orange 22 and the deep purple Kourt K.
There you have it. All eight mattes are being restocked! Notice that the caption says "mattes," since they now have to make the distinction between the mattes and the glosses. So. Much. Lip. Goodness.
Here is a screen shot of the announcement from Jenner's app. It appears that only the mania-inducing Lip Kits are being restocked on their own. It says nothing about the new glosses —Like, Literally, and So Cute, respectively— being restocked.
The Kylie Glosses may get their own separate restock this week. Or it might take longer. Right now, there is no definitive update and we can only confirm that a supply of all eight mattes will be replenished on Tuesday.
Happy shopping! Yes, Lip Kits remain a bit hard to get, but you can follow these tips for shopping Kylie Lip Kits. I have a few tubes of Koko K, along with Candy K. My new Posie K and Dolce K Lip Kits just arrived yesterday.
Images: Kylie Cosmetics/Instagram (2); Kylie Cosmetics (1)