19 +Size Babes Owning It At The Torrid Pool Party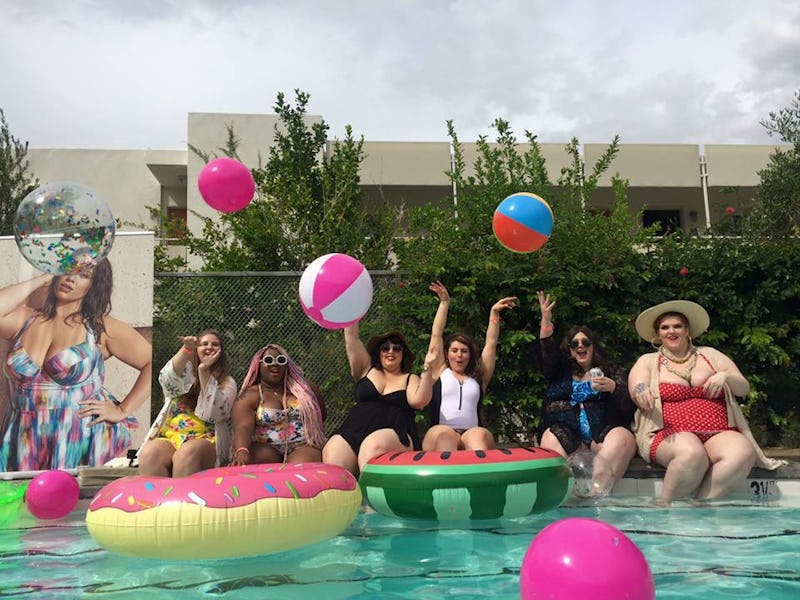 On April 10, fashion retailer Torrid hosted an epic plus size pool party at the Ace Hotel in Palm Springs, California. The invite-only event brought together 200 plus size influencers and bloggers, some of whom traveled across the country to be in attendance at the SoCal event. The pool party marked not only the kickoff of swimsuit season, but also the launch of Torrid's #OwnIt campaign, which will showcase images of women from the plus size community in the windows of its stores. As per the brand's press release, 10 of the women featured in #OwnIt were in attendance at the party, alongside Torrid brand ambassadors Philomena Kwao, Georgina Burke, and Lyanna Lynette, the Face Of Torrid 2016.
Guests were treated to margaritas, a taco buffet, and swag bags as DJ Mamabear seemed to play a heavy rotation of Beyoncé hits, according to Snapchat stories from the attendees. There was also a pop-up shop featuring more than 70 Torrid items.
Much like Essie Golden's Golden Confidence Pool Party and The Curvy Fashionista Swim and Style expositions before it, the Torrid Pool Party was a reminder that the plus size community still needs real-life spaces in which it can come together to further develop and deepen the relationships built online. At most, I've been to the pool with maybe three other fat girls. So having a positive environment to celebrate in alongside 200 fellow plus size babes really sounds like a dream. Here are 19 snaps from the event.
1. Brand Ambassadors Philomena Kwao And Georgina Burke
Brand ambassadors Philomena Kwao and Georgina Burke were looking like they were straight out of a Torrid ad at the party. But seeing photos and videos of them dancing, swimming in the pool, taking selfies, and mingling with all of the attendees was also a really awesome and humanizing look at these mega-models.
2. GabiFresh And Sometimes Glam
Speaking of selfies, I love this one of bloggers Gabi Gregg of GabiFresh and Crystal Coons of Sometimes Glam, who traveled from Arizona to be at the event.
3. Curves On A Budget
Nicole Simone of Curves On a Budget also traveled from Arizona to attend. Not only was Simone featured in the #OwnIt campaign, but she was also one of the bloggers who took over the Torrid Snapchat for the pool party. I asked Simone about her experience via email, and was surprised to learn that she was a retail associate at Torrid a year before she started blogging. She described the event as coming full circle:
"The Torrid Pool Party was arguably the greatest day of my life. The good vibes were through the roof, and it was refreshing being in a 100-percent judgement-free environment. Oh! And FINALLY meeting other influencers whom I've only ever seen online was such a fun experience, especially since I'm so new to the community. Seeing people get excited to meet me was very new. Living in Arizona, where nothing happens, you kind of feel isolated. Taking over the Torrid Snapchat was a once-in-a-lifetime experience for me, and it really shows how hard I've worked and how far I've come in a year."
4. Simone Mariposa
Amassing more than 4,000 likes, this image of model and blogger Simone Mariposa is one of the most-liked from the event, and I can totally see why.
5. Marcy Guevara
Celebrity plus size stylist Marcy Guevara was at the event and looking so vibrant in this peach suit from Torrid.
6. Sweet Rebekka
This pose and this swimsuit pretty much say #OwnIt to me.
7. Babes On Babes
When blogger Brianna of The B Word described this image in her caption as "Babes On Babes," I really couldn't have agreed more.
8. Ali Buttons
Designer Ali Buttons was the definition of chilling while in one of the pool party's popular floats.
9. Kelsey Olson
Plus model Kelsey Olson struck a pose that immediately made me have to find this Beach, Please hat on Torrid's site.
10. GabiFresh
It was so fun to watch everyone's excitement on Snapchat when they met OG plus size fashion blogger GabiFresh. She looked stunning in this coverup and bikini from her Swimsuits for All collection.
11. Amina Mucciolo
The Tasselfairy herself, Amina Mucciolo of Studio Mucci, was on hand to remind us all of the radicalness of breaking every so-called fashion rule.
12. Katana Fatale
Plus model Katana Fatale was also featured in the #OwnIt campaign, and she made the trip to Palm Springs from Portland to celebrate.
13. Skorch Magazine
Skorch Magazine shared one of my favorite group pool shots. It makes me so happy to know that images like these are helping people learn to love their bodies more.
14. Jennifer Buckingham
Jennifer Buckingham, the blogger behind Model Radical, showed us how to pose poolside in this dreamy lace coverup.
15. Virgie Tovar
Fat activist Virgie Tovar was smashing diet culture in her Rue107 ice cream cone bikini.
16. Babes Babes Babes
Blogger Melissa of It's Melicious shared another peak of the fun being had in the water.
17. Lovely In LA
Rachel of Lovely in LA showed off this deep V-neck one-piece suit with the serene poolside backdrop.
18. Nataliemeansnice
Looking like a goth witch poolside dream, blogger Nataliemeansnice said in her caption that she met some of her heroes at the event.
19. Fat Angels
I had to ask my friend Jessica Hinkle of Proud Mary Fashion what it was like to be at the Torrid Pool Party, and her response gave me an even deeper appreciation for it:
"It was one of the funnest events I've ever been to. I felt very overwhelmed (in a good way) being in a space with positive fat women who clearly felt beautiful and carefree. So often we are told to cover up, to take up less space, just to make others comfortable. It was so powerful seeing women unapologetically walking around in swimsuits, taking pictures, swimming, getting their hair done, and dancing! The vibe was so positive and loving. I wish I could bottle that feeling and pass it out."
As Hinkle put it, plus size women are still regularly being told that they should hide. The Torrid Pool Party was a declaration — and a big one, at that — that plus size women refuse to be left out any longer. We have a rightful place in fashion, and we are going to own it.
Want more body positivity? Check out the podcast below, and be sure to subscribe to The BodCast for more radical self love!
Image: SkorchMagazine/Instagram