This Dating App Is Inspired By The '36 Questions'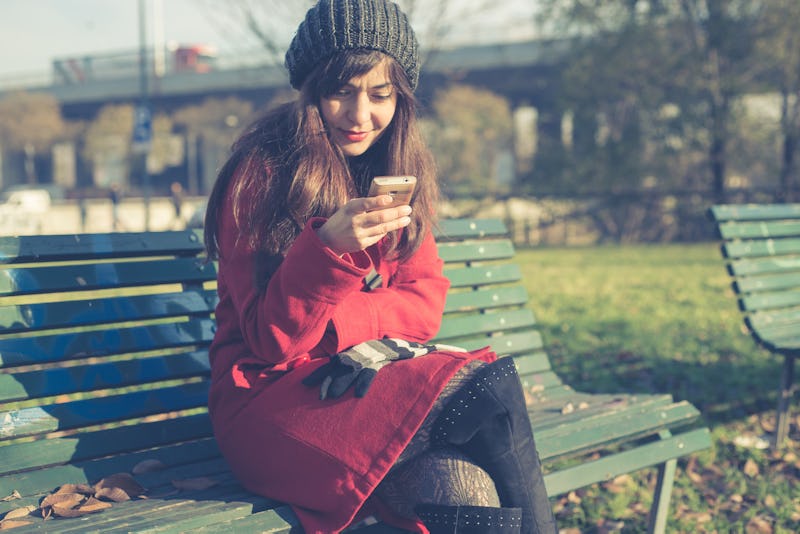 Dating apps have reached critical mass. There are dating apps like Tinder, dating apps for finding love, dating apps for hooking up, dating apps for millennials, and for young professionals, and for introverts. I wouldn't be surprised if there were a dating app for cat-lovers. Wait, hold the phone, there is. What is the world coming to?!
One more dating app has thrown its fedora into the ring, if you will. It's called String, and it seeks to sidestep the usual swipe, swipe, swipe that apps such as Tinder and Bumble have made the gold standard of late. First off, the app is inspired by the psychological study '36 Questions That Lead to Love', String founder Helen Huang tells Bustle. She means the study, led by Arthur Aron, called "The Experimental Generation of Interpersonal Closeness: A Procedure and Some Preliminary Findings," published in 1997. It had its day in the sun early last year, when the New York Times ran a Modern Love column about falling in love via the questions, for which there is now a website.
I asked Huang not 36 questions, but close, about her new app, and why it's worth trying out. In a sea of dating apps, I understand that the prospect of yet another one is a bit daunting, but hear her out: It's worth it. Here are 11 things you need to know about this new app.
1. To Kick Things Off, You Answer Two Deep Questions
"Users are given the option of choosing two out of the six curated questions," Huang tells Bustle. "The questions provide insight into who this person is, and what they are all about." And they are deep, or as deep as you can get on a dating app. (I will admit, the question, "Are you where you want to be, or do you still envision living abroad" is a bit random, but, hey — run with it!) "Their responses give you a glimpse of their communication style," Huang says, "which guide the person in choosing someone they could potentially have a meaningful connection." Sounds good so far.
2. All You See Is A Thumbnail Photo Until A Match Is Made
"As soon as the match is made, the users are able to scroll through the photos their match has added," Huang says. In other words, you only see another person's pics (and they see yours) if you both like each other's answers. Once that happens, the photos you've posted to your profile are unlocked. "Despite a few requests from our users to allow the picture expansion capability at the beginning, I haven't been convinced that they won't go directly to the photos if they're available," Huang says, "and then, we become like every other dating app."
String is trying to be different by making the initial connection about the way a person sees the world. "As an OkCupid study shows, 'people are as superficial as technology allows them to be,'" Huang adds.
3. The Curated Questions Are Inspired By The '36 Questions' Study
"String curated questions similar to the '36 Questions' study to help jumpstart online encounters into meaningful and long-lived relationships," Huang tells Bustle. The six questions on String are all about breaking down boundaries. "The key is encouraging users to self-disclose and become vulnerable," she says. "In the '36 Questions' article, [they found that] intimacy between two strangers can be accelerated by having them ask personal questions," she adds. So the questions on String are equally as intimate, to encourage the possibility of connection.
4. String Promotes 'Mutual Vulnerability'
The idea behind the questions String asks is that mutual vulnerability fosters closeness, Huang says. "String does this by asking the users questions that are designed to generate deep emotional responses, to draw the user in." Rather than the usual mostly superficial, rapid-fire questions, String boils things down — and hopes to bring people closer.
5. String Conducted A Survey To Choose Its Six Q's
"Since users are hesitant to answer as many as 36 questions on a mobile device, String actually conducted a survey with 10 men and 10 women to hone the list down to six questions," Huang tells Bustle. The study was simple, with "each user anonymously reading the other gender's responses and picking the responses that pulled at their heartstrings the most." From there, six questions were chosen.
6. The Founder Uses String Herself
Huang totally uses the app herself, and has gone out on dates thanks to it. "I have met up with someone from the app, and he has been wonderful so far on the first few dates," she says. So — drumroll — the founder of this app is currently dating someone she met on her own app. So meta. "I'm opening up my parameters and putting myself out there, which is scary, to find love." Not only is Huang using String, she's admitting that it can be scary to put it all out there in the search for love.
7. The Founder Started The App Because She Was Fed Up With Other Dating Apps
"I wanted to build a dating app that was more emotionally fulfilling than the other apps out in the market," she says. "I felt personally drained swiping through photos and one-liners." She says she wanted to make an app that wasn't "superficial," and instead wanted users to be able to "select matches based what we rely on in real life already — our intuition." So she dreamed up String.
8. So Far, String Is Just In The San Francisco Bay Area
It was just launched, so String is still in beta. But they have plans to roll out elsewhere soon, so if you're not in SF, don't fret.
9. You Can Totally Start Your Own App, BTW
"I am a solo founder, and outsourced the development and design via UpWork," Huang says. "I've been very lucky, and am working with some talented individuals. My goal is to spend the next few months iterating on the product in the San Francisco Bay Area before expanding to more cities, and, in the end, help more people make a meaningful connection online," Huang says.
10. The Responses Are Moderated
Though Huang calls the moderation "relatively simple," this ensures that creeps don't try anything weird. Huang, moderating the posts herself, is using the first posts to improve the app. "Since I'm focused initially on making sure people write enough about themselves, I've been paying closer attention to the character count, and designing features that encourage users to self-disclose," she says. "There are plans to build more sophisticated monitoring in our future roadmap, such as detecting plagiarism." Yeah, plagiarizing someone else's deepest thoughts is not a good way to start off a deep and meaningful connection.
11. The Founder Knows Others Who Have Met On String
"I have had a couple users who let me know that they've already exchanged numbers," Huang says. "Another user met up with me in person to tell me she loves the String app because she found herself really trying to get to know the other person, and she found herself being able to engage in deep, personal conversations much faster." Apparently, String works.
"It feels awkward to start a conversation about religion or family on Tinder," Huang says, "but not awkward on String." She has a point about the Tinder thing.
Want more of Bustle's Sex and Relationships coverage? Check out our new podcast, I Want It That Way, which delves into the difficult and downright dirty parts of a relationship, and find more on our Soundcloud page.
Images: Fotolia; Helen Huang (4); WiffleGif (6)