16 Adorable 'Harry Potter' Baby Shower Gifts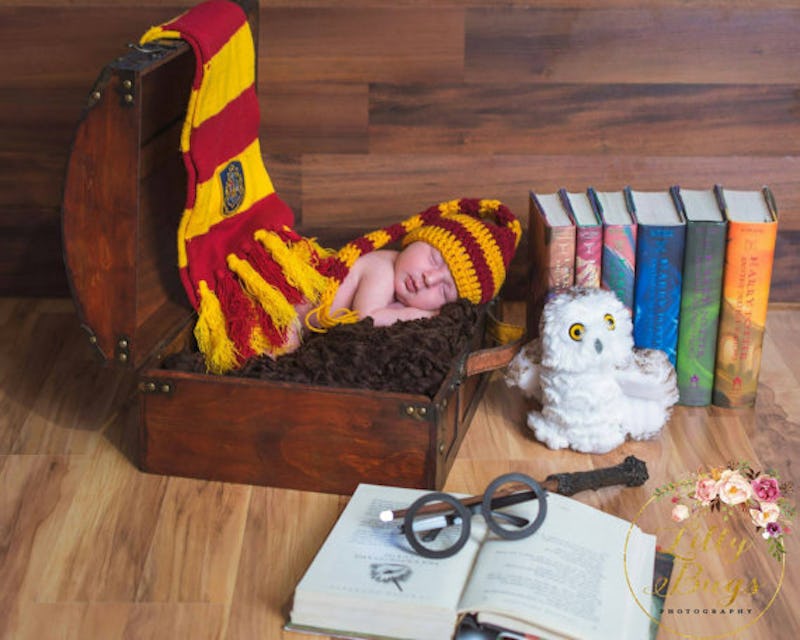 There has been a slight ripple in the fabric that makes up Generation Potter — namely, that some of us have started procreating and making a new generation of our own. Just imagine all the adorable, unsuspecting, brand spanking new human life forms that we can inflict our nerdery on! In that regard, it's best to get 'em hooked on Harry Potter early and make sure you arm them with the cutest Harry Potter baby gifts. If you're really looking out for them, you'll pull these out at the baby shower before that future witch or wizard makes it outta the womb.
And besides, this will just fit into the general theme of gift-exchanging with your fellow Potterheads — because after you've mastered the arts of Harry Potter themed bachelorette parties, Harry Potter wedding gifts, and Harry Potter-themed birthday parties, it's only right that yet another milestone celebration be honored by The Boy Who Lived. I've gone ahead and spared you the Muggle trouble of surfing this big wide internet for the most magical gifts for new witches and wizards, so go ahead and soak in the cuteness while I not-so-subtly edge you all into forcing your future progeny to become gigantic, unrepentant NERDS.
Harry Potter Bibs
This is somehow the most disgusting and amazing thing that has ever graced this nerdy earth.
Etsy, $6.50.
Snuggle This Muggle Onesie
Not sure when the "crash with this No-Maj" edition is coming out, but in the meantime this is too cute to resist.
Etsy, $16.50.
Harry Potter Baby Quilt
For all that Muggle snuggling, of course.
Etsy, $50.
Dobby Plush Nursery Toy
Now Dobby will keep the next generation of Harry Potter bbs as safe as he did the bbs in Harry Potter. (No, YOU'RE crying.)
Etsy, $23.
Golden Snitch Baby Booties
For the future Quidditch champions.
Etsy, $15.
Harry Potter Burp Cloths
Thinking of how insulted Draco Malfoy would be at the idea of someone wiping spit-up on the Slytherin house crest is more than enough of a reason to buy these.
Etsy, $18.50.
Harry Potter Nursery Decal
Not sure why you'd marry someone whose first priority wasn't Harry Potter at all times, but as a Star Wars fan I guess I'll let this one slide.
Etsy, $10+.
Personalized Harry Potter Taggy Blanket
I'm going to go ahead and assume that "Wilfred" is a loving testament to Fred Weasley.
Etsy, $31.
Harry Potter Elf Hat
Behold, the newest and most adorable member of S.P.E.W.
Etsy, $15.
Hogwarts Houses Baby Bow
Low key upset this doesn't come in adult sizes.
Etsy, $4.50
Harry Potter Newborn Photoshoot Props
Future senior yearbook blackmail shots = ACHIEVED.
Etsy, $35.
Harry Potter Teething Bundle
This is the actual kind of magic parents need in a teething baby's life.
Etsy, $20.
Harry Potter Pacifier Clip
Why buy a Rememberall when you can just stop the thing from getting lost in the first place, eh?
Etsy, $5.
Harry Potter Cloth Diaper
For the eco-friendly Potter parent.
Etsy, $30.
Hogwarts, Class Of 2030-something
No rush to procreate, the seller alters the year on the onesie to keep up to date.
Etsy, $14.50
Harry Potter Newborn Gift Basket
If you want to make sure your baby is a Potterhead from all conceivable 360 angles, this is the way to go.
Etsy, $60.
Images: Etsy