11 Wacky Beauty Commercials From The '90s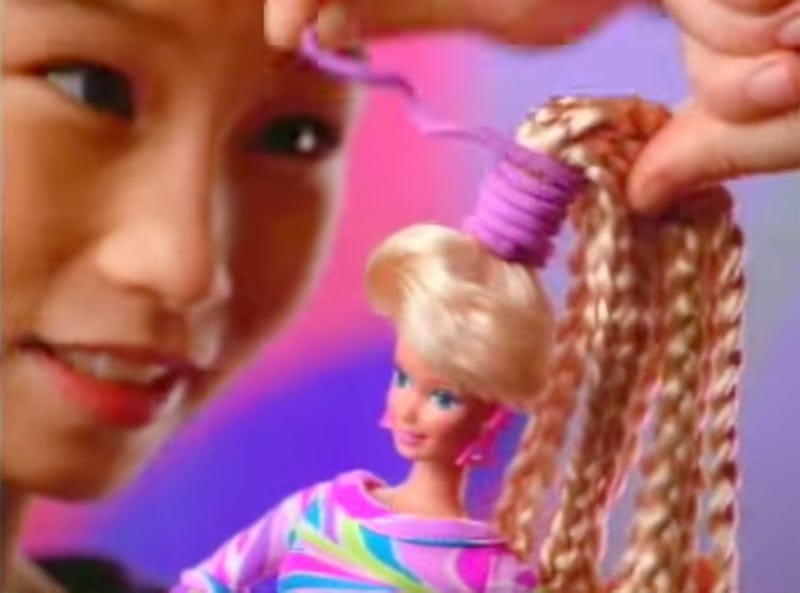 As if the ripped, acid washed jeans, chunky jewelry and bright colors of the 1990s weren't crazy enough, these 11 wackiest hair and beauty commercials from the '90s serve as the perfect argument for calling the decade the most eccentric we will ever see. From wild hair products to overly sultry voices used to describe the tools, these '90s hair and beauty commercials will definitely make you shake your head in confusion.
Thankfully, I was not even close to adult enough to make purchasing decisions in the '90s, but after watching these commercials, I felt the need to ask my parents if they fell for any of the hair-flipping scenes. They did.
And perhaps unsurprisingly, with the exception of one beauty brand, all of these products are either no longer available today, have decreased in popularity, or have completely rebranded their product to suit the needs of Generation Y. Aside from a few high fashion commercials, thank goodness we've moved away from these types of voiceovers to sell overpriced goods. Take a look at what our parents, and maybe you even you, were persuaded to spend $$$ on in the 1990s.
1. Totally Hair Barbie Doll
This '90s Barbie was basically begging for kids to try chopping their own hair off. The bit where she runs her plastic doll hands through those teased bangs is just too spooky.
2. Topsy Tail
If you have ever actually topsy-tailed your ponytail, you'd know it doesn't require this tool. Or another person. Or elevator music. But the weirdest part of this ad? We never seen any of the women's faces, save for one blurry mirror shot.
3. Pantene Pro-V
This product is actually still around today, so Miss USA 1993 must have done something right. Although this commercial is pretty acceptable (aside from that sexy bedroom music) it's a real hoot to see Kenya Moore pre- Real Housewives of Atlanta .
4. Neutrogena
OMG young Jennifer Love Hewitt! Sitting on giant pieces of fake soap! That jacket is rad though.
6. VO5 Hair Oil
So. Many. Hair flips. Also, what is that vaguely sexual blast of water at the end?
7. Moments Fragrance By Priscilla Presley
Play this video on repeat to let the sound of Priscilla's voice soothe you to sleep. And then likely give you nightmares.
8. Suave
The jump cuts are a little quick, but at least Suave was pushing those unisex products way before it became a mainstream topic of conversation.
9. Suave Hairspray
I'll be honest, Suave was great about creating mini-TV shows for its commercials. Both these former commercials grasped my attention, despite the slightly awkward scripts.
10. Alberto Hairspray
This is too sexy. I can't deal.
11. Dimension Shampoo
It's like watching a brief version of 13 Going on 30. This commercial was effective because it left us wanting more: Who is Tommy and why must he wait until the main character is done washing her hair? The '90s were just an age of mystery.